Rhubarb Crumble – Deconstructed
Time:

30 minutes

Serves:

4

Level:

medium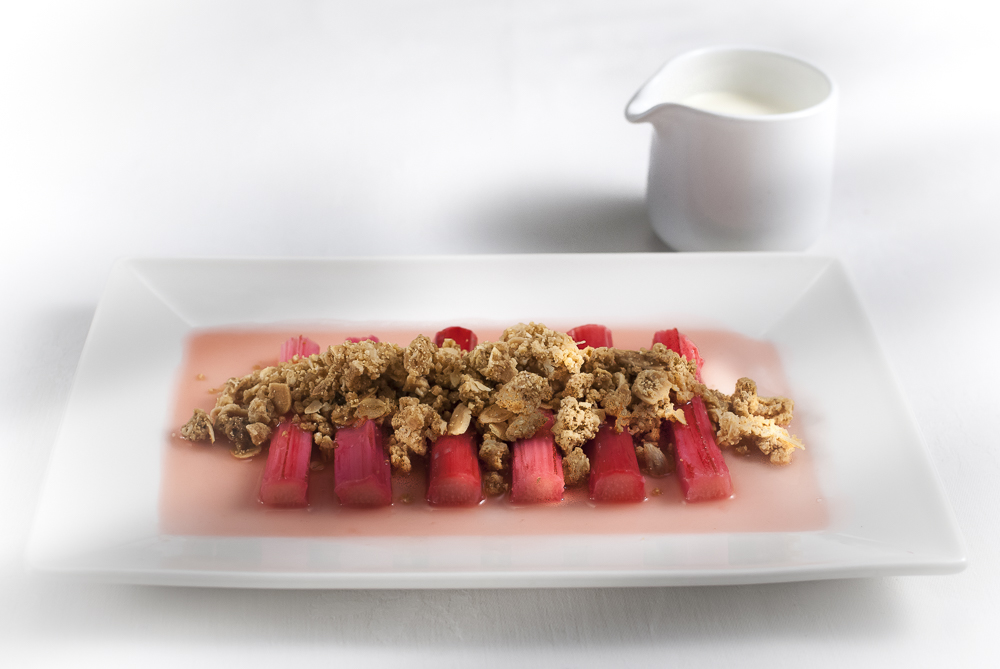 What you need
8 sticks of rhubarb
250ml medium white wine
250ml water
75g ginger
85g sugar
For the crumble
85g plain flour
45g jumbo oats
50g ground almonds
50g flaked almonds
200g demerara sugar
100g cold unsalted butter
Pinch of salt
How Dad Cooked It
The trick to this recipe is poaching the rhubarb to perfection. The margin for error is very fine: one minute your rhubarbs will be a beautiful bar of solid red fruit, the next, a floppy pool of grey mush.
1. Preheat the oven. 160C G3.
2. Make the crumble. Put all the ingredients in a large bowl, using your fingers rub until amalgamated. The texture should be rough and breadcrumb-like with several large clumps. If these clumps do not form, scrunch the crumble, adding more cold butter if necessary. Spread evenly on an oven tray and bake for 20-25 minutes until golden. Do not let the crumble brown. Turn the tray if the oven has hot spots.
3. Make the poaching liquid. Wash and cut the rhubarb stalks into 7-8cm lengths aiming to create up to six even-sized lengths per person. Put these to one side and place any scraps and spare shorter pieces into a pan. Peel and chop the ginger and put this into the pan with the scraps of rhubarb. Add the the wine, bring to the boil and flame the wine to burn off the alcohol, add the water and sugar. Simmer gently for 10 minutes and then strain.
4. Poach the rhubarb. Using a shallow pan, poach the cut rhubarb gently on a very low heat. The poaching liquid should just cover the rhubarb – add a little more boiling water if necessary. Each piece should be firm but tender when tested with the point of a knife. Turn off the heat and carefully transfer to a separate dish. The aim is to stop the cooking but also keep the rhubarb warm. Reduce the poaching liquid to make sufficient amount of sauce per person. If desired, the sauce can be thickened with half a teaspoon of cornflour mixed in a little cold water.
5. Serve. Place the rhubarb neatly on individual plates, pour the sauce over each pieces of rhubarb. Sprinkle the crumble over the rhubarb. Serve with vanilla or ginger ice cream, or plain cream.