Watermelon and Prawn Salad with Chilli Dressing
Time:

30 minutes

Serves:

4

Level:

easy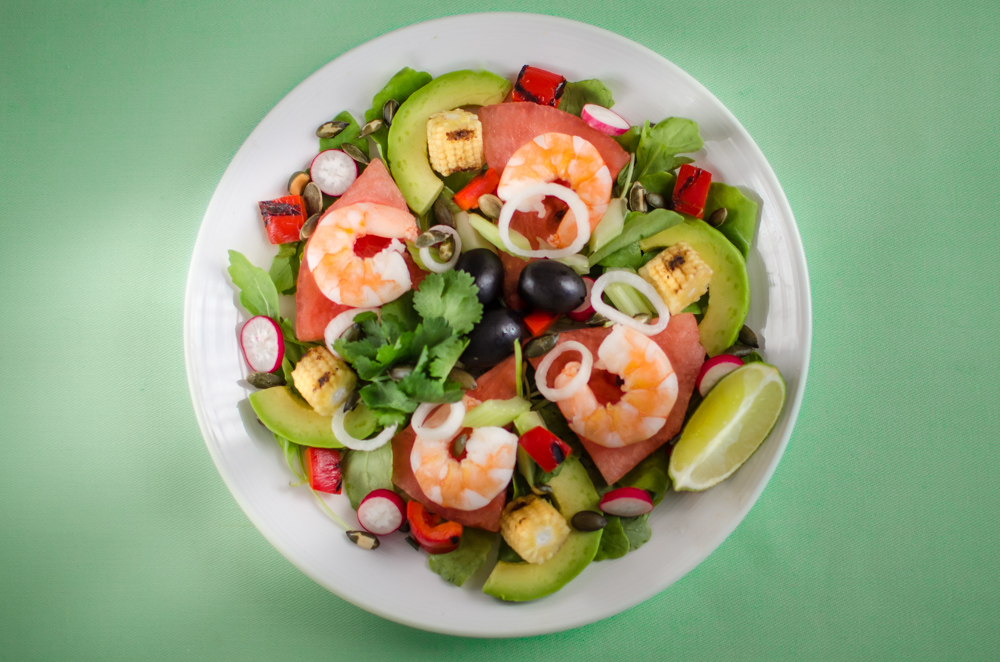 What you need
Small watermelon
220g extra large shelled cooked prawns (i.e. 16 prawns)
Bag of wild rocket – about 140g
1 ripe but firm avocado
2 small sticks of celery
Half a small cucumber
6 – 8 radishes
1 red pepper
4 – 6 baby corn
16 or more black olives
100g pumpkin seeds
2 large continental salad onions or a 2 shallots – plus some white wine vinegar, salt and sugar
Fresh coriander
1 lime
For the dressing
4 tbs good olive oil
2 tbs lime
1 tbs El Yucateco Jalapeno salsa – or other jalapeno chilli sauce
or
4 tbs good olive oil
2 tbs lime
1 green jalapeno chilli
1/2 clove garlic
Salt
How Dad Cooked It
This kind of recipe is really an assemblage of ingredients. The quantities can be varied to personal preference. EL Yucateco jalapeno salsa is one of my favourite chilli sauces, I normally just pour it over things – but was delighted by the discovery that it makes an excellent seasoning ingredient in the dressing for this salad. NB: I buy my El Yucateco sauces from MexGrocer.

1.Prepare the onion. Slice the onion or shallots into thin rings. Add 250ml cold water to a bowl, add 1 tbs white wine vinegar, 1/2 tsp salt, 1/2 tsp sugar and stir to dissolve. Add the onion rings and leave to lightly pickle for 15 mins. Then drain and dry.
2. Make the dressing.  If you have a bottle of jalapeno chilli sauce, mix all the ingredients in a bowl and whisk. Set aside. If using a fresh jalapeno, de-seed and de-vein the chilli. If you don't have a processor chop the chilli finely and grate the garlic and whisk with oil and lime. Otherwise, put the chopped chilli and grated garlic in a processor with the oil and lime, blitz and adjust the seasoning, set aside.
3. Char grill the pepper and corn. Heat a griddle pan until very hot. Cut the pepper into quarters and remove the vein and seeds. Place skin-side down on the griddle pressing down with a spatula. Meanwhile, rinse and dry the corns and coat thinly in light vegetable oil and place on the griddle. When done, cool the pepper and corn and cut the pepper into cubes and the corns into segments.
4. Prepare the rest of the vegetables. Heat a frying pan on medium high heat. Put the pumpkin seeds in the dry pan and toss until the seeds puff and start to pop. Cut the cucumber in half lengthwise and scoop out the seeds with a spoon and chop into small cubes. Cut the celery into small diagonal pieces. Chop the radishes into rings. Chop a small bunch of coriander for use as garnish. Slice the watermelon from the middle into 3 thick slices, about 1 cm thick. Trim off the green and white part and cut into 6 wedges. Cut the avocado into attractive slices. Wash and spin the rocket.
5. Serve. Arrange 4 plates, scatter rocket onto each plate, place 4 watermelon segments in a circle over the rocket, place a prawn on each segment. Scatter the pepper, cucumber, corn, celery around the watermelon, arrange a quarter of the avocado over the salad and put 4 olives in the middle, scatter over pumpkin seeds and the onion rings, garnish with coriander and a lime wedge. Serve with the chilli dressing.
Notes: Feel free to vary the ingredients. However, I have chosen my ingredients for particular reasons: the char-grilled corn and pepper is added to give a Mexican feel (I imagine the charring might have occurred on a Mexico City street vendor's brazier!) The watermelon goes well with rocket but clashes oddly with pea shoots, lettuce is too bland. The prawns are pre- cooked and kept cool and fresh, the watermelon is not grilled as is the trend these days. I think it is better to have a crisp cool fresh ingredient at the heart of the salad. However, the pre-cooked prawns could indeed be grilled or they could even be grilled raw prawns. Pumpkin seeds are a very Mexican ingredient, the olives are black – both make a connection with the seeds in the watermelon. Raw radishes and raw and picked onion often accompany Mexican meals. The my pickled onions are a miniature version of the popular pickled red onion rings. Cucumber adds freshness, celery adds crunch. Avocado, coriander, and chillies provide extra Mexican flavours. And you have to have a lime wedge…