Quick and Easy 30 Minute Pollack with Mexican Sweetcorn Sauce
Time:

30 Minutes

Serves:

2

Level:

easy
This recipe is about the sweetcorn as much as the fish. Here it is blended into a smooth sauce and given a Mexican spin with Jalapeno and green pepper. Surprisingly good.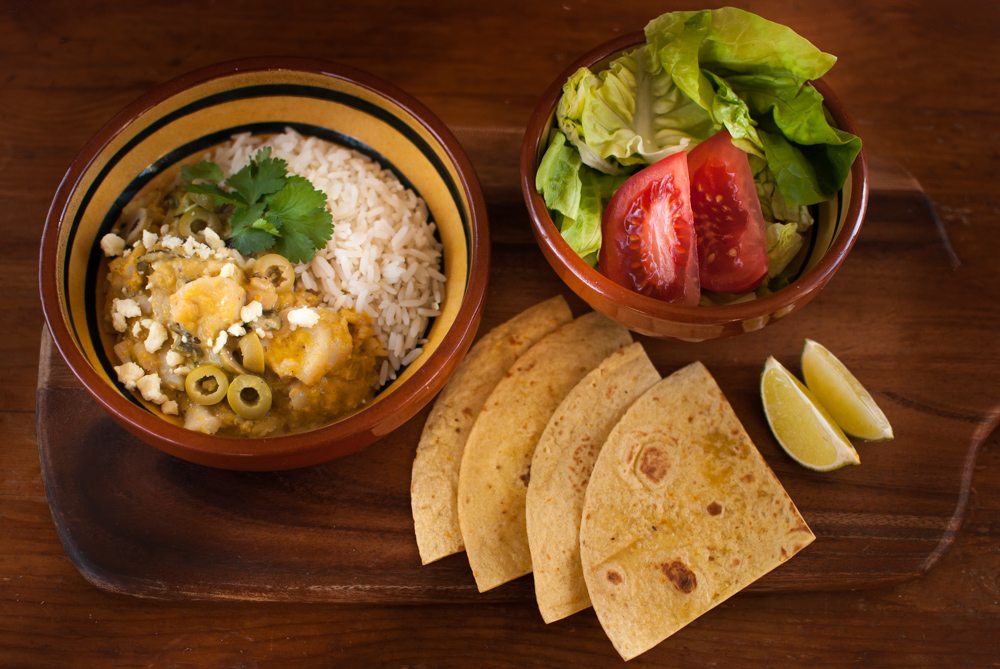 What you need
350g pollack fillet, de-boned and skinned – or other fish or chicken (see notes below)
1 x 340g tin of corn – preferably without added sugar or salt
1/2 green pepper
2 jalapeno chillies (remove the membranes and seeds to lessen the heat if desired)
1/2 an onion
2 garlic cloves
1 tsp ground cumin
1 1/2 tsp dried oregano
3 tbs creme fraiche
1 or 2 limes
Optional extra garnishes (as in the photo)
Wensleydale cheese
Sliced pitted green olives
Fresh coriander
How Dad Cooked It
Recipe: If serving with rice, start to cook using the instructions on the packet. Put the corn and its liquid from the tin into a blender and blend for several minutes until very smooth. Meanwhile, chop the pepper and chilli into a large dice and fry in a dry non-stick frying pan on a medium-high heat. Cook until the skin starts to blister and char. Whilst these are frying, chop the onion and garlic and fry in a heavy-bottomed pan with a good glug of olive oil. Fry for 10 minutes stirring often until soft and translucent. Add the pepper, chilli and cumin and stir for a minute. Then add the blended corn and oregano and stir. Reduce the heat and heat gently for 10 minutes – adding a little water if it is getting too thick. Meanwhile, cut the fish into large chunks and fry the fish in olive oil until lightly browned but not cooked through. Add the creme fraiche to the corn mixture and stir, then add the fish and about 80ml of boiling water, heat, stirring very gently so as not to break up the fish. Squeeze half a lime into the fish, taste and season with salt and pepper. Serve with rice, or tortillas and a salad and lime wedges.
***
Tips: This recipe uses blended corn as a sauce – no additional stock is necessary.  Adding the flavours of cumin, oregano, green pepper and jalapeno creates a very Mexican style dish.

Optional ingredients: The corn sauce can carry other ingredients. Try other kinds of fish or shellfish – or chicken. Cut up into smaller pieces and fry as in the method above. Try to source extra garnishes: coriander and sliced green olives go very well with this dish. The Mexican tradition of sprinkling crumbled cheese over enchiladas also works well here.

Notes: Pollack is a fantastic fish. It is full of flavour – but more importantly it is very firm. With gentle frying and cooking in a sauce it won't break up too much. Of course, pollack is also very sustainable – and inexpensive!
Finessing the dish: Go for the extra optional ingredients and make this a real Mexican treat. Serve with other Mexican sides such as tomato salsa, guacamole, tortillas and tortilla chips, black beans or re-fried beans, yoghurt, pickled jalapeno and plenty of lime.