Really Easy Mexican Ranch Style Eggs
Time:

10 minutes

Serves:

1

Level:

easy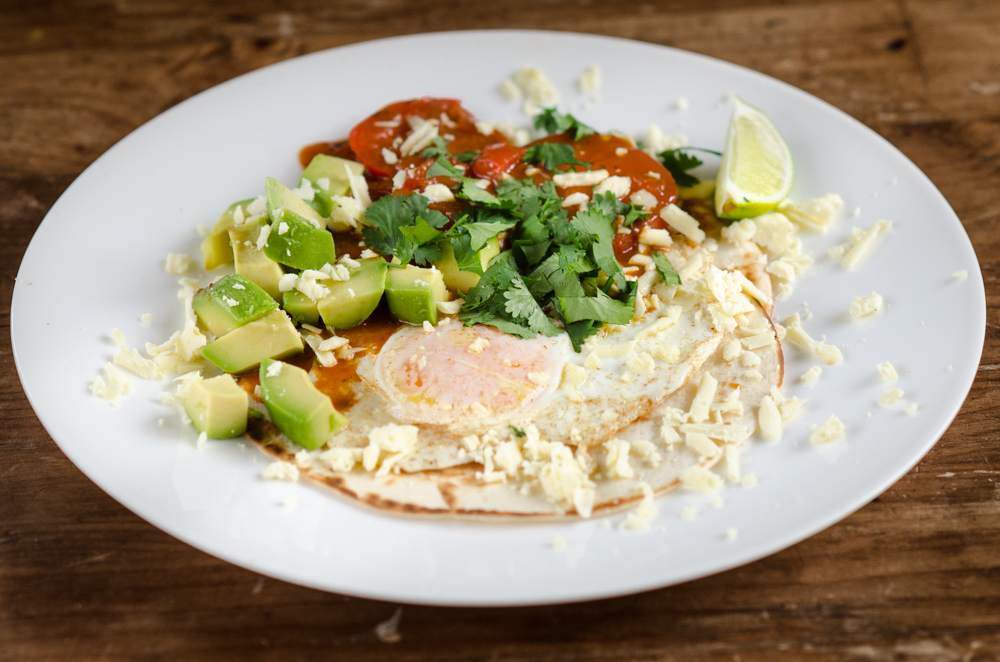 What you need
2 small tortillas – flour tortillas tends to work better when served flat on a plate.
1 or 2 eggs
1 ripe but firm medium tomato
3 tbs of red Valentina sauce*
A pinch of oregano
A little water
Half or less avocado, depending on size, cubed
Crumbled Wensleydale
Chopped fresh coriander
Lime
Butter and olive oil
How Dad Cooked It
*Valentina sauce
It is said that Mexican cuisine in not overtly hot. Although milder dried chillies will be used in normal cooking, the real heat is saved for table sauces and condiments. So you are quite likely to find bottles of Cholula and Valentina chilli sauce on the tables of the local cantina or the chef's own hot sauce served with your chilli rellenos. I must confess that I have recently developed a penchant for Valentina sauce. The 'red' variety comes in a litre bottle and after a few months I am eking out the dregs. It's apparently the most popular picante table sauce in Mexico and I can understand why. It's full of flavour and quite picante, but not too hot. Mexicans put Valentina sauce on everything – which is exactly what I do. In fact I find it most useful mixed with other sauces, either red pepper, salsas, or even a little ketchup or mayonnaise. It's hugely versatile and adds a little Mexican je ne sais quoi to anything you cook. Most recently, I discovered that fried tomatoes and Valentina sauce make an instant – and very good – rancheros sauce, as in the recipe below. If you don't have Valentina try the Cholula (or any other chilli sauce) and add a bit of passata, tomato puree or ketchup. If you know your chilli sauces you will be able to judge how much to use…
NB: I buy my Valentina sauce (and tortillas) from MexGrocer
1. Cook the tortillas. Dry fry in a sauce pan, keep warm.
2. Make the sauce. Slice the tomatoes and put into the dry sauce pan with a good glug of olive oil. Fry the slices briefly on both side – I think it is better if they are soft but still hold their shape. Then add the chilli sauce, water and pinch of oregano. Stir or toss it about for a minute and set aside. Taste for seasoning but the Valentina should have plenty of seasoning already in the sauce.
3. Fry the egg(s). In separate pan and using plenty of butter cook the egg(s) as you like them. I always cook my eggs over-easy.
4. Serve. Put the tortillas on a warm plate. Put the eggs on top, arrange the tomatoes and avocado over the eggs, sprinkle over the crumbled Wensleydale, chopped coriander and serve with a lime wedge.