Really Easy Mexican Meatballs
Time:

30 minutes

Serves:

2

Level:

easy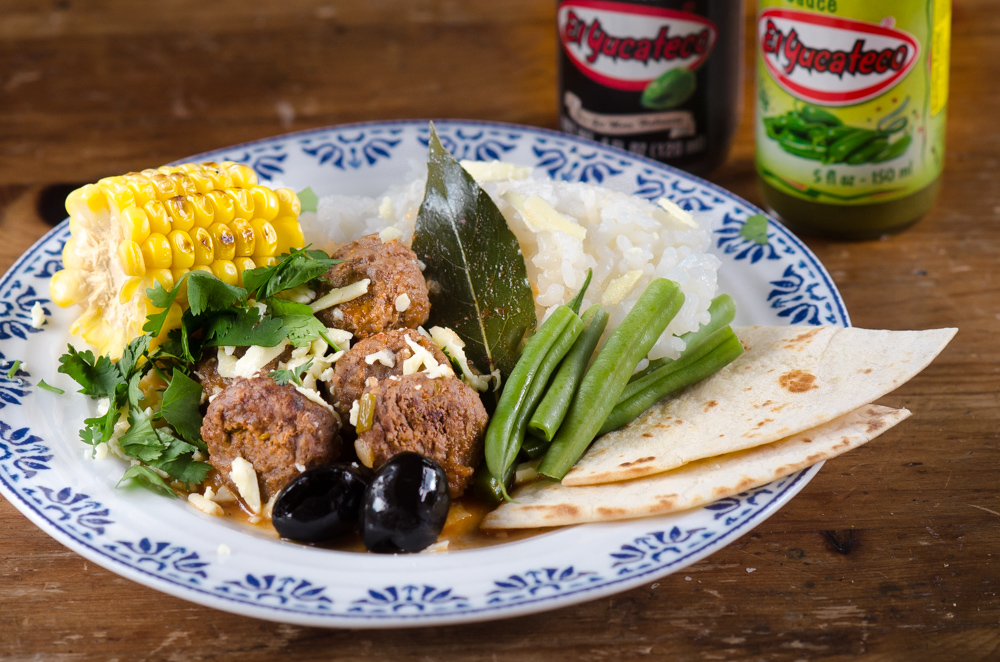 What you need
For two people
300g – 45og ready pressed beef meatballs
65g chopped spring onion – including most of the green
1 large clove of garlic
1 tbs good olive oil
1/2 tsp ground cumin
1 tsp dried oregano
1 – 2 bay leaves (optional)
150ml tomato passata
150ml beef or chicken stock or water
Small mug of rice
Accompaniment suggestions

Green vegetables or salad
Corn on the cob
Grated Wensleydale cheese
Avocado
Olives
Yogurt
Chopped fresh coriander
Warmed tortillas
Lime wedges
Chopped chillies
Bottles of chilli sauce!!! We like to use El Yucateco from Mex Grocer
How Dad Cooked It
It's said that Mexican cuisine in not overtly hot. Although milder dried chillies will be used in normal cooking, the real heat is saved for table sauces and condiments. On this basis I have made these Mexican meatballs without chilli and suggest that a selection of chilli sauces (ideally Mexican) is presented at the table – this will save the hassle of cooking with chillies and risking too much spice. Of course an alternative idea for adding extra heat after cooking is to present chopped chillies at the table and let the diners decide how hot they want their meatballs.

1. Cook the rice. Use the rice and recipe that you like. I'm using short grain rice – i.e. rice sold for risotto or paella or for sushi – and then cooking it as normal. It becomes a little sticky which is just what you want when there are kiddies around. But adults seem to like it too. Measure by volume, one full big mug for four people one full smaller mug for two. Rinse in a strainer, put into a pan and measure one and three quarters of the volume of rice as boiling water. Simmer at lowest heat with the lid on for about 15-20 minutes and then turn off the heat. Leave with the lid on for 5 – 10 minutes.
2. Cook the vegetables. Cook these on the hob with boiling water or in the microwave with a steamer. The corn in the photo took 5 minutes on full power in a steamer in the microwave, the beans took 3 minutes using a steamer.
3. Cook the meatballs. Fry these in a large frying pan on medium high heat. Turn and toss to brown all over (taking care not to burn the pan) – about 5 to 7 minutes.
4. Make the sauce. Chop the onion and garlic and put in a pan with the olive oil and fry on a medium heat for about 5 minutes without burning. Add the cumin, oregano, bay if using, and stir for a minute. Add the passata and stock and bring to a boil. Reduce the heat and simmer gently with the lid on for 10 minutes. Lift the meatballs into the sauce leaving any fat in the pan. Strain off most of the fat and then deglaze with a little boiling water to release the residues – add this to the sauce. Simmer the meatballs in the sauce for 5 minutes – adjust the seasoning. If they look dry add more water or stock.
5. Assemble. Serve the meatballs with the rice and the vegetables. Add any of the accompaniments that you like or are to hand.
For dessert, why not try Dad's Mexican Chocolate and Chilli Flan!