Bangers 'n' Squash
Time:

1 hour 15 minutes

Serves:

4

Level:

easy
Bangers and mash but with seasonal butternut squash mash, make a great combo. Here they are served with sage and onion gravy to make a perfect autumn supper.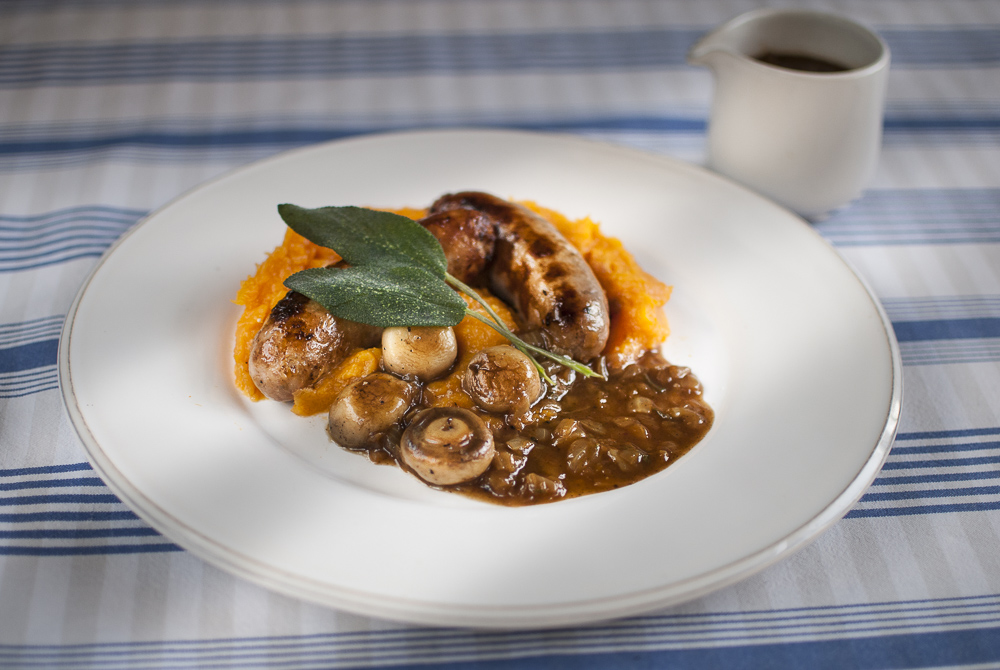 What you need
1 medium butternut squash – approx. 1.25kg
8 large sausages
200g button mushrooms
2 large onions
Leaves from 4 sprigs of thyme
4 large sage leaves, chopped
500ml chicken stock
Butter, lemon
8 medium sage leaves for garnish
How Dad Cooked It
I find butternut squash extraordinarily difficult to cut and peel when raw. So I've come up with a workaround: I put the squash in the oven, lock, stock and barrel. After an hour it's cooked into soft submission. It works a treat – the flesh is easily scooped from the skin, and the roasting intensifies the flavour. While the squash is cooking the rest of the dish can be prepared.
Preheat the oven. 180C, Gas 4.
Cook the squash. Wash the squash, place on a tray and put in the oven. A medium-sized squash will take about an hour – turn it over half way through cooking. Let it cool and then cut in half and scoop out the seeds and discard. Scoop the flesh from the skin and put into a pan with a knob of butter. Re-heat the squash gently and beat with a potato masher. Season.
Cook the sausages. Fry the sausages in a little oil on a medium heat until browned. This will take about 20 minutes.
Make the gravy. Slice or chop the onions. Using a heavy pan on low heat, sweat the onions with a tablespoon of oil and a good pinch of salt for 40 minutes, stirring occasionally. Then add the thyme and chopped sage, two tablespoons of butter and half a teaspoon of sugar. Increase the heat to medium to caramelize the onions, stir continuously for 10 minutes. Add two tablespoons of flour and continue stirring to slightly brown the flour. Add the stock and stir until smooth, turn the heat down to low and cook gently for 5 minutes. Taste for seasoning, using plenty of pepper and a squeeze of lemon.
Fry the mushrooms. Slice stalks level with the bottom of the mushroom and fry the cups in a little butter and oil until browned.
Serve. Fry the sage leaves in hot oil and drain on a kitchen towel. Place two sausages on a pile of squash, add a little gravy and garnish with the mushrooms and fried sage. Serve any extra gravy separately.
Tip: To make browner gravy try adding aged balsamic vinegar. The residues from the sausages can also be used (providing they are not too burnt). Deglaze with a little stock or water – taste before adding to the gravy.