Asparagus in Miso Dressing
Time:

30 minutes

Serves:

4

Level:

easy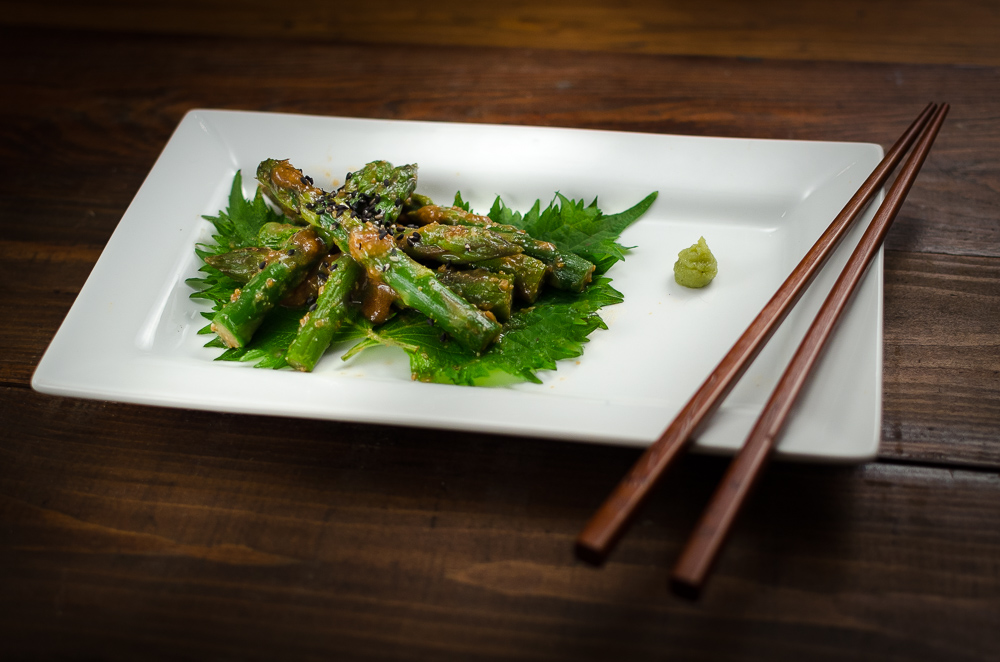 What you need
400g asparagus
100g red or white miso
4 tbs mirin
3 tbs sake
2 tbs lemon juice
1.5 tsp caster sugar – or more to taste
How Dad Cooked It
In my photo I have put the asparagus ontop of shizo leaves. This distinctly Japanese herb has a very pronouced taste. I think it is best added to a mixed salad, where the generic crunchy, fresh vegetables are both enhanced by the herb, and combine to give a broadly recognised Japanese flavouring. During an empirical tasting session, it was noted that flavours of shizo and asparagus are not ideal partners – however, it was also observed that the leaves look amazing and would provide an attractive base for my salad. Perhaps eat the asparagus – then much on the shizo after…
1. For the asparagus, snap off the woody base of the stems by bending the spears with your hands. Peel the stalks only if thick and tough. Put the spears into a large and shallow saucepan, cover with boiling water, add a little salt and bring back to the boil. Cook the spears for 2 minutes, drain and set aside, keeping warm.
2. For the dressing, add the miso and sake to a small pan and bring to a boil, burn off the alcohol with a long match, or let it simmer for a few minutes, then cool and add to a bowl. Add the remaining sauce ingredients to the bowl and whisk to mix. Adjust the seasoning. (The Japanese palate is surprisingly sweet.)
3. Cut the asparagus spears in half and mix with the dressing. Arrange on plates and add a little blob of wasabi. Serve as a starter or part of a Japanese meal.