Asparagus Pizza
Time:

30 Minutes

Serves:

4

Level:

easy
There are a few things in cooking that is best left for the professionals. Not because home cooks cannot rise to any challenge – but because often we just don't have the right equipment: a char-grill for a perfect steak; a large commercial deep fat fryer for perfect fish and chips; or in the case of pizza – a pizza oven. A pizza oven will sear your pizza in a matter of a few minutes at temperature over 370C. Despite, brave attempts to persuade us to try it at home by 'cranking our ovens to max' – or using pizza stones or turning cast iron pans over – most of us must rely on a very unreliable notion of 'max' on our ovens, which generally begin wimper after 200C. HOWEVER, DON'T BE PUT OFF! Your home-made pizza will still be better than any you can buy from a shop.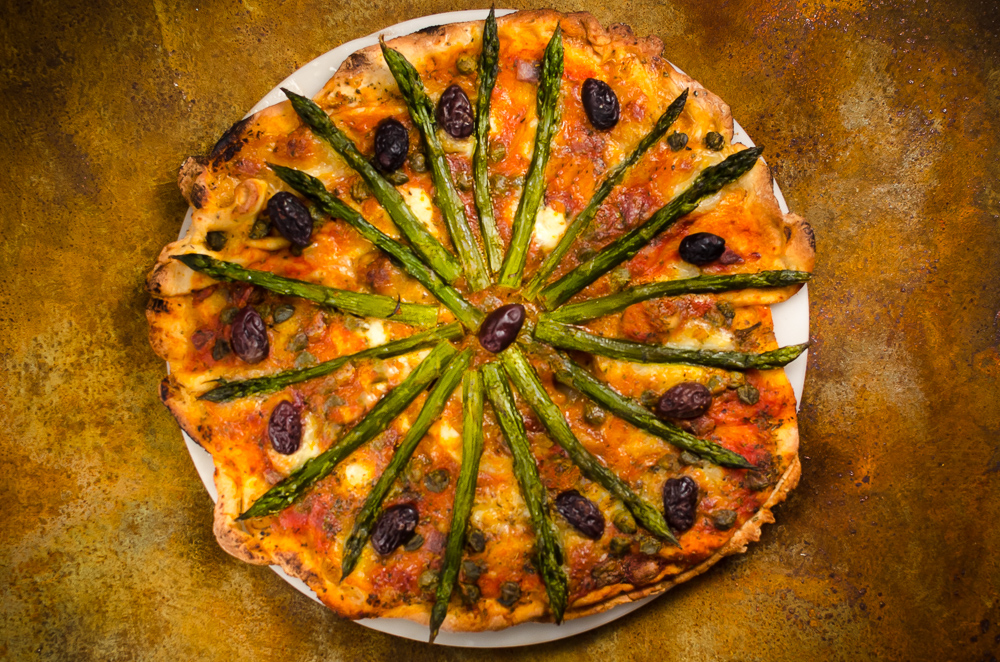 What you need
460g asparagus
Ready-made pizza dough for 2 x 12″ pizza bases – or similar
2 x 125g balls of mozzarella
30g tin of anchovies in oil
4 tbs capers (rinsed of vinegar, brine or salt)
Small jar of Kalamata olives
Oregano
350g jar of passata
Or home-made passata:
1 medium onion chopped
1 garlic clove chopped
800g tomatoes washed, de-stalked and cut in half
250ml vegetable/chicken stock or water
2 bay leaves
Oregano
How Dad Cooked It
There are not as many plain pizza base – or dough – options available as one might think. I presume this is because the supermarkets do not want people making their own pizzas rather than buying the ready to cook variety. I found frozen dough balls by the Norther Dough Co in Sainsbury and they were very good.  I've made pizza dough from scratch before and unless you have a routine of making these regularly it's a bit of a bother if you just want a couple of pizzas. Best to seek out an easier ready-made product…
Make the passata if making at home. Fry the onion on a medium heat with a couple good glugs of olive oil for 10 minutes , then add the garlic and fry for another 10 minutes until onion and garlic are soft and transparent. Add the tomatoes and the stock or water. Turn the heat up high and bring to a simmer. Cook for 10 minutes and then mash down the tomatoes. Turn the heat to low and add a teaspoon of oregano and the bay leaves. Cook for about an hour, topping up with water if necessary. Pass through a coarse sieve. NB: If you do not have a sieve take the tomato skins of the tomatos with a set of tongs after they have been cooking a while. This will make your sauce more 'rustica' in appearance. Use a blender if you like but the sauce will turn orange, it will darken in cooking and after storage in the fridge.
For the asparagus, trim the stalk and peel the spears, rinse and boil in water for 3 minutes until firm but tender. Drain and rinse in cold water. Drain again on kitchen paper.
Preheat the oven to 'max' i.e.as high as your oven will safely go. Use a pizza stone or upturned large cast iron pan. Put these on a high shelf.
Form the bases, and spread lightly with passata, chop the mozzarella and spread evenly, chop the anchovies into little pieces and spread these and the capers evenly. Scatter a few olives over the pizza (not too many as they can be over salty…). Dust the pizza with dried oregano.
Bake in the oven for 5 minutes, remove and arrange the asparagus spears on top (for a concentric 'spoke' effect you may need to trim some of the bottoms). Continue cooking until the pizza is done.