Asparagus Bruschetta
Time:

40 minutes

Serves:

2

Level:

easy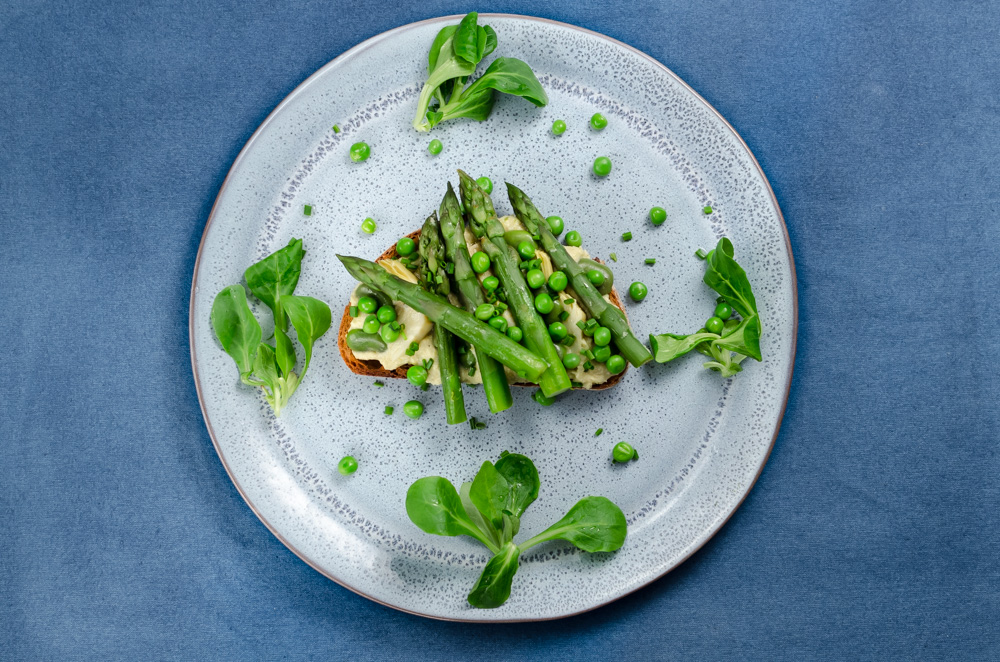 What you need
230g asparagus
250g podded broad beans
50g fresh or frozen peas
A few pieces of marinated artichoke from a jar (optional)
2 or more slices of sourdough bread
1 tbs chopped chives
Green salad leaves
A few basil leaves
Good olive oil
For the puree
150g drained artichoke hearts from a tin
150g drained cannellini beans from a tin
1/4 grated garlic (i.e. puree)
2 tbs light olive oil
2 tbs lemon juice
1 tsp tahini
Salt and pepper to taste
How Dad Cooked It
This bruschetta is loosely based on 'vignole', a Tuscan spring vegetable stew. Vignole normally includes peas, broad beans and artichokes – but I've added asparagus – as the flavours all complement each other. It will be much easier to use a mini blender/chopper or stick blender to make the puree. However, if you use a pestle and mortar its best to chop the ingredients well before making the puree. 
1. For the asparagus, trim the stalk and peel the spears, rinse and boil in water for 3 minutes until firm but tender. Drain and rinse in cold water. Drain again on kitchen paper. When drained cut the base of the stalks to make spears of 10cm. keep the bases.
2. Boil the podded beans for 5 minutes. Drain and rinse in cold water and drain again. Then peel the beans. Set aside. For the peas boil fresh for about 3 minutes and for frozen put into boiling water and heat on high for about a minute. Drain, rinse in cold water and drain again. Set aside.
3. To make the puree, put all the ingredients into a small blender. Add the bases of the asparagus and a spoonful of the broad beans. Then blitz. It should be quite a thick puree about the same as houmous  – or a little stiffer.
4. Assemble the bruschettas by putting a layer of puree on toasted bread, add a few slivers of artichoke, if using, scatter with broad beans, then arrange the asparagus on top, finally toss over the peas, chives and basil leaves. Serve with green salad leaves. Drizzle over good olive oil.