Asparagus Fondue
Time:

40 minutes

Serves:

4

Level:

medium
I've soften this fondue by using chicken stock as well as wine – I've also added Port Salut to meld the Emmental and Gruyère.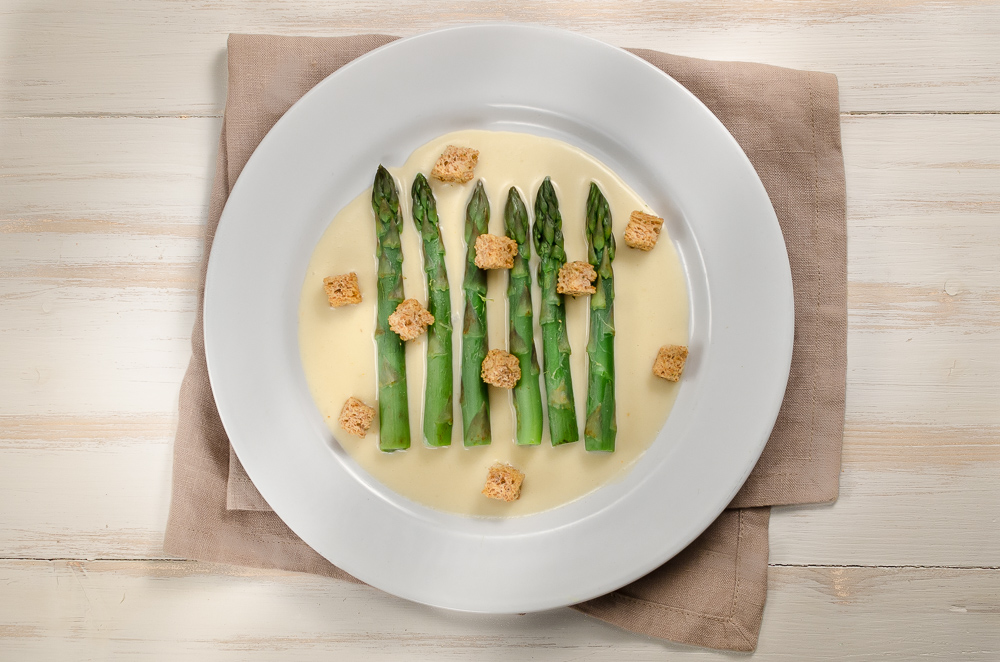 What you need
460g asparagus
4 slices of bread
Light olive oil
Pinch dried fine herbs (optional)
100g Gruyère grated
Half a garlic clove grated
100g Emmental grated
100g Port Salut
2 tsp cornflour
150ml dry white wine
125ml chicken stock
1 tsp lemon juice
How Dad Cooked It
For the croutons, cut the bread into slices. Cut the crust off the slices then cut each slice into cubes. Put the croutons onto a backing tray and bake in preheated oven at 200C, Gas 6, for 10 minutes and remove from the oven. Drizzle a little light olive oil over the bread and toss with a metal spatula to coat evenly. Return to the oven until lightly browned. Sprinkle with herbs, if using, and toss again. Keep warm.
For the asparagus, bend and break the woody bottoms off of the stalks with your fingers, then cut neatly making similar size spears. Boil in water for 2-3 minutes until just tender, drain and plunge into cold water to stop cooking and drain again. Keep at room temperature or a little warmer.
Mix the grated cheeses in a bowl with the cornflour. Cut the rind off the Port Salut and cut – as well as you can – into small pieces.
To make the fondue, put the garlic and wine in a pan with a heavy bottom and bring to a boil – simmer for a minute to burn off the alcohol. Add the chicken stock and lemon and reduce the heat to low. Slowly add the grated Gruyère and Emmental, stirring steadily but gently with a wooden spatula. Bring up to just under a simmer and add the Port Salut. Stir slowly allowing it to melt. If it all goes wrong, add a glug of wine and blitz with a blender, add another teaspoon of cornflour and bring back to a simmer.
Pour the fondue onto plates (ideally with a stepped indentation to hold a pool of fondue) and arrange the asparagus on top. Scatter croutons and serve. Alternatively, arrange the asparagus on a plate and pour over the fondue.