Asparagus and Tuna Sesame
Time:

30 minutes

Serves:

4

Level:

easy
If the idea of my way with asparagus here is too esoteric – don't give up on tuna fish and asparagus. Make the recipe and use the asparagus and tuna as a main part of a salad of green leaves, cold salad potatoes. It could simplified further by omitting the sesame dressing and mix in the tuna, onion, and celery with mayonnaise.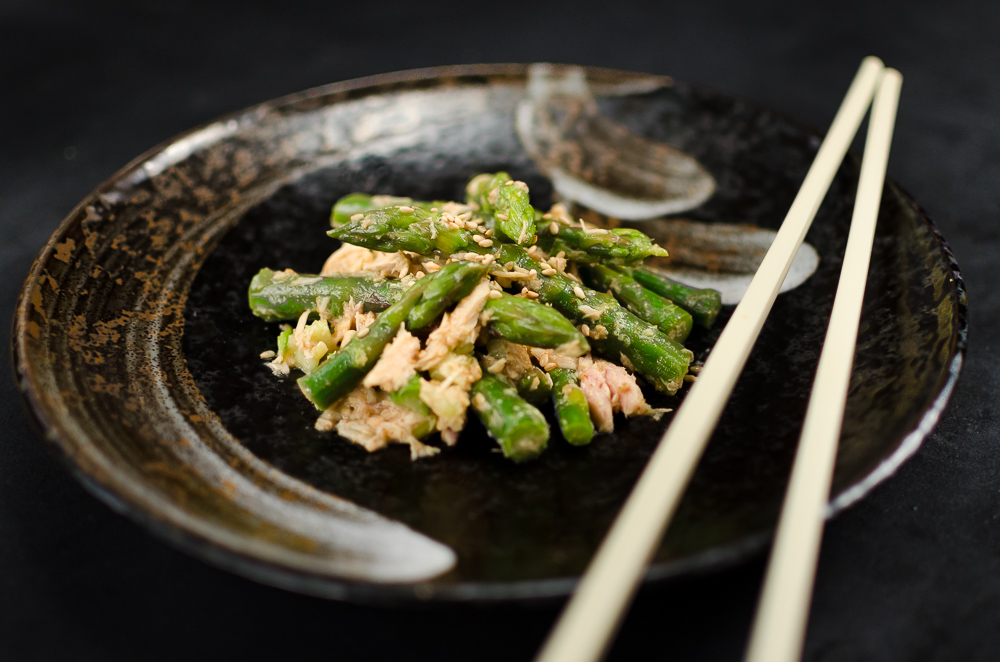 What you need
400g asparagus
150g tuna from a jar or tin
1 large spring onion
1 stick celery
For the sesame sauce
2 tbs sesame dressing (see note here)
3 tbs toasted white sesame seeds (from Oriental grocers)
1/2 tsp grated ginger – or more to taste
1 tbs lemon juice
1 tbs ponzo (or light soy sauce)
How Dad Cooked It
1. For the asparagus, snap off the woody base of the stems by bending the spears with your hands. Peel the stalks only if thick and tough. Put the spears into a large and shallow saucepan, cover with boiling water, add a little salt and bring back to the boil. Cook the spears for 2 minutes, drain and set aside, keeping warm.
2. For the sauce, grind the sesame seeds in a pestle and mortar, scrape into a bowl and whisk together all the other ingredients. Chop the onion and celery into a very fine dice and add to the sauce bowl. Drain the tuna and put into the sauce mix the sauce, breaking up the tuna with a fork.
3. Cut the asparagus spears in half and mix with the sauce. Serve as a starter or a side dish in a Japanese meal.