Fish Taco
Time:

1 hour plus macerating time for slaw

Serves:

4

Level:

easy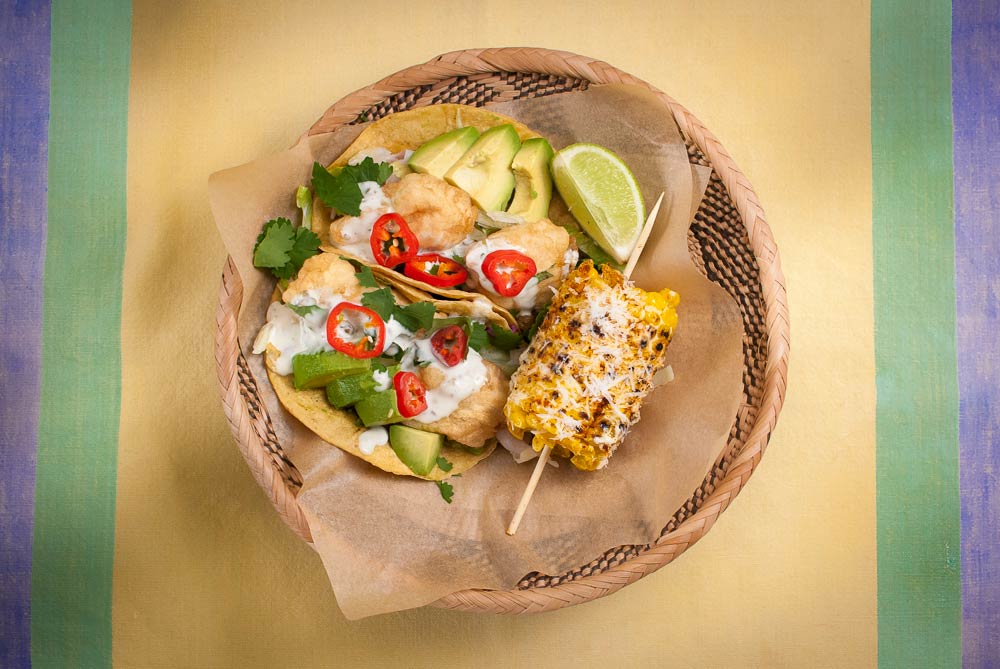 What you need
For the tacos
8 corn tortillas, 12 cm sourced from Mexican supplier, such as Mex Grocer
320g thin cod fillet
2 small red chillies
2 ripe avocados
30g fresh coriander
1 -2 limes
Small handful of plain flour
2 beaten eggs
Vegetable oil for frying
For the citrus slaw
1/4 small white cabbage
1/4 small red cabbage
1/2 medium iceberg lettuce
1 1/2 limes
1 tsp sugar
1 tsp salt plus more for seasoning
1 tbs mayonnaise
1 tbs Greek yoghurt or buttermilk
Pepper for seasoning
For the citrus and chilli sauce
180ml mayonnaise
60ml Greek yoghurt
25g salted capers
1 tbs green jalapeno chilli sauce – or other chilli sauce to taste
1 tbs dried chives
Juice of 1/2 lime
For the street style corn
2 cobs of sweetcorn
25g butter
4 tsp mayonnaise
4 tablespoons grated Parmesan/Pecorino Romano or Feta
Cayenne powder, chilli powder, or chilli seasoning
Four short wooden skewers
How Dad Cooked It
These portions are for a starter or light lunch or supper, for a larger meal just increase the quantities.
Start the slaw. Slice the cabbages into fine shreds with a sharp knife (or use a mandolin) and put separately into two bowls. Mix the juice of half a lime, half a teaspoon of salt and half a teaspoon of sugar into each bowl, mix and leave to macerate (pickle) for 1 hour. After this time squeeze the cabbages to remove excess liquid then combine in a single bowl and mix in the other ingredients. Slice the lettuce very finely, just before serving mix into the cabbage.
Make the sauce. Rinse the capers and squeeze out excess salt. Chop finely and put into a bowl. Add the other ingredients to the capers and mix well. Taste and adjust seasoning.
Cook the corn. Cut each cob in half. Skewer each half with a wooden skewer. Boil the corn in a large salted pan of water until done. Drain. Heat a large cast iron pan – or frying pan. Without adding oil, cook the corn on the dry pan until evenly charred. Melt the butter in a bowl and spin each corn piece in the butter. Squeeze or spread the mayonnaise on a plate and roll the corn through the mayonnaise, sprinkle with chilli powder and cheese. (The cobs can be kept in the oven after charring to help with timings.)
Prepare the avocado, chilli and coriander. Cut the avocados into chunks, slice the chillies and chop the coriander and set each aside separately.
Cook the fish. Heat about 150ml of oil in a large frying pan or wok. Put the flour in a wide bowl and beat the eggs in another bowl. Skin and chop the fish into chunks about 20g each. Dip half the fish in the flour. Then dip in the egg and place on a large plate, take the plate to the frying pan and carefully and quickly add each piece to the oil. Fry until the egg batter is golden and crisp and the fish is cooked. Drain on a rack over an oven tray, or on kitchen towel on a plate. Place in a low oven to keep warm, Repeat with the remainder of the fish.
Assemble and serve the tacos. Heat a cast iron pan or frying pan until hot. Cook the tortillas, briefly on both sides until lightly browned and hot. Stack inside tinfoil and keep in a warm place. To assemble, add the slaw to the tortilla, top each tortilla with a couple pieces of fish, add 1/4 avocado to each taco drizzle over the sauce and garnish with chilli and coriander. Serve two tacos for each person with a wedge of lime and the corn.