Bangers 'n' Mash – Spanish Style with Butternut Squash Mash
Time:

1 hour 15 minutes

Serves:

4

Level:

easy
With this bangers and mash recipe, the sausages and potatoes are replaced with chorizo and seasonal butternut squash mash and the gravy is replaced with a Spanish pepper sauce.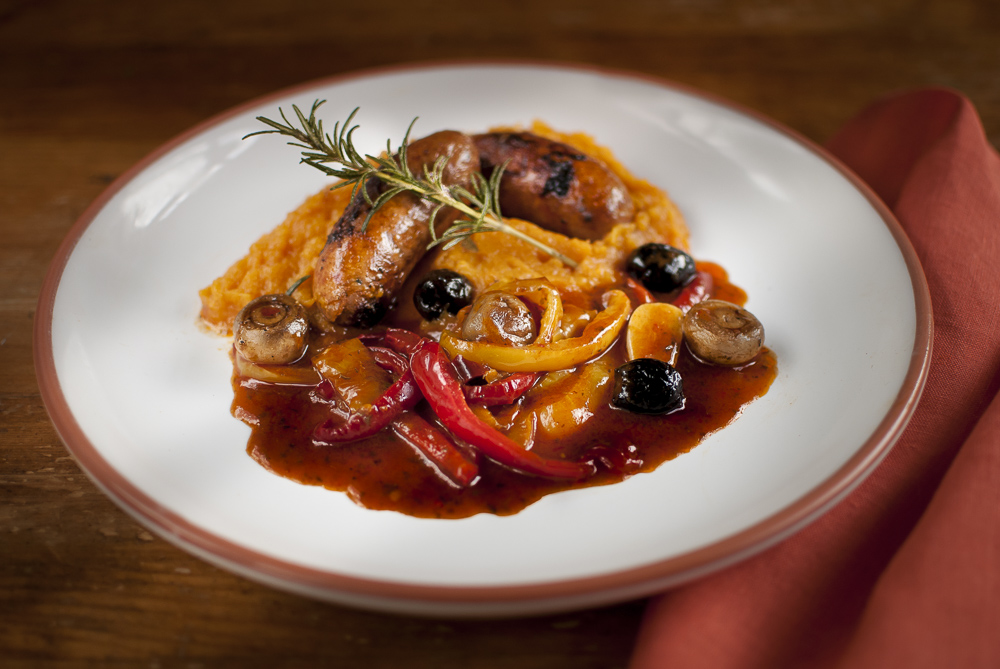 What you need
1 medium butternut squash – approx. 1.25kg
8 large cooking chorizo sausages
200g button mushrooms
1 red pepper
1 yellow pepper
2 large cloves of garlic, sliced
2 bay leaves
300ml chicken stock
1 tsp tomato paste
1 tsp dried oregano
1 tsp paprika (preferably Spanish piementon)
About 24 black olives
4 sprigs of rosemary
How Dad Cooked It
I find butternut squash extraordinarily difficult to cut and peel when raw. So I've come up with a workaround: I put the squash in the oven, lock, stock and barrel. After an hour it's cooked into soft submission. It works a treat – the flesh is easily scooped from the skin, and the roasting intensifies the flavour. While the squash is cooking the rest of the dish can be prepared.
Preheat the oven. 180C, Gas 4.
Cook the squash. Wash the squash, place on a tray and put in the oven. A medium-sized squash will take about an hour – turn it over half way through cooking. Let it cool and then cut in half and scoop out the seeds and discard. Scoop the flesh from the skin and put into a pan with a knob of butter. Re-heat the squash gently and beat with a potato masher. Season.
Cook the chorizo. Fry the chorizo in a little oil on a medium heat, until browned. This will take about 20 minutes.
Make the sauce. Slice the peppers and gently fry with a couple tablespoons of oil. These need to cook slowly, about 20 minutes. When they start to go brown, add the garlic and the bay leaves and cook for a further 8 minutes (don't let the garlic burn). Then add the stock, tomato paste, oregano, olives and paprika and cook for 5 minutes. Taste for seasoning. Meanwhile, fry the mushrooms in a little butter and oil until browned.
Serve. Fry the rosemary sprigs in hot oil and drain on a kitchen towel. Place two sausages on a pile of squash, add the sauce and garnish with the mushrooms and rosemary.
Tip: If pitted dried black olives are used they plump-up most satisfactorily.