Asparagus, Plaice and Maltaise Mousse Canapes
Time:

2 hours

Serves:

10

Level:

hard
Orange and asparagus is a surprising combination and despite our best instincts really works. Perhaps, asparagus needs citrus to offset its earthy, minearal, and buttery flavour. Asparagus certainly goes with white fish. So all put together in a canape, you have an Escoffier haute cuisine concept in a bite-size taster.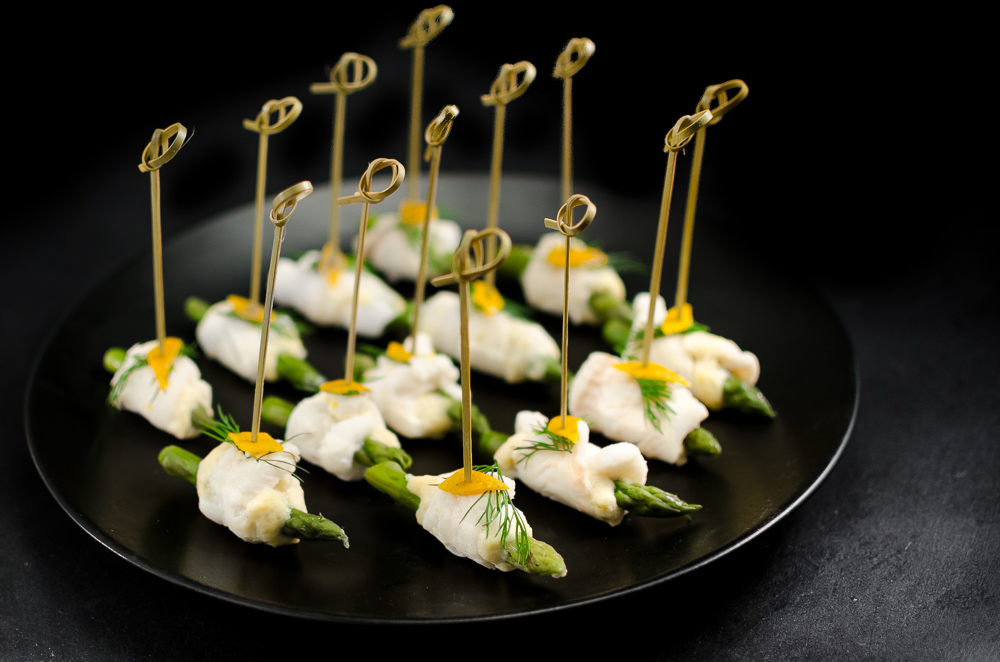 What you need
300g asparagus
3 small fillets of plaice
1/3 sliced soft white bread, crusts removed
1 egg
Fine grated zest of on third of a small uncoated orange
Zests of half a small uncoated orange peeled with vegetable peeler
Small carton of double cream
2 drops orange flavour essence
Lemon
Fresh dill
How Dad Cooked It
1. For the asparagus, snap off the woody base of the stems by bending the spears with your hands. Put the spears into a large and shallow saucepan, cover with boiling water, add a little salt and bring back to the boil. Cook the spears for one and a half minutes, immediately drain and set aside.
2. For the plaice, skin, de-bone and trim the fillets, put any good trimmings of fish into the jar of a small blender/chopper. Cut each fillet in half lengthways. Put on half of a fillet into the bender jar.
3. For the maltaise sauce, add the egg to the blender jar with the bread. Blitz until smooth. Add the orange essence and the finely grated zest, season with salt and pepper, add about 3 tablespoons of cream and blitz. The idea is to make a thick emulsion. Add more cream if necessary. Put in the fridge to rest and chill.
4. Put a sheet of cling film on a chopping board and spread out the fillets. Cover again with cling film and roll, press or gently beat very carefully to flatten. Avoid tearing the flesh. Cut across each fillet to make two halves. For wide pieces cut in half lengthways. A piece about 8cm x 3cm is the biggest you need.
5. To roll the canapes, trim an asparagus tip a little wider than the width of piece of fish. Spoon a little maltaise on one end, put the asparagus over the sauce and roll. A knife will help this process. Secure the rolls with a toothpick. When all the canapes are rolled put into a steamer for about 5 minutes until the fish is done and the maltaise is set. Take off the steam and cool.
6. For the orange garnish, turn the large zests over and cut away any excess of white pith. Put into a pan, cover with water and bring to a boil, simmer for 5 minutes, drain and repeat three times. Cool and cut small diamond shapes.
7. Remove the toothpick and put a small frond of dill over the fish, cover with a piece of orange and skewer again with a toothpick or small fancy skewers. Squeeze a few drops of lemon over each parcel and serve.