Tosi Gorgonzola Tuna and Bresaola Canapés
Time:

1 hour

Serves:

6

Level:

medium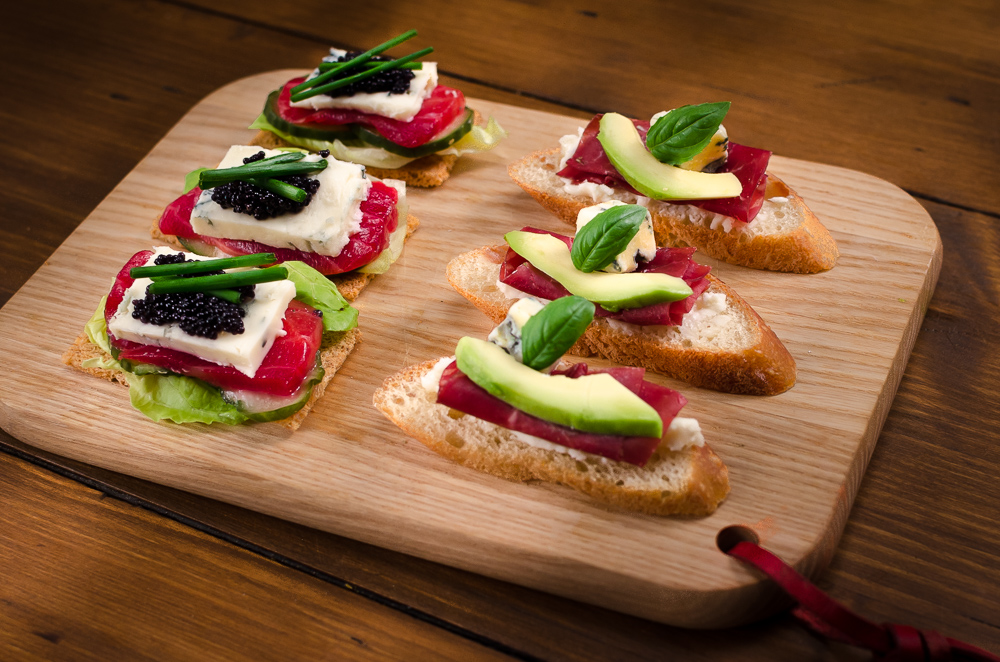 What you need
Sashimi tuna, beetroot cured or plain (from sushi outlet)
Cured cucumber salad (from sushi outlet)
Round lettuce
Lumpfish caviar
Thin French crisp bread (toasts)
Fresh chives
Good French baguette
Bresaola
Firm but ripe avocado
Lemon
Good virgin olive oil
Fresh basil leaves
How Dad Cooked It
Both the raw tuna and the cured bresaola, are happier with the piquancy of the piccante gorgonzola – both meats are rather mild and sweet tasting, so partnering like-for-like becomes a little cloying, however, the dolce is used instead of a base of cream cheese, as in a classic canape.

For the tuna, spread a little dolce gorgonzola on the toasts, prep a small piece of lettuce and put on top of the cheese, then add two cucumber slices, a slice of tuna and finish with a section of piccante gorgonzola. Garnish with caviar and chives.
For the bresaola, cut the baguette on the diagonal and grill under a grill or on a grill pan. Drizzle with good olive oil. Prep the avocado and cut in to long slices, then squeeze a little lemon juice over the slices. Spread a little dolce on one side of the bread and fold over about half a piece of bresaola and place on top. Add a trimmed slice of avocado and a cube of piccante and garnish with a small basil leaf.