Japanese Smoked Mackerel Canapés
Time:

40 minutes

Serves:

6

Level:

medium
Every now and then my friends and I have a 'What Dad Cooked Come Dine With Me' evening, where as couples, we pick a dish to make from the site. So… next time… I'm making these stupendous little one bite snacks. Dad mentioned although they are made from normal smoked mackerel, the flavour can really be enhanced with some Japanese ingredients.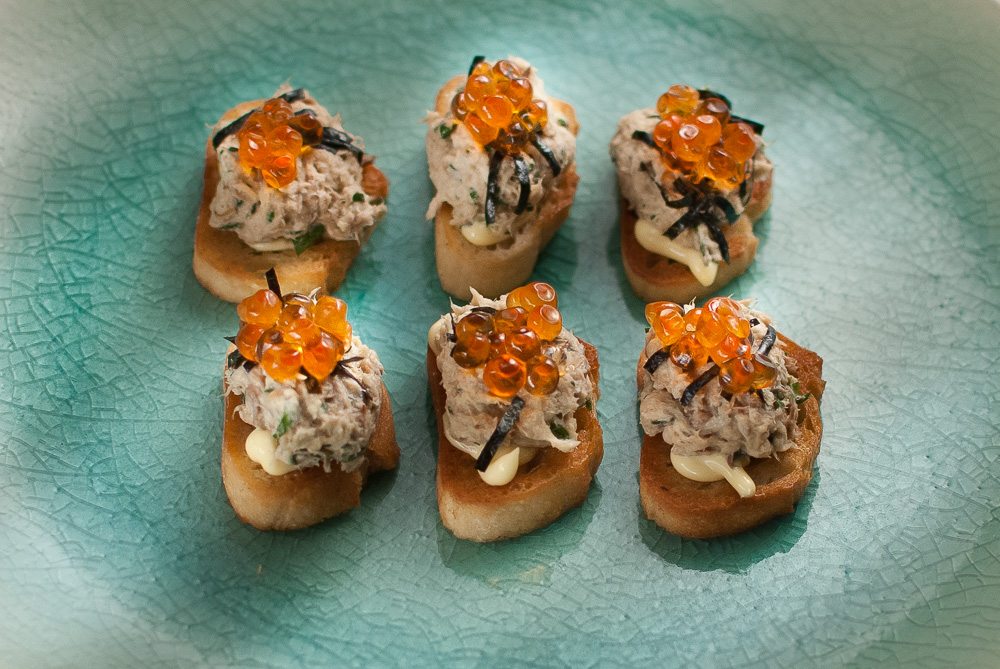 What you need
Makes about 20 Smoked Mackerel Canapés
175g smoked mackerel
Mini baguette – enough for about 20 discs of bread
1 tsp (or more to taste) yuzu kosho
3 tbs Kewpie – or ordinary mayonnaise
3 tsp light soy sauce
3 tsp mirin or 1 tsp sugar
1/2tsp sesame oil
6 shiso leaves – (optional)
1 tbs chopped chives
Chopped nori seaweed (easier to buy already chopped/shredded)
1 small jar salmon (or other) caviar
Squeeze lemon to taste
How Dad Cooked It
These are made from whole smoked mackerel. They sell them at Websters in Kingston Market and Williams and Bunkell in Claygate. Do seek them out from a fishmonger near your, they are stunningly tasty. What was left from my pickings, I made into these Japanese inspired nibbles. The starting point was yuzu kosho, my latest fave condiment which I sourced from Atari-ya in Norbiton. The flavour is basically hot citrus, so compliments fish well. There are many other Japanese ingredients I've added – but you can substitute most of these: lemon and pepper for the yuzu kosho for example.
Prepare the smoked mackerel. Skin and de-bone the mackerel. Ensure there are no fine bones left in the flesh. Shred with a fork into a rough paste texture.
Add the remaining ingredients. Mix well and adjust to taste. Check seasoning.
Prepare the baguettes. Slice the bread into thin discs. Place on a wire rack and toast lightly in the oven on medium heat. Allow to cool. Heat a tablespoon of groundnut oil in a frying pan, add slices of toasted bread to loosely fill the bottom of the pan and fry on medium high heat. Turn individually until lightly browned. Drain on kitchen towel. Repeat the process for the remaining bread.
Make the canapés. Using a teaspoon, shape the mackerel onto each toast, sprinkle on shredded nori and top with the caviar.