Pho Ga Vietnamese Chicken Noodle Soup
Time:

Two and a half hours

Serves:

4

Level:

medium
For something that seems so simple, pho ga can be quite an undertaking to attempt at home. The trick is to co-ordinate and plan the different elements – otherwise it is actually straightforward. My recipe here produces a good and tasty broth that – baring 72 hours of simmering beef bone and the odd impossible to find ingredient – is about as authentic as it can get for homemade!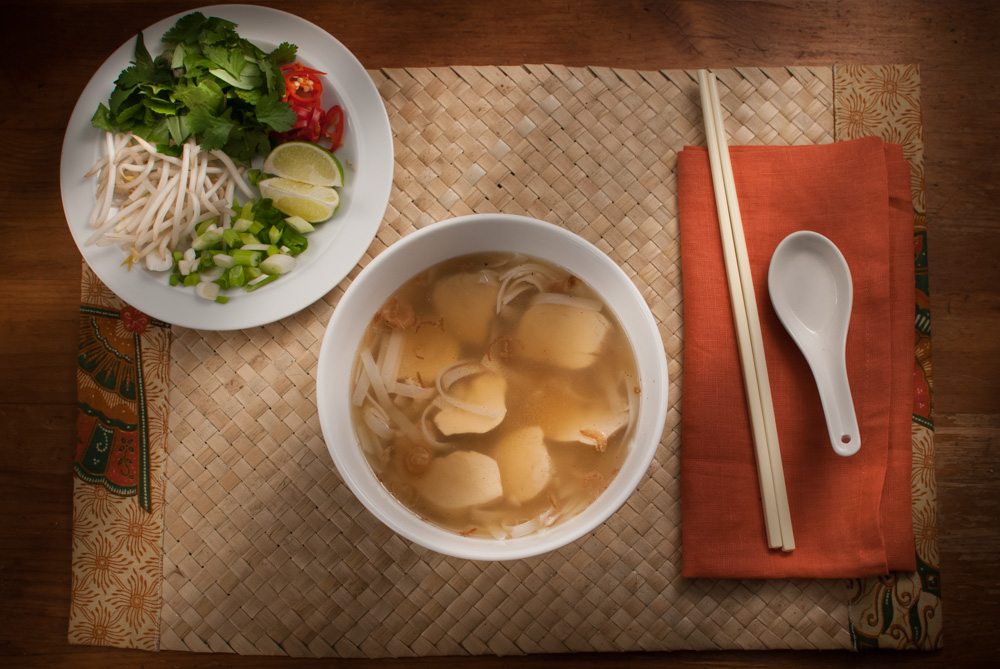 What you need
To make Pho Ga Noodle Soup you'll need:
600g boneless chicken breasts
1500g chicken wings
Approx 650g beef marrow bones
225g wide rice noodles
200g bean sprouts
large 12cm chunk of ginger
2 large onions unpeeled
1 medium carrot
2 sticks celery
8 cloves of garlic unpeeled
2 tbs coriander seeds
4 dark cardamon pods
2 star anise
1 cinnamon stick
15 peppercorns
1 tablespoon palm sugar, or oriental 'brown' sugar or granulated sugar
Handful fresh coriander roots
Fish sauce
One bunch of spring onions
2 large red chillies – or more depending on heat
3 – 4 limes
Handful each of Thai basil, coriander and mint
Dried shallots (optional) – fresh store bought is best
Soy and Sriracha to serve
How Dad Cooked It
Those who rely on a regular supply of fresh stocks for their cooking will be on home ground with pho. But pho broth is slightly different – it's traditionally made with beef bones and a few aromatics (not the leeks, carrots and bouquet garnis etc. of a European stock). The unctuous background flavour that is typical of pho is derived from extracting gelatin from simmering bones in water for several hours! So for die-hard pho fans, or regular weekend brewers of broth, stock and demi-glace – making your own pho broth will be a breeze.
However, this recipe is different – it's a compromise between all-day bone simmering and a reasonable limit on what might be possible for the part-time enthusiast. The big debate among the Vietnamese is whether there can be any kind of pho – namely beef or chicken – that is not made with beef bones. Many Vietnamese cooks tend to use beef bones for both types of pho and dismiss chicken as devoid of flavour. However, not everybody has easy access to a local butcher who might supply a bag of beef – or even chicken – bones. So this recipe settles on the more practical chicken pho, using using easy to buy chicken wings – but also includes beef marrow bones, bought from the supermarket, to help add depth of flavour. Using chicken wings gives quick flavour from the meat and later gelatine from the bones. The stock can be used after 2 hours and up to 4 hours. After 2 hours the stock will taste fresh and flavourful, by 4 hours some of the freshness is given-up to greater depth and unctuousness.

NB: For 4 people you will need a pan which will hold up to 5 litres of water. Another requirement is a stout cooks knife or clever for cutting through the chicken wings. This method uses quite a bit of boiling water, you will need an electric kettle or to keep other pans of boiling water ready. Serving in oriental soup bowls with chopsticks and ceramic spoons add to the authentic taste.
Prepare the bones, and start the broth. This quick method requires that the bones are cut, using a clever or knife. Cut through the bone of each part of the wing. Put all the wings in the cooking pot and place over a burner on medium heat, pour over a kettle of boiling water. Stir the wings and drain in a colander. Repeat this process twice more, but include the beef bones with the third kettle of water (ensure that any exposed marrow is not dissolved in the process). Pour 4 litres of cold water into the pan and bring to a simmer. (Keep the stock at a steady simmer throughout the cooking.) Simmer for between 2 – 4 hours. NB: Cleaning the bones will eliminate most of the impurities. There should not be any scum rising to the surface. Stir the stock often to ensure even cooking – but do not agitate or press the contents. This will cloud the broth.
Prepare the vegetables. Put the unpeeled ginger and onion over an exposed gas hob flame or place under a grill, turn and cook until well charred and blackened. This needs at least 15 minutes. Then put both in cold water and scrape away the blackened parts and add to the stock. Cut the other onion into 4 and add this to the stock as well. Chop the celery and carrot and add these to the pot. (These vegetables are often omitted from recipes – but due to the lack of beef bones and cooking time – we are trying to compensate for some flavour.) Add the garlic cloves to the pot.
Add the spices. Add the coriander, cardamom, stare anise and pepper.
Prepare the chicken breast and coriander root. Decide how long the stock will cook and plan for half an hour before the end of the period. Peel the skin from the chicken breasts, add then add to a heatproof bowl and pour over a kettle of boiling water – stir the breasts and drain. Add the breasts and the coriander roots to the stock pot and continue to simmer for about 10 minutes. Check that the breasts are done – cutting through with a knife to ensure the meat is not pink and juices run clear. Make sure you do not overcook the breasts – they will be dry and unpleasant to eat. Set the breasts aside in a bowl and add a ladle of stock, cool until ready to serve.
Drain the stock. First find the beef bones and make sure the marrow has dissolved into the stock, then drain in a large colander. NB: Pass the stock through a colander without pressing the contents to extract liquid – this will cloud the broth. Pass the stock through a fine sieve, and then muslin if available. Season the stock with fish sauce – add two tablespoons. Keep the stock covered off the heat until required.
Prepare the bean sprouts. These can be served heated in the stock – or they can be served separately at the table. However, we are told that we should cook our beans before eating. Cooking in the stock just before serving will be fine, but if you want them on a side plate you need to rinse with plenty boiling water and then plunge in cold water and drain.
Prepare the remaining ingredients. Cut the limes into quarters, chop the chilli, herbs and spring onion and present separately on individual plates or a larger serving platter.
Assemble the pho. Time this part for when guests will eat. There are several parts to co-ordinate here, so plan each part appropriately.

Heat the stock to a simmer. Add more fish sauce to taste. Check for sweetness also and add more sugar if necessary.
Cook the noodles according to instructions and type of noodle. Drain and set aside if using right away. (You can pre-cook the noodles, drain, plunge in cold water, drain again and add a teaspoon of oil and stir. They will sit happily like this for a couple of hours – move them about every now and then. Just before using, pour boiling water over to heat through thoroughly, then drain and use immediately.)
Drain the chicken breasts and slice across the grain into thin bite-size portions. Put the slices into a pan and add a ladle or two of hot stock. Heat very gently to ensure the slices are hot.
Heat 4 large soup bowls. Add portions of noodles into each bowl, lay equal portions of chicken over the noodles and ladle over broth to fill the bowls. Add very finely grated pepper and good pinch of dried shallots. Serve immediately. Add the separate ingredients and condiments to taste.