Pappardelle with Parma Ham
Time:

30 minutes

Serves:

4

Level:

easy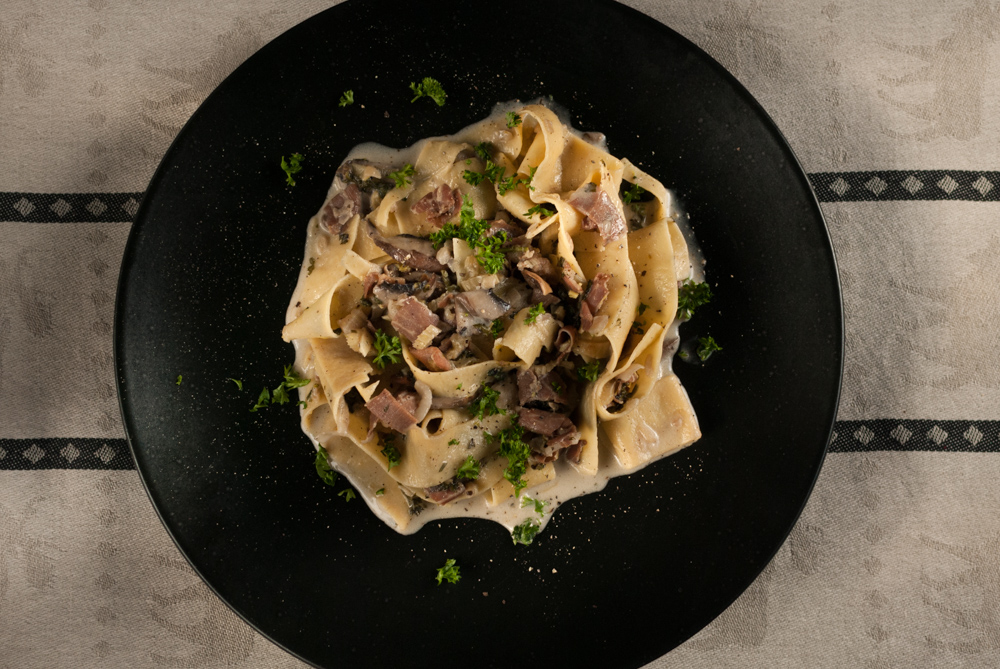 What you need
8 large thin slices Parma ham (about 100g – 150g)
150g – 200g button mushrooms sliced thinly
Two medium banana shallots
2 small stalks from the heart of a celery
1 small clove garlic
Small sprig fresh thyme (optional)
2 bay leaves (optional)
1 tsp dried oregano
100ml white wine (optional)
300ml ham, chicken, vegetable stock or water
150ml creme fraiche
Fresh parsley to garnish (optional)
Lemon to season (optional)
How Dad Cooked It
Try to get your Parma ham cut from a large joint in the delicatessen, it will stay meaty and moist when frying. If you cannot get hold of Parma ham use any other type of cured ham, cooked ham or even streaky bacon. For a more stroganoff type taste swap the oregano for tarragon. Do try to source the egg pappardelle by De Cecco (no, 101) – it makes a huge difference to the quality of the dish. If this is not possible any other make of pappardelle or long ribbon shape will still be good.
1. Start the sauce. Fry chopped shallots, garlic and celery in a little olive oil and butter on a medium heat until soft, about 10 minutes.  Add the wine (if using) and the herbs to the onions, boil the wine until nearly evaporated and add the stock or water, bring to a simmer and cook for 5 minutes.
2. Fry the ham and mushrooms. In a separate pan fry the Parma ham in a little olive oil and butter until just starting to turn golden brown. Set the ham aside and fry the mushrooms in the same pan until their moisture has evaporated and they are just starting to turn golden brown.
3. Boil the pasta. Follow the instructions for your brand of pasta, cook until al dente. Drain, reserving a cup of cooking liquid.
4. Finish the sauce. Add the ham and mushrooms to the sauce and simmer for 1 minute. Add the creme fraiche and simmer for 1 minute, add the pasta and toss for 1 minute, adding some of the cooking liquid if it is becoming dry. Adjust the seasoning, adding a squeeze of lemon if required. Garnish with parsley if using and serve.