Nduja Crostini
Time:

10 minutes

Serves:

1

Level:

easy
Here's a great way to enjoy this trending specialty.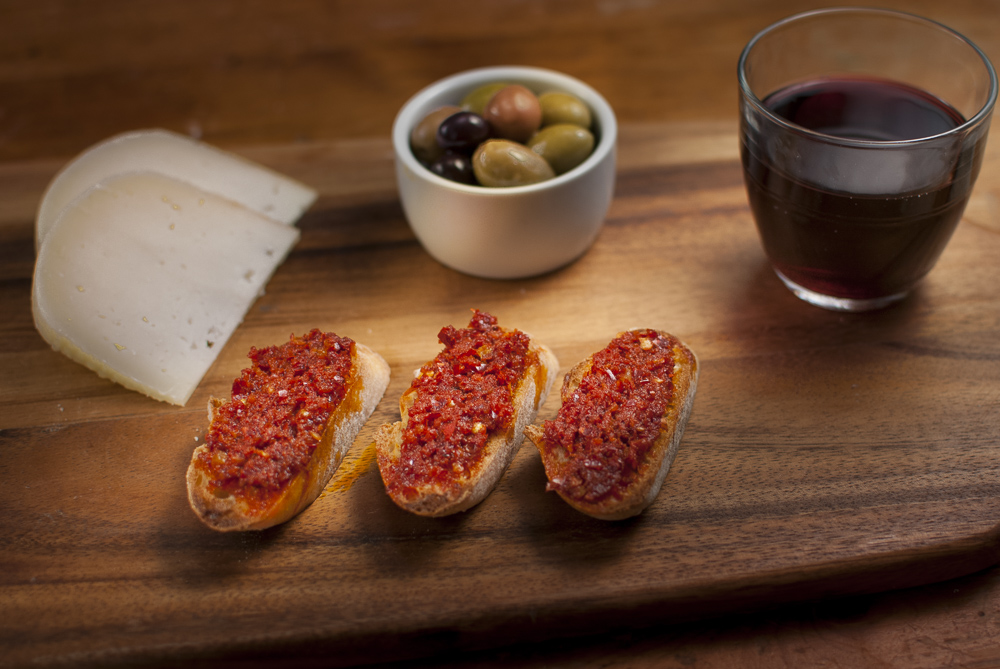 What you need
Nduja
Baguette
Olives
Cheese
Chianti
How Dad Cooked It
I first tasted nduja at Pizza Pilgrims in London. The menu said nduja was a spicy sausage from Calabria. The pizza was excellent, but I was perplexed when my pizza arrived without any visible evidence of 'sausage'. In my ignorance, I asked the waitress where the sausage was, she said it was there, but even still I had to ask one of the chef's what his nduja looked like to satisfy my curiosity. He showed me round balls of red sausage meat and described how it melts into the cheese and tomato sauce when the pizza is cooked. This explained why the nduja was both there and not there on the pizza. I thought I would buy some nduja to try at home.
Nduja is also described as a spreadable salami – if this doesn't sound like a contradiction in terms it's certainly counter-intuitive. I decided to do a test. First I spread the nduja 'raw' on some bread. Surprisingly it's not as fatty, or intensely rich – or indeed, as counter -intuitive – as you might imagine. Then I put the nduja on toast and grilled it, this seems to bring out some of the richness whilst also exuding a bath of very satisfying fiery red oil. both ways are good, but I prefer the grilled version – it's rather like preferring grilled cheese on toast, even though un-grilled cheese on toast is very nice too. So my recipe is grilled nduja crostini – not only is it a very good Italian antipasto – it reminds me of my nduja pizza!
How to make the crostini
To make the crostini buy a good French baguette, not too large in diameter. Slice off pieces at an angle and grill lightly on both sides. Spread one side with nduja and grill again. Serve, with olives, soft pecorino and a glass of Chianti.