Cinnamon Apple Pie
Time:

1 hour plus 2 hours resting pastry and 1 hour baking

Serves:

8

Level:

medium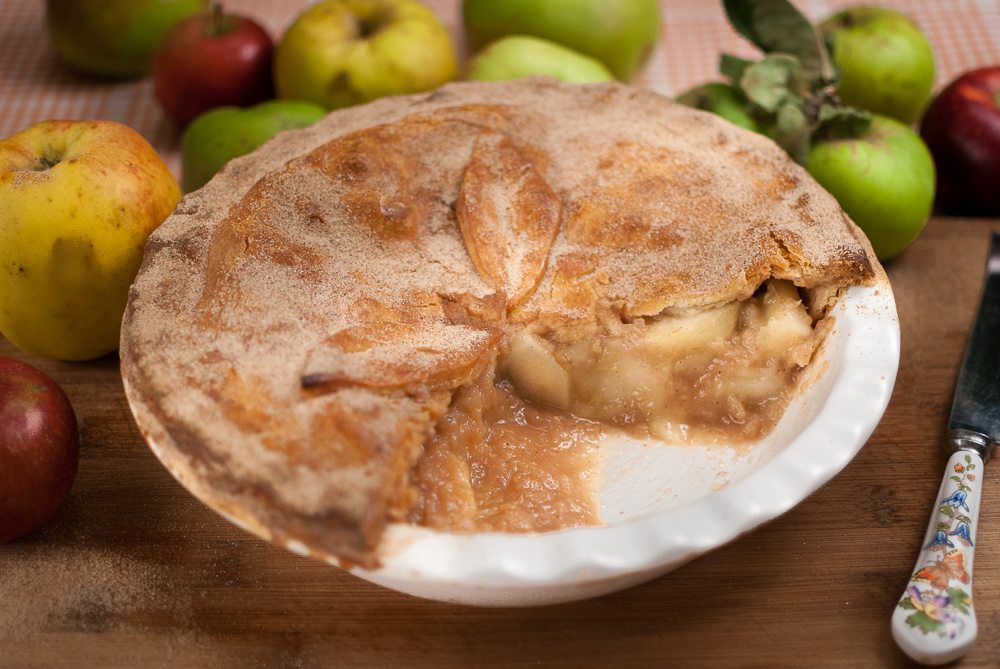 What you need
About 8-10 mixed cooking and eating apples
Juice of 1 lemon
2 tbs flour
150g light muscovado sugar
125ml apple juice
45g unsalted butter
1 1/2 tsp ground cinnamon
1/4 tsp nutmeg
1/2 tsp vanilla
1/4 tsp salt
Extra butter for the the pie dish
Pastry: 350g plain flour, 225g cold cubed unsalted butter, 1/2 tsp salt, 5-6 tbs iced water.
Egg wash: 1 egg beaten with a few drops of milk
Cinnamon sugar: 2tbs sugar, 2 tsp cinnamon
How Dad Cooked It
Each year hundreds of local apple trees go unpicked. Abundance Kingston, a non-profit organisation finds these trees and aims to redistribute surplus apples to the community. This is how we ended up with a basket full of mixed apples, just what's needed for this autumnal cinnamon apple pie. The cinnamon is perfect with apples giving a warming seasonal flavour.  The recipe was developed to mimic the filling of a certain American high street food chain's pie. Use ready-made pastry if you're short of time, but making pastry from scratch is worth the effort. For an extra treat, try left over cinnamon sugar on hot buttered toast.
Use a 23cm/9in ceramic pie dish 5cm/2in deep, or similar.
Preheat the oven to 200C, Gas 6. Butter the pie dish.
Make the pastry. Sieve the flour, sugar and salt into a large bowl, add the butter and rub with fingers until the texture of breadcrumbs. Add the water until the dough comes together. Form into a ball and wrap in cling film and rest in the fridge for an hour.
Cut the pastry into two pieces, one a little larger than the other. Form the pastry into two flat circles. Roll the larger piece, rolling from the centre outwards making a circle about 3cm larger than the pie dish. Line the pie dish and use excess pastry to make good any gaps. For the lid, roll the smaller piece of dough into a circle just a little larger than the dish. Place the lid on a floured oven tray and rest with the base in the fridge for an hour. Remove 10 minutes before use.
Peel and core the apples. Cut into rather thick slices/chunks. Squeeze the lemon into the bowl and mix with the apples to prevent browning.
Take a handful of the apples and put into a large pan. Add the flour and mix, then add the apple juice, sugar, butter, cinnamon, vanilla and salt. Cook until the apples are soft.
Combine the cooked apples with the remaining apples and transfer to the pie dish, cover with the pastry lid, using milk to help join the pastry – crimp the edges using your fingers. Decorate the pie with leftover pastry. Pierce the lid with a tip of a knife to make ventilation holes.
Bake at 200C, Gas 6, for 10 minutes, then reduce the temperature to 180C, Gas 4 and bake for 30 – 40 minutes until the pastry is golden brown and the apples are soft (when tested with a skewer or knife). 10 minutes before the end of cooking glaze with egg wash. When cooked, remove from oven and sprinkle with cinnamon sugar.