Summer Rolls with Nuoc Cham
Time:

1 hour and a half

Serves:

4

Level:

medium
Dad always talks about a rhythm to the preparations of Vietnamese food, like all cuisines, it can take some time but you will soon get into a groove. You may be like me, learning how to cook, but it's recipes like this that once you have a go, you just want to make more! So plan a dinner party and get rolling!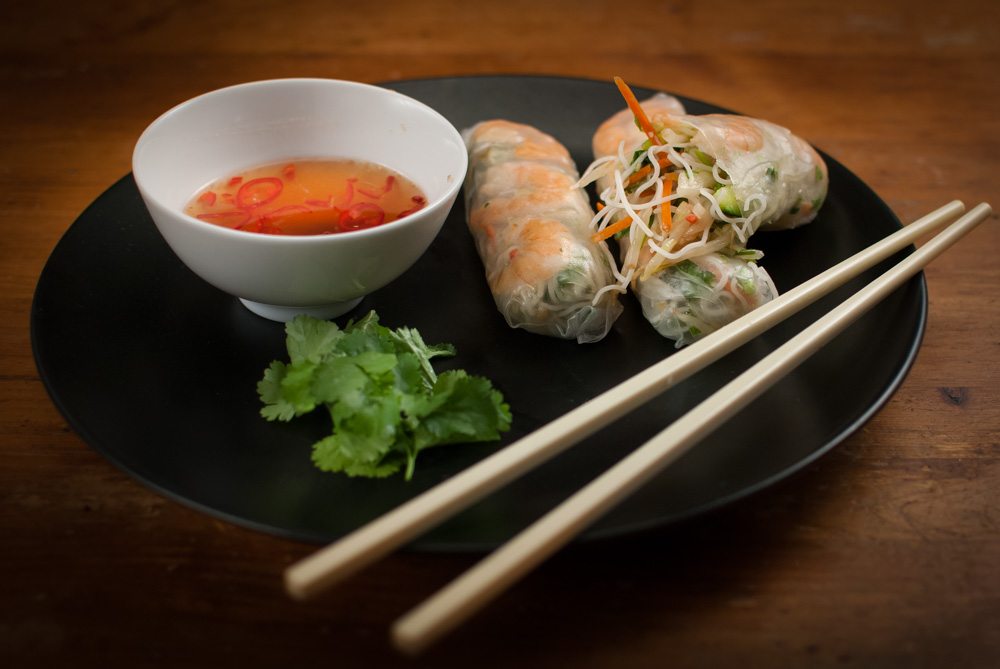 What you need
To make the Summer Rolls with Nuoc Cham dipping sauce, you'll need:
20 sheets rice paper – summer roll wraps from Oriental grocers
180g uncooked king prawns
Cooking liquid for prawns:
1/2 cup water
1 tsp rice vinegar
1 tbs fish sauce
1 tbs roughly chopped ginger
1/2 finely chopped chilli (optional)
1/4 tsp sugar
For the noodles:
100g rice vermicelli noodles
1 tsp sesame oil

For the filling:
150g bean sprouts
1 small carrot cut julienne and equivalent amount of mooli
170g Chinese leaf
1/2 cucumber
3 tbs chopped Chinese chives or ordinary chives
1/2 cup chopped coriander leaves
1/3 cup chopped mint leaves
1/3 cup chopped Thai basil leaves
1 tbs fish sauce
Salt and pepper
For the dressing:
8 tbs water
2 tbs sugar
4 tbs fish sauce
Juice of 2 limes
1 red chilli chopped in rings
1/2 red chilli (to taste) chopped finely
1 clove garlic grated
1 peeled 5 cm piece of ginger grated (optional)
Salt and pepper
Coriander to garnish
How Dad Cooked It
Cook the prawns. Put the cooking liquid ingredients into a pan and bring to a simmer. Simmer for 5 minutes, add the prawns and gently poach until cooked. Drain the prawns and set aside to cool. Refrigerate until needed. When cool carefully cut the prawns in half along their length making two prawn-shaped halves of prawn.
Prepare the noodles. Make the vermicelli according to the instructions. (My instructions said to soak in cold water until pliable – which may work for a stir fry or a soup. However, if eating cold in a salad it may be necessary to give the noodles a very quick cook in boiling water – then refresh in very cold water and drain.) Put the drained cold noodles in a bowl and add the sesame oil and set aside in a bowl.
Make the dressing: Add the sugar to a bowl and pour over the water and stir to dissolve. Add the remaining ingredients and whisk. Taste and adjust the seasoning or other ingredients. Aim for a good balance of sweet, hot, salty and sour.
Prepare the bean sprouts. Soak the bean sprouts in cold water for 5 minutes and drain. Rinse again in cold water and drain. Put into a heat proof bowl and pour boiling water over the sprouts to cover. Stir for 20 seconds and drain plunging immediately into a bowl of very cold water. Leave for a minute and drain once more. Spin to dry or dry with kitchen towel. Set aside in a bowl.
Prepare the carrot and mooli. My preferred method is to use a julienne tool (a vegetable peeler with teeth). Otherwise use a mandolin or cut to a thin julienne with a knife or use a vegetable peeler that cuts fairly thick and then cut julienne. Put the veg into a bowl of very cold water for 10 minutes, then drain and spin to dry and and set aside in a serving bowl
Prepare the herbs. Put all the herbs with their stalks in a bowl of cold water and soak for 5 minutes. Drain and spin to dry. Pick the leaves off the stalks and put them in a bowl. Set aside in a cool place.
Prepare the Chinese leaf and cucumber. Rinse and soak the leaf for 5 minutes. Drain and spin to dry. Shred the cabbage with a sharp knife and set aside in a cool place. Wash the cucumber. Cut in half along the length and scoop out the seeds with a teaspoon. Cut into thin julienne and put in a bowl and set aside.
Combine the filling. Put all the filling ingredients in a large bowl. Cut the noodles in 3 or 4 places and add to the bowl with the fish sauce and mix well.
Assemble the rolls. You may need a few practice runs with these. The method that works for me is to soak the rice paper in hot water, then just before it flops in to a congealed clump, put onto a clean surface and spread it out. You will need some moisture on the surface and the rice paper but the aim is to try to keep the water to a minimum. Position 3 or 4 prawn halves on the bottom of the paper. Make sure the outside of the prawn faces down. Put a spoon of filling on top of the prawns and fold the bottom edge up and over the filling and draw up the wrapper about half way. Then pull back down on the filling to make a tight pack of filling. Push in any filling in that is trying to escape from the sides and boldly roll the filling up the wrapper leaving about one third of the wrapper flat on the surface. Fold the sides in and over the roll and then roll up to complete the spring roll.
Serve. Place the rolls on individual plates with dressing and coriander garnish.