Spinach, Tofu, Avocado
Time:

30 minutes plus setting time

Serves:

4

Level:

easy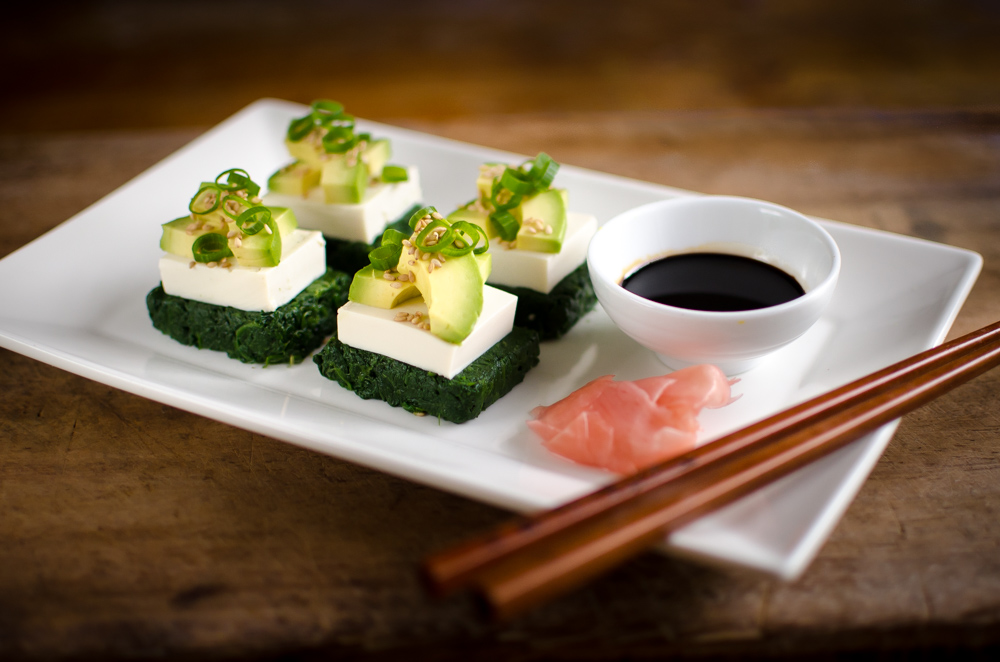 What you need
900g spinach
1 carton Mori-Nu Silken Tofu Firm 349g or similar
1 large ripe but firm avocado
Roasted sesame seeds
Spring onion
Pickled ginger
Ponzu dressing
To make ponzu dressing
Juice of half a lemon and half a lime
4 tbs dark Japanese soy sauce
2 tbs light soy sauce
50ml mirin
50ml water
Small piece of kombu seaweed
How Dad Cooked It
Prepare the spinach. Rinse and cook the spinach in a large pan – in batches if necessary. Cook only until thoroughly wilted and then a minute more. Drain and plunge into ice cold water. Drain again. Then start to extract water using a spatula against a strainer. Finally, use you hands to squeeze out as much water as possible.
Prepare tofu. Remove the tofu from the carton using the instructions on the pack (keep the empty carton). Place in a bowl and cover tightly with cling film. An hour before assembling, cover the tofu in several layers of kitchen towels.
'Terrine' the spinach. Using the empty tofu carton pierce with a knife all over the carton but without compromising the shape. Stuff the spinach into the carton and force down. Add any wights that will fit into the top to keep a little pressure on the spinach. Wrap in kitchen towels, place on a plate and store in the fridge overnight. NB: This idea is based on classic French terrine techniques, where vegetables are pressed over time to form a solid mass which can be sliced. Use any other improvised technique to press the spinach so that it can be molded and cut. Otherwise simply form the spinach into rough balls and flatten.
Make the ponzu. Bring the water and mirin to a boil in a pan. Rinse the kombu and then add to the pan. Reduce by half and allow to cool. Remove the kombu and add the other ingredients.
Assemble. Cut the spinach and tofu into squares – or other shapes – and top with sliced avocado. Garnish with spring onion and sesame seeds. Serve with the pickled ginger and ponzu.