Quick and Easy 30 Minute Chopped Salad
Time:

30

Serves:

2

Level:

easy
"The 'chopped' salad is an American style of 'mixed' salad. It is usually served in a large bowl and the portions are generous. However, the chopped-up and homogeneous amalgamation of the constituent parts create an even balance of every ingredient on every forkful – not to everyone's taste. This version takes the best from the idea, I've used the idea of a wide variety of salad items in a single bowl – but go easy on the chopping!
The salad includes my special tortilla chips, made from tortillas available in the UK. Mrs WDC goes mad for them!" — Dad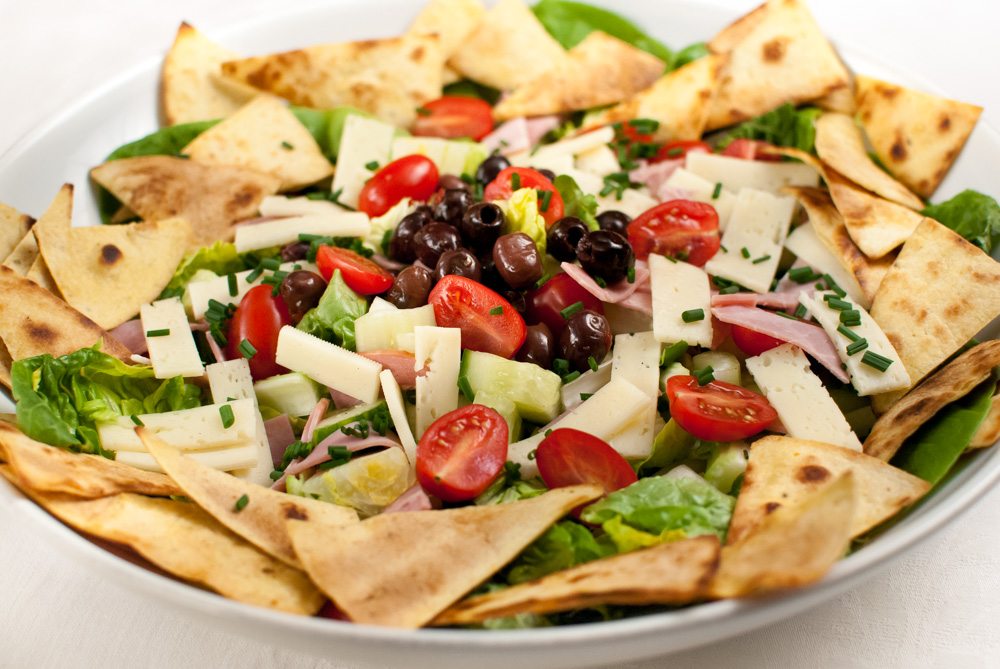 What you need
Lettuce – 1 round lettuce or 2 little gem or a combination of the two
Half a cucumber
2 sticks of celery – or other crunchy veg such as raw fennel
Handful of cherry, or baby plum tomatoes
2 or 3 slices of sandwich sliced ham from the supermarket
2 or 3 slices of sliced continental cheese from the supermarket – a mild variety is best
Small handful of black pitted olives – any type is fine
3 tortillas from the supermarket, such as Old El Paso – preferably corn or corn and flour mix
OR
3 thick slices of sourdough bread
For the dressing
1 lemon
Creme fraiche
…or dressing of choice – buy from the store if it's easier…
Store cupboard
Light vegetable oil – light olive oil
How Dad Cooked It
Recipe: Soak the lettuce in a bowl of cold water for 5 minutes, then spin and drain. Meanwhile, make the tortilla chips or the croutons (see below). Prepare the rest of the salad ingredients. Wash and cut the cucumber in half lengthwise and then in half again lengthwise, chop into pieces. Cut the celery sticks in half lengthwise and then chop into pieces. Chop the tomatoes in half. Cut the cheese and ham slices into short strips. Leave the round lettuce in large leaves – if using – and cut the little gems into quarters lengthwise and then cut across the length in half. assemble the salad by putting large round lettuce leave around the outside of a large bowl and layering the remaining ingredients on top. Make the dressing by using a ration of 1 part lemon to 3 parts oil. Add creme fraiche to taste, whisk to make an emulsion – thin with milk if necessary. Season with salt and pepper.
***
Tips: The trick to this recipe is simply the notion of chopping lots of ingredients and putting them together and calling it dinner. The distinctive elements in the American chopped salad are the sliced cheese and ham effect and creamy dressings.

Optional ingredients: A traditional 'chopped' salad sticks to standard salad ingredients and uses crisp and crunchy lettuce – such as iceberg. But hey, it's a salad – so mix it up to your liking. For example, use any kind of cheese and deli counter meat, crispy bacon, chopped chicken, fennel, raw carrot, raw peppers, lightly cooked broccoli, peas or green beans and refreshed so they are cool and crunchy etc…. Small tomatoes are better than chopped large ones – they will keep the salad dry and clean. I've used chopped chives for a little onion taste and as a fresh herb – used dried herbs such as chives, dill or oregano, or fresh parsley or chervil. Don't put chilli in this kind of salad. Save eggs for a 'chef's' salad.
Note on dressing: The salad is just as good with a vinaigrette ('French' as it is known in America). The creamy dressings can be anything from ranch, blue cheese, or Caesar. Making creamy dressing in a jar is much quicker and easier. Optional ingredients to add to my dressing can include, garlic, fresh chervil, parsley, dill, tarragon, Worcestershire sauce, mayonnaise and cream cheese.
Making the tortilla chips: Stack the tortillas together and cut in half, stack the halves and cut in half again, stack the quarters and cut the tortillas into thirds. Put the cut pieces into a dry large nonstick frying pan (i.e. no oil) and heat on a medium-high heat. Toss them about so they are evenly browned on both sides. You might need to do this in batches depending on size of pan. Then brush each chip on both sides with a light coating of light olive oil or vegetable oil. OR – drizzle a teaspoon of oil over the chips in the pan and toss thoroughly to even coat the chips. Use a microwave 'bacon crisper' and microwave on high heat for 1'30" on full power. If you do not have bacon crisper, put the chips on a plate and turn half way through the cooking time. Then remove the chips and set aside on a rack or cake cooler – or back onto the bacon crisper (but dry it first).
Making croutons: Cut the bread into cubes. Dry fry in a large nonstick frying pan on medium-high heat. When they start to go brown, drizzle over a little olive oil or vegetable oil and toss well to incorporate the oil evenly. Continue to fry until the bread is crisp. (NB: The croutons are better if they have a little oil – but I like to add it later so that it does not burn during the time it takes for the bread to cook and become crisp.) You can use an oven tray and do this in a hot oven as well. Season very lightly.
Finessing the recipe: This is probably as finessed as a 'chopped' salad gets.