Artichoke Pesto with Orecchiette
Time:

40 minutes

Serves:

4

Level:

easy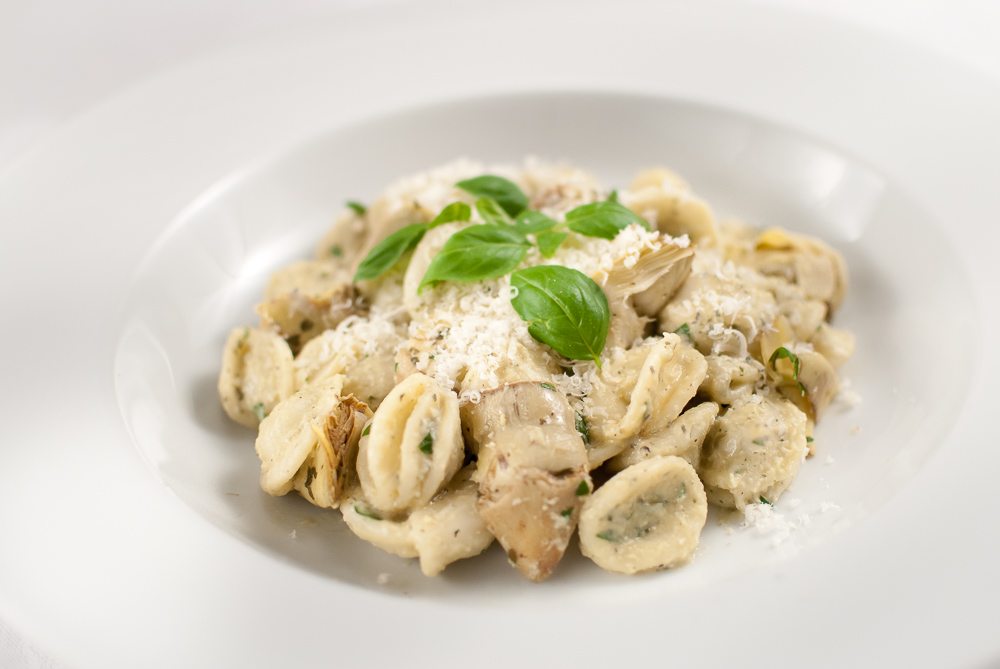 What you need
300g – 400g orecchiette (depending on appetite)
1 x 280g jar artichoke slices
1 x 280g jar artichoke hearts
180g frozen baby broad beans
70g pumpkin seeds
2 shallots chopped
2 cloves garlic minced or chopped
45g grated Parmesan cheese
250ml chicken stock
Fresh parsley
Fresh basil to garnish
Lemon
How Dad Cooked It
Cook the pasta. Follow the instruction on the pack and cook until al dente. Reserve a cup of the cooking liquid.
Cook the broad beans. Boil the bean until tender. Use small broad beans and leave the skins on.
Drain the artichokes. Drain the hearts and slices separately.
Fry the shallot and garlic and pepper. Fry in light olive oil in a heavy bottomed sauce pan on a medium high heat until soft, about 8 minutes.
Prepare the pumpkin seeds. Put the seeds into a non-stick pan without oil. Fry on medium high heat until they start to pop. Take off the heat and add to the sauce pan.
Finish the sauce. Add the drained artichoke slices to the sauce pan add the chicken stock and simmer for 5 minutes. Blend using a stick blender or cool slightly and transfer to an upright blender. Blend until there is a fairly thick sauce consistency, with a slightly rough texture. Return to the pan and heat, adding the Parmesan, chopped parsley and a squeeze of lemon. Check the seasoning and adjust.
Serve. Slice the artichoke hearts in quarters. Toss together the orechiette, the sauce and artichoke quarters. Garnish with extra parmesan and basil. Serve with a salad.