San Joaquin Battered Asparagus
Time:

30 minutes

Serves:

2

Level:

easy
To get the right effect, try to find very large asparagus. My monster spears were bought farm shop – each was a foot long! The other thing you really need is Ranch dip, which is what they serve with the asparagus in the San Joaquin Asparagus Festival. Ranch is a creamy dip, flavoured with onion, garlic and herbs (parsley, chives, dill). Many people try to replicate the taste, usually with a range of powdered ingredients and dried herbs – you can get close but never match the distinctive taste of Ranch. If you don't have a source of Ranch dips sachets, then try mixing a little Boursin with Greek yoghurt or add chopped parsley, chives, dill into sour cream or Greek yoghurt – season with salt and pepper.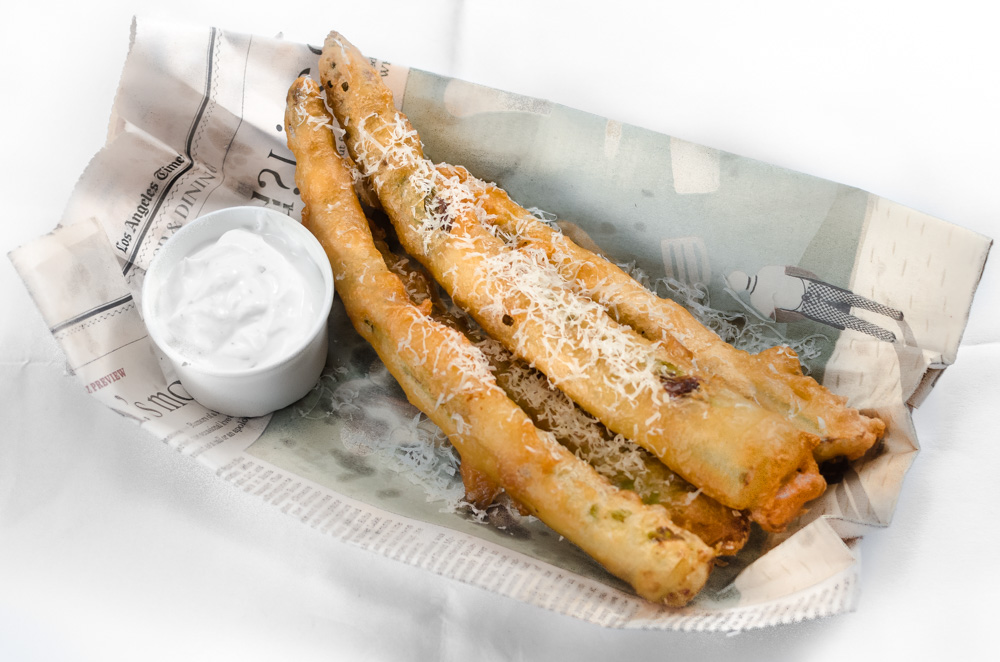 What you need
8 very large asparagus
160ml Ranch dip – see note at top of recipe
Grated Parmesan
2 litres of vegetable oil for deep frying
For the batter (enought for 16 large spears)
200g plain flour
50g corn flour
1/2 teaspoon salt
1/4 teaspoon baking powder
Pepper
330ml can of pale ale
How Dad Cooked It
1. Make the Ranch dip – or alternatives as per the note above. You need a small tub per person (about 80ml).
2. Mix the flours, salt, baking powder and several grindings of pepper. Slowly add the beer and whisk. The batter needs to be quite thick – more like emulsion paint than cream.
3. Break off the woody bottom of the asparagus – but try to keep the spear as long as possible. Wash the spears and then dry thoroughly.
4. Heat the oil to 185C. Dip the asparagus in the batter and gently place in the hot oil. Fry about three at one time for best results. Use tongs and turn in the oil. They will take about 3 – 5 minutes depending on size of spear. The batter should be golden brown but not burnt. Drain the asparagus on kitchen towels and keep warm in the oven. Repeat with the remaining asparagus.
5. Serve with grated Parmesan and the dip.