Really Easy Chicken Korma
Time:

30 minutes

Serves:

2

Level:

easy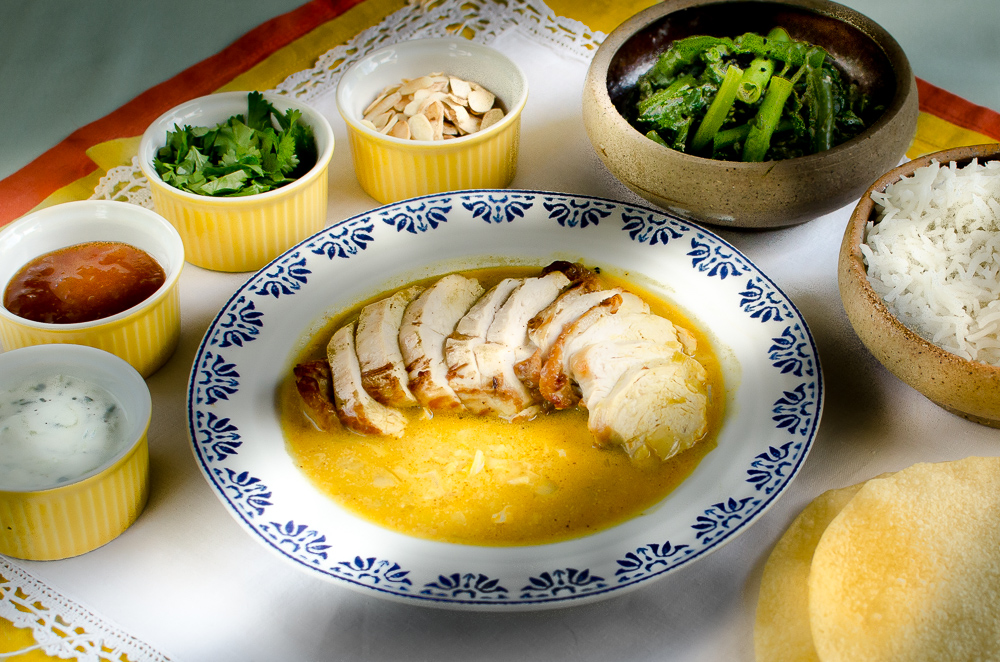 What you need
75g trimmed spring onion, white only
30g piece of ginger, peeled
1 clove garlic, peeled
2tbs ghee (or 1tbs butter and 1 tbs light olive oil or vegetable oil)
2 tsp Bart mild curry powder or similar, i.e. high in turmeric
Pinch of cayenne or 1/8 tsp (optional)
160ml chicken stock or water
160ml tin of coconut cream (the small ones)
1/2 tsp garam masala (optional)
Approx 240g pre-cooked roast chicken breast, sliced
Juice from half a lemon
Approx 200-220g rice
For the accompaniments (optional)
Mango chutney
Toasted sliced almonds – bought ready toasted or toast in dry hot pan
Chopped coriander
Pompadoms or nan bread
Raita (see ingredients below)
Vegetables of choice
For the raita (optional)
8cm piece of cucumber
4 mint leaves
Squeeze of lemon
Pepper
180g Greek yoghurt
How Dad Cooked It
Indian cooking is not known for being quick and easy. A curry will use many spices and needs plenty of time to develop flavours. This quick recipe works well and is a very presentable and tasty curry. To speed things up I use curry powder and pre-cooked roast chicken breast. The accompaniments are optional and should be chosen to suit tastes and time.

1. Cook the rice. Measure 200g – 220g rice to the top of a small mug. Rinse the rice in a strainer under the tap until the water runs clear. Put into a heavy sauce pan with lid, measure one and three quarters boiling water in the mug and add to the rice. Bring to the boil and turn the heat down to its lowest. Cook for 15 – 20 minutes or until the water has evaporated at the bottom of the rice. Turn off the heat and let the rice rest for 10 minutes.
2. Make the sauce. Chop the spring onion, ginger and garlic finely and put into a large saucepan or wok. Add the curry powder and cayenne (if using) and the ghee or butter and oil. Fry gently (without burning) on medium high heat for 8 minutes. Add the stock and bring to a boil, reduce the heat and simmer for 8 minutes. Add the garam masala, if using, the coconut cream and bring back to a simmer, stir and cook for 2 minutes. Add chicken and lemon and cook gently for another 5 minutes or until heated through. (NB: I sliced the breasts and laid them in the sauce and heated through with the lid on.)
3. Serve. Arrange the rice, chicken, almonds, coriander, raita, mango chutney, vegetables and pompadoms on a table so that each person can help themselves.
Raita (optional). Take the cucumber and cut in half lengthwise, scoop out the seeds, grate on a the fine side of a normal grater. Put the cucumber in a sieve over a bowl, add a pinch of salt and mix. Leave to drain for 5 minutes then squeeze the liquid out using your hands. Chop 4 large leaves of mint very finely. Place the cucumber and mint in a bowl with a grinding of pepper and a squeeze of lemon. Add the yoghurt and mix.