Asparagus Mini Wellingtons
Time:

40 mins

Serves:

4

Level:

easy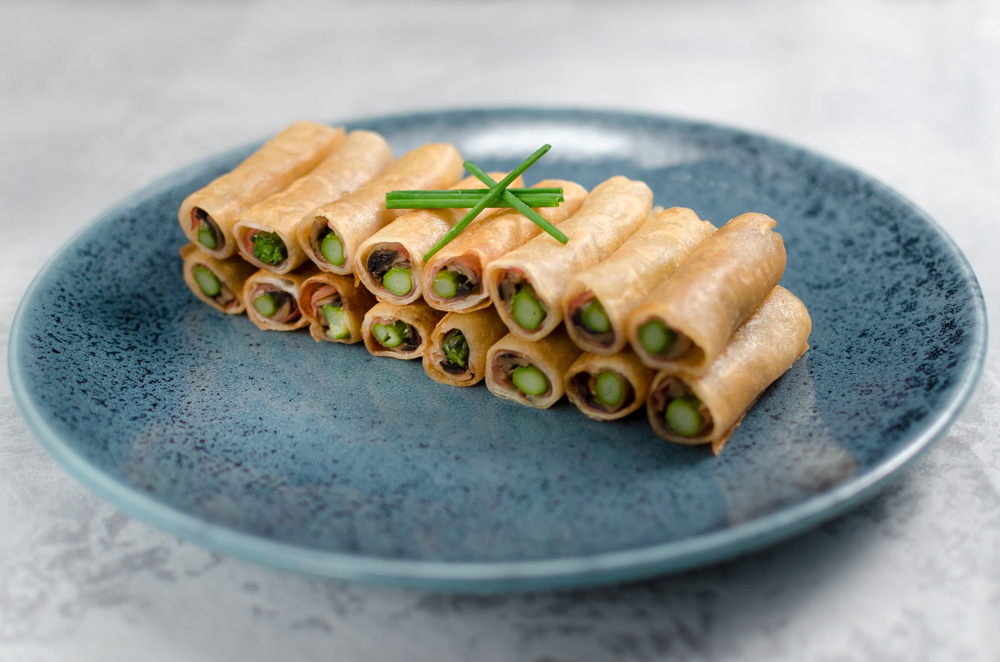 What you need
230G asparagus
200g button mushromms
200g wafer thin sliced ham
150g gruyere cheese – grated finely
12 large sheets spring roll wrapping pastry (frozen from Oriental grocers)
How Dad Cooked It
Every now and then you hit on a good idea. I'm trying out different recipes for asparagus. I've made a pastry with a single spear of asparagus, and judging by Mrs WDC's approval, they worked a treat. I quite liked the idea of a single spear wrapped in something – but maybe more compact. These are a mash-up of a Chinese spring roll, chicken cordon bleu and a beef Wellington.
For the asparagus, trim the stalk and peel the spears, rinse and boil in water for 3 minutes until firm but tender. Drain and rinse in cold water. Drain again on kitchen paper.
For the mushrooms, remove the stalks and chop, slice the mushroom in half and slice each half thinly. Place in a frying pan with a tablespoon of oil, fry until browned all liquid has evaporated. Cool and set aside.
To make the Wellingtons, take a sheet of wrapping and lay it out in front of you. Place half a slice of ham on the edge nearest you, place an asparagus spear on top of the ham near the edge, scatter a few mushrooms along the spear and then arrange a layer of grated gruyer along the spear. Roll the pastry by lifting up the bottom edge and pulling up and over the asparagus, keeping the content in the shape of a compact cylinder. Keep the tension tight as you roll the pastry to the top. Using your fingers dipped in water moisten the top edge of the wrapping and then continue to roll to seal. Next take two 8 cm lengths of string and tie a loose knot at each end. (This stops the asparagus from burning and keeps the cheese inside the parcel.) Repeat for the remaining spears.
Deep fry the parcels in oil at 180C for about 3 minutes until browned. Drain on kitchen paper and keep warm.
To serve. Cut the ends of the parcel and then cut in half. Alternatively, cut in half and serve.
NB: These can be made with filo pastry but the inside edges will burn a little and the cheese may seep out.