Asparagus and Cheese Flan
Time:

1 hour

Serves:

4

Level:

medium
I've used Italian Fontina cheese. It's famous as a 'melting' cheese. It has a mild nutty taste which complements the asparagus – but it also behaves itself during melting with not much fat separation leaving a smooth surface when hot or cold. These flans are so enticing that one may be tempted to eat them off the kitchen counter, but good as they are cold they are much better when warmed or still hot from the oven.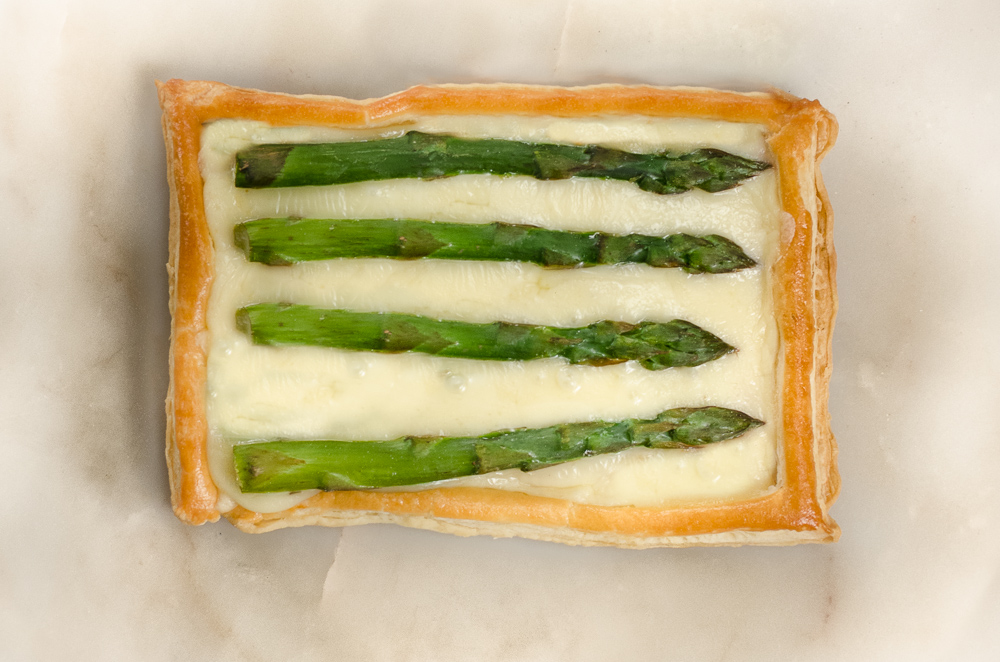 What you need
230g asparagus
500g ready-made puff pastry
200g Fontina cheese or 150g cheddar and 50g Parmesan or 200g Cheddar (for other cheeses see note by method)
1 egg beaten
How Dad Cooked It
I've reduced this version of an asparagus flan to its basics: asparagus, pastry, cheese. I can hardly claim this to be an original recipe as there are hundreds of variations published riffing on the same basic ingredients. Of course the variable element here is the cheese. I tested several and discovered that they are not completely transferable – especially when trying to match flavours with asparagus. Brie and camembert are far too strong, mild goats cheese is a little nondescript, but will give the flan a lighter touch, havarti becomes rubbery after cooking, Port Salut is similar to Fontina and interchangeable. Gruyère and Taleggio work well. Cheddar tends to split easily and look greasy when hot. However, using cheddar has the converse effect after heating; it becomes surprisingly palatable when cold a bit like a large cheese straw! Adding Parmesan to cheddar (or other cheeses) will give the cheese a sharper bite, add a bit of saltiness and can help with the splitting. Avoid overloading with cheese as this can make the flan too heavy and make the base greasy. As a final note, do bear in mind the general principle with this recipe – it should be eaten like a pizza or cheese on toast – much better when its hot or warm from an oven…
Preheat the oven to 200C Gas 6.
For the asparagus, bend and break the woody bottoms off of the stalks with your fingers, then cut neatly making similar size spears. Boil in water for 2-3 minutes until just tender, drain and plunge into cold water to stop cooking and drain again.
For the pastry, remove from the fridge and let rest for 15 minutes at room temperature. On a floured surface roll the block along its width to make a slightly larger rectangle. Then cut the block across the middle vertically and horizontally – making four smaller rectangles. Roll each rectangle out to a larger rectangle about 25cm by 16cm. Place on a floured baking tray and rest in the refrigerator for 10 minutes – repeat with each of the other pieces of pastry. Remove one of the sheets from the refrigerator and make even straight cuts on the outside edges to make a rectangle about 20cm x 16cm. Then using a short sharp knife, make a cut in the pastry (not all the way through) about 1.5cm from the edge making an even border. Then prod the inside section with the tines of a fork. Repeat with the other pieces of pastry. Brush each piece of pastry with beaten egg just before it is put in the oven. Bake in two stages if you do not have a fan oven. Baking times follow:
To cook the flans, put in the hot oven for 10 minutes, then turn, and reduce the heat to 180C, Gas 4 and bake for about 12-15 minutes until the pastry looks cooked through and the top is browned (but not burnt). Remove and push the inside section down, place 50g of the chosen cheese – grated if possible – evenly in the inside and then arrange four or five asparagus spears evenly on top. Bake again in the oven for about 15 minutes until the cheese is melted and the spears are just beginning to take on some colour. Cool for a minute or two on a rack and serve hot – or warm – with a salad.