Winter Squashes
Posted by

Mr WDC
Sep 7, 2015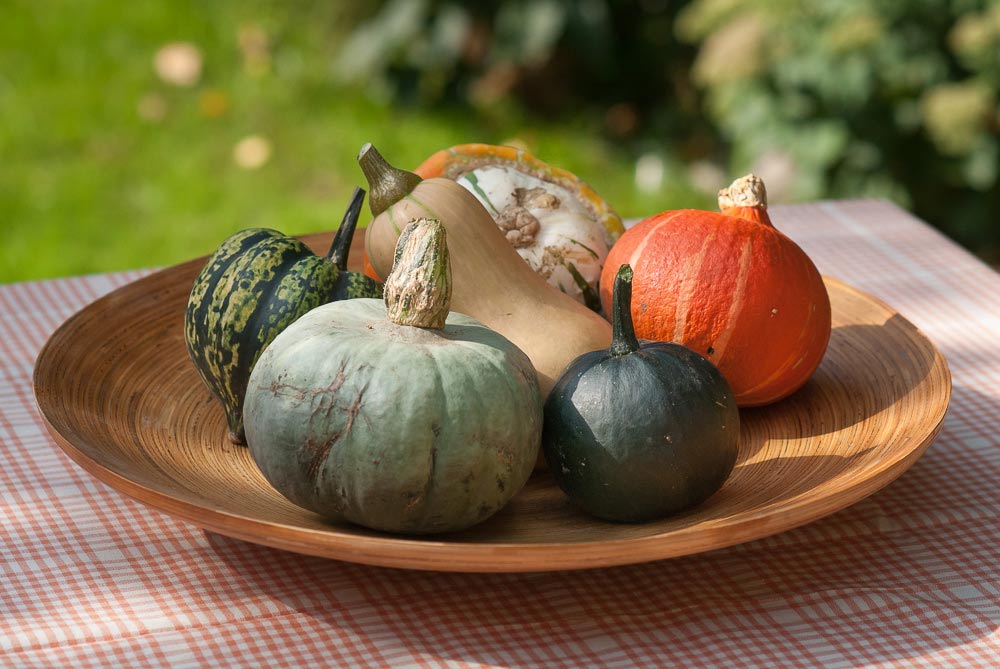 I couldn't resist.
The farm shop had a display of squashes just picked from their fields. I like squash – but many I have not eaten, including a couple here.The whole selection was very cheap and will last forever.
Watch this space for taste comparisons.
Squashes are:
Turban: (top middle)
Sunspot: (top right) – a type of Japanese onion squash
Carnival: (top left)
Butternut: (middle)
Crown Prince: (front left)
Gem:(front right)
Halibut spicy butternut squash 'soup'
Butternut squash is a ubiquitous squash and for a good reason – it is very versatile and easy to cook. It has all the taste characteristics of winter squash, sweet and buttery. You can use it in soups, purees, or roasted. Here I have used mine in a thick sauce-come-soup. https://www.whatdadcooked.com/recipe/halibut-spicy-butternut-squash-soup
'Sunspot' onion squash and sausage casserole
My sunspot was brilliant in this casserole. I had learned that this squash has the flavour of chestnuts (see my story at the recipe link below). I therefore thought that sausages (which happened to be in the fridge) would be a good flavour combination. Another really successful meal from my winter squash collection. https://www.whatdadcooked.com/recipe/squash-and-sausage-casserole
Crown Prince squash and ricotta ravioli
This was also a success. I don't know why Italian choose to put pumpkin in ravioli. There is so much effort involved in real ravioli one might expect something more exclusive. But this works and is a great vegetarian starter or main. https://www.whatdadcooked.com/recipe/squash-and-ricotta-ravioli
Spicy carnival and gem squash soup
Okay, okay – I admit it. I left my squashes too long. Sorry James. But only the Turban did not last. Even then it only felt a month or so too old. The trouble is they look just as good on the table as squashes as they do as cooked meals. This soup is a made from leftovers from my orzo and squash pilaf and harissa chicken wings. I attempted to use all my remaining squash in the pilaf but only a new butternut was firm enough – so the rest went in a bowl and later into the soup. I made my usual stock but on a smaller scale using the chicken wing bits. I strained the stock into a pan and added the squash, ground coriander and cumin, leftover toasted almonds and fresh coriander roots and blitzed with a stick blender. I boiled some orzo separately. The leftover chicken was chopped and added with the orzo. I seasoned with salt and lemon. I garnished with Greek yoghurt mixed with whole milk, cream and lemon and some chopped fresh coriander.
Easy Mid-Week Supper
This was an improvised quick dinner. I did not plan to post it, but it was so good I photographed it while we were eating it!
Salt + Sweet + Sour + Hot
Thinking about food through these four prisms of taste can open up new possibilities for seasoning and adding flavour to our food.
Do Chefs Eat Greens?
At home, I try to provide a balanced diet. That means two or three vegetables with each meal. In fact for a Sunday roast, the number of vegetables can rise exponentially…
Onigiri 3 Ways
Dad trials out three ways to prepare and eat Onigiri with shitaki mushrooms.
3 Ways to Cook Octopus
Octopus may not be everybody's cup of tea. But do try it. Here are three way to cook it – hopefully one of these will inspire you to have a go!
3 Ways to Eat Raw Salmon
Dad's three ways to prepare raw salmon. Follow the step by step guide to making salmon carpaccio, salmon tartare and even nigiri style sushi.