Easy Mid-Week Supper
Posted by

Mr WDC
Sep 4, 2017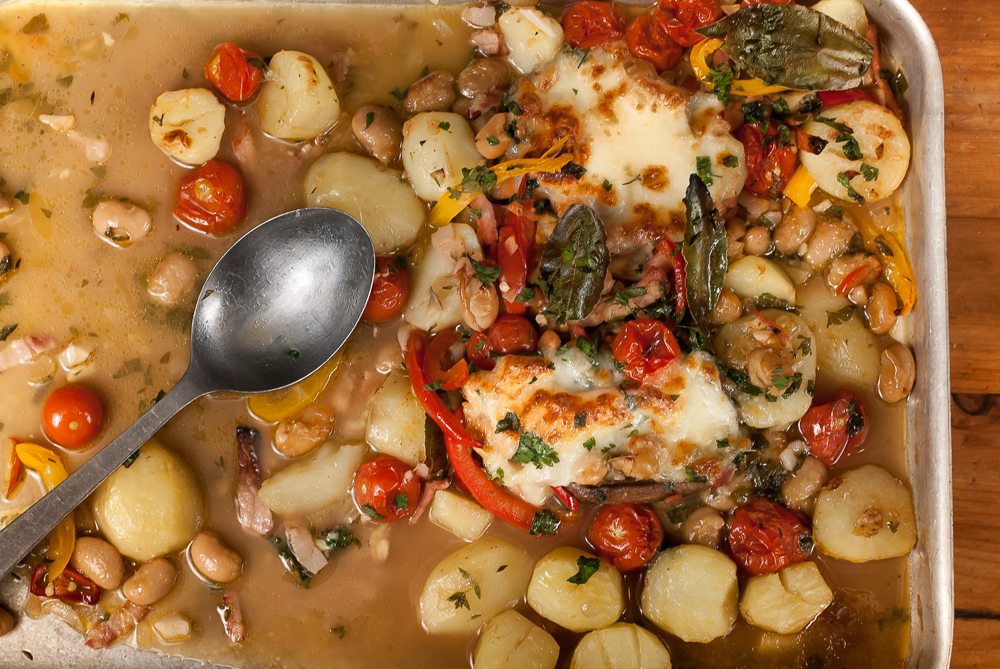 This is an easy supper to construct. I'm not giving a recipe as it is a technique as much as anything…
The idea starts with your appetite. Don't feel like doing too much cooking? Want a break from pasta, not keen on eating meat, want something light but can't be bothered with fish? Haven't had mushrooms for a while, just had a delivery of home-grown tomatoes from your next door neighbour? Great put it all together and you start to build your dinner.
For two people, I used four portobello mushrooms, half a red and half a yellow pepper, a chilli, one onion, couple cloves of garlic, a small bag of new potatoes, a soup bowl of cherry tomatoes, one tin of butter beans in water, some mozzarella and lots of fresh thyme, bay, rosemary, basil and parsley. I also used four slices of bacon, but these can be omitted to make a tasty and nutritious vegetarian tray bake.
The idea is that it all goes in the oven and cooks, but unfortunately, you can't throw them in altogether, it has to be done stages. First preheat the oven to high, then peel and boil the potatoes until tender. Meanwhile, fry up chopped onion, garlic, chilli and bacon if using until softened, then add a good glug of white wine (or stock/water), let this boil for a minute then add the beans with the water, add the hard herbs and simmer for 10 minutes, add the tomatoes, turn off the heat and cover the pan. By this time the potatoes should be tender. Drain them and place on a large oven tray, then add the mushrooms, gills facing up. Splash over some olive oil and put in the oven for 5 – 10 minutes or until the mushrooms are soft and wilting and releasing their moisture and the potatoes are starting to brown. Then pour the vegetables over the mushrooms and potatoes. Place slices of mozzarella over the mushrooms sprinkle with the soft herbs and place back in the oven until browned, about 15-20minutes. The grill can be used to speed things up if you want a bubbling browned top sooner.
You could serve with salad and crusty bread if you like. You could also swap mozzarella for goats cheese, if you wanted to jazz it up and serve to a crowd.
Serve just as it is in the tray, it looks perfectly rustic and tastes of the Mediterranean – a very satisfying weekday supper. Any leftovers can be reheated for lunch, perhaps with little bit of tomato puree and a couple poached or baked eggs.
Easy Mid-Week Supper
This was an improvised quick dinner. I did not plan to post it, but it was so good I photographed it while we were eating it!
Salt + Sweet + Sour + Hot
Thinking about food through these four prisms of taste can open up new possibilities for seasoning and adding flavour to our food.
Do Chefs Eat Greens?
At home, I try to provide a balanced diet. That means two or three vegetables with each meal. In fact for a Sunday roast, the number of vegetables can rise exponentially…
Onigiri 3 Ways
Dad trials out three ways to prepare and eat Onigiri with shitaki mushrooms.
3 Ways to Cook Octopus
Octopus may not be everybody's cup of tea. But do try it. Here are three way to cook it – hopefully one of these will inspire you to have a go!
3 Ways to Eat Raw Salmon
Dad's three ways to prepare raw salmon. Follow the step by step guide to making salmon carpaccio, salmon tartare and even nigiri style sushi.