WDC Sausage & Egg Muffin
Posted by

Mr WDC
Oct 17, 2015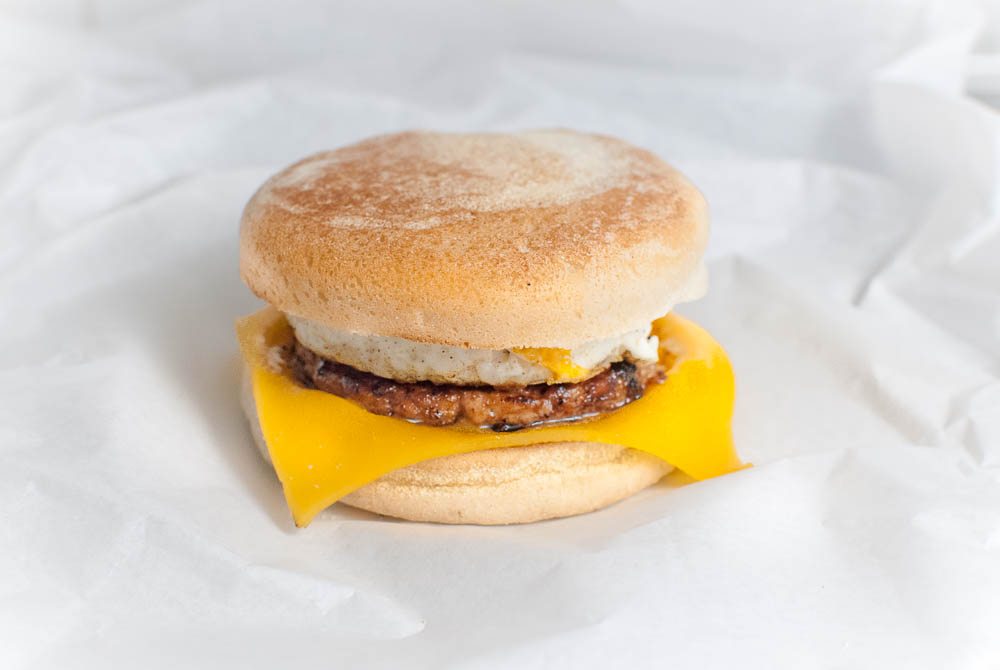 I have a confession to make…
I love egg McMuffins.
They're like a cooked breakfast in a bun. That the product is so satisfying its remarkable given the dismal individual ingredients (fatty sausage patty, cheap processed cheese, overcooked egg and pappy muffin). But together they create a flavour sensation that far exceeds the sum of their parts.
It all revolves around the sausage meat, which Americans will recognise as a breakfast sausage patty. The sausage is firm and bouncy in the mouth, unlike your average British sausage. It also has a sweetness reminiscent of sweet-cure bacon.
The other ingredients play their part. The cheese may not actually contribute to the taste, but adds a reassuring melting smoothness in the mouth, perhaps triggering adolescence memories. The egg is uncomplicated and compliments the sausage well. The muffin adds a chewy sweet and sour taste and provides an effective neutral holder for the more savoury parts. The muffin is also toasted and adds a crispy and crunchy texture, the semolina crust does just enough to offset the bland dough.
However, despite the taste characteristics of ingredients, I realised on a recent 'taste test' at our local McDonald's that much of the satisfaction from eating a McMuffin derives from the convergence of two key criteria. First, people only eat a McMuffin when they are famished or hungover – this creates an easy demand from a desperate and salivating customer. Second, McDonald's are expert at supplying a perfectly cooked McMuffin; hot, drizzling, savoury, soft and crunchy. Put the two together and it's a license to print money!
Making your own McMuffin
For many years I have tried to emulate the McMuffin. Although each of my attempts were delicious – they were nowhere near the Real McCoy. Clearly there is more to the taste combination than meets the eye. I needed to look a little deeper into what makes a McMuffin tick…
As highlighted above the sausage is the most important part of the taste profile. Oscar Mayer list the following ingredients for their sausage patties: Pork, Water, Salt, Contains Less than 2% of Sodium Lactate, Dextrose, Sugar, Caramel Color, Flavor, Sodium Phosphates, Sodium Diacetate, Red Chili Peppers, Lemon Juice Solids. This may not help as there will be crucial flavours hidden in the 'Flavor' element. However, a quick analysis shows a classic taste combination of Sour, Sweet, Salt and Hot.
To replicate this profile I have created my own version of the manufacturers chemical formula. The dishes in the above photograph contain (from top left clockwise): Karo fructose and maple syrup; caramel; pepper and chili powder; lemon rind, lemon juice and red wine vinegar. These were added to the sausage meat which I had squeezed-out from its casing.
One condiment to try seemed obvious: Maggi Seasoning which has tons of umami and includes high percentages of salt and msg, but the taste is too prominent even in very small 'doses'. I have therefore substituted soy sauce – a similar effect but milder. I mixed all the other ingredients into the meat.
NB: I assumed that McDonald's would use an economic sausage meat. This usually means significant amounts of cereal for a British sausage. However, these sausages do not have the firmness that is characteristic of an American sausage patty. The only sausage that I have bought that has this quality is Rankin Selection Irish Pork Sausages. They also use cereal but this is in the form of rice and chickpea flour – perhaps this type of cereal gives more body than cheaper sausages. The taste of Rankin sausages are also very similar to the American versions and so will make a very acceptable McMuffin.
I have two cooks rings which I used the large to form a sausage patty and the smaller for the egg.
I cooked the sausage in a non-stick pan at a medium high heat…
…turning it over ensuring there are browned bits on the patty.
McDonald's use small eggs. This makes economic sense to an organisation whose purpose is to generate increasing profits. However, one does not need to feel short-changed as in fact a large egg is unwieldy at this size.
The insides of the rings were oiled and the egg cooked on a non-stick pan at medium-high heat. Although the adverts show an egg that is more sunny-side-up with the yolk in tact, in fact the eggs are actually flipped and the yolk deliberately broken. This no doubt avoids commuters complaining about their apparel being stained with dribbled egg yolk. (An expected outcome of eating a British fried-egg sandwich.)
I tidied up the egg and assembled the McMuffin.
McDonald's use an orange-coloured processed cheese. I could not source this – but did find a thin sliced orange cheddar sliced cheese at strength 2. The heat in the cooking area of McDonald's and the softness of the cheese must allow it to be soften and flop at the edges. No doubt this is considered a critical aspect of the visual appeal of the McMuffin.
Eat the homemade McMuffin out of greasproof paper to complete the full authentic experience.
Easy Mid-Week Supper
This was an improvised quick dinner. I did not plan to post it, but it was so good I photographed it while we were eating it!
Salt + Sweet + Sour + Hot
Thinking about food through these four prisms of taste can open up new possibilities for seasoning and adding flavour to our food.
Do Chefs Eat Greens?
At home, I try to provide a balanced diet. That means two or three vegetables with each meal. In fact for a Sunday roast, the number of vegetables can rise exponentially…
Onigiri 3 Ways
Dad trials out three ways to prepare and eat Onigiri with shitaki mushrooms.
3 Ways to Cook Octopus
Octopus may not be everybody's cup of tea. But do try it. Here are three way to cook it – hopefully one of these will inspire you to have a go!
3 Ways to Eat Raw Salmon
Dad's three ways to prepare raw salmon. Follow the step by step guide to making salmon carpaccio, salmon tartare and even nigiri style sushi.