'Refined-Sugar-Free' Black Forest Sandwich Cake
Posted by

Mr WDC
Sep 24, 2015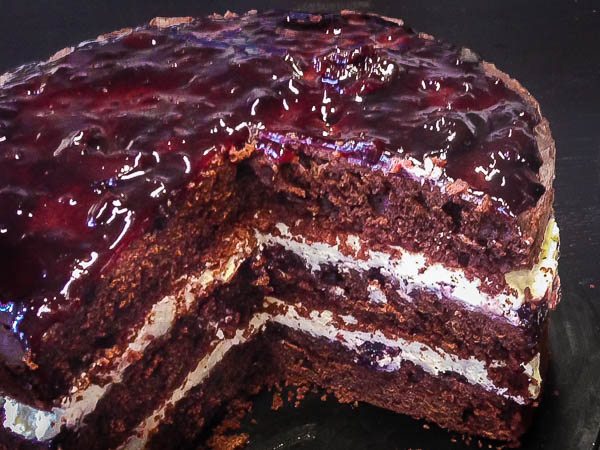 Pete asked for some help with his office bake-day cake…
…especially since a team member has a refined-sugar intolerance. Despite this person's plea to not make special exceptions; sugar-free baking presents an interesting challenge for WDC. I was keen to see if I could create a recipe for Pete that would still be good to eat without thinking, 'Hmm, this would be nice with a bit of sugar…'
A quick check on sugar replacements, include:
Xylitol – made from the bark of birch trees, looks and tastes like sugar, it has Low GI, so it has less of an impact on blood sugar levels than sugar. You can use it as a substitute in many recipes in a ratio of 1:1 with sugar, but not when yeast is used as a raising agent.
Agave nectar – a syrup made from the agave cactus (clever cactus). It can be used in place of other sugar syrups. It's available in light or dark versions and has a low GI and is sweeter than the equivalent volume of sugar. It will add moisture to the cake – good for chewy bakes such as cookies or flapjacks – but will not work as a sole replacement for sugar in sponges and will need an adjustment to the amount of liquid used.
Honey – like agave nectar, honey is a syrup and will work well in moist bakes. Like agave nectar, adjustments will need to be made to offset the extra moisture. As with sugar, honey can have a moderate or low GI, though both are still high in calories and quickly absorbed in our bloodstreams.*
Stevia – is a widely grown plant which belongs to the sunflower family. Studies have shown it to be a safe and natural, calorie-free sugar substitute with a zero GI rating and is commonly used to sweeten a number of foods and beverages. It is many times sweeter than sugar so needs to be bulked-out with other agents in baking.
Most sugar replacements have a taste issue, the assistant in the health food shop says xylitol tastes metallic and stevia tastes bitter…
Honey seems safe; we are familiar with its taste and it is something most people like and often use. I am tempted to try honey, particularly in the many standard 'honey cake' recipes, which are meant to taste of honey. Pete says using honey is a popular choice for office sugar-free bakes, but that he finds the taste of honey is odd in flavoured  cakes where the taste of honey is not expected.
On balance, I am drawn to xylitol, as it looks like sugar and will be easy to work with as it can be is substituted in equal amounts with sugar. Pete and I tasted it and think it not as sweet as sugar. I sensed a processed chemical quality which left a tangy – perhaps metallic – after-taste. But we assume with all the other flavours this will not be an issue.
The idea of using chocolate appeals as this will add flavour and distract from the cakes' lack of sugar. I also want to include Dalfour jam  – which only includes natural fruit sugars. Finally, frosting will be difficult without the bulking effect of icing sugar (stevia methods may be a good option). An easier workaround is to use cream.
NB: Chocolate bars will often include sugar so check the labels. Ensure you only use chocolate sweetened with natural sweeteners; or use raw chocolate. Also, ensure your vanilla does not have sugar in the ingredients. Use pure vanilla extract, or use the vanilla seeds from a pod (if possible extract more vanilla from the bean itself in any liquids used, such as the boiling water in the recipe below).
I decide to use xylitol/agave nectar mix in a chocolate sandwich, based on Dan Lepard's chocolate sandwich cake recipe. I will use black cherry jam and a creamy filling to give it a Black Forest gateaux spin…
The feedback from the office is that it is a success and tastes very good.
*The glycaemic index (GI) is a rating system for foods containing carbohydrates. It shows how quickly each food affects your blood sugar (glucose) level when that food is eaten on its own. (NHS website). The higher the rating the quicker the food is absorbed into our bloodstream and raises blood sugar levels. The GI is widely used when comparing sugars and their alternatives. However, this is not an exclusive indication of the health qualities of each product, as many other factors can affect the GI rating index. Please see published information on the subject for more information on the health aspects of each sugar alternative shown above.
Sugar-free Black Forest sandwich cake Ingredients
For the cake
50g cocoa powder
70ml boiling water
3 tsp vanilla extract (not essence – see notes above)
200g softened unsalted butter
250g xylitol
90ml dark agave nectar
100g – 100% chocolate (no added sugar or sweetener) NB: 100% chocolate is produced by the 'Willie's Cacao' brand – it seems expensive but is a comparable cost by weight with 'health food' chocolate using other natural sweeteners. If other chocolate is used which include sweeteners, try holding back on some of the xylitol and adjust after the cake mix is beaten.
5 medium eggs
275g plain flour
2 tsp baking powder
For the filling
Dalfour black cherry jam
300ml double cream
125g mascarpone
2 tbs agave nectar
1 tsp vanilla extract
Equipment
2 or 3 x 20cm cake tins
Method
Preheat the oven to 170C/Gas 3
Cut 2 or 3 baking parchment discs the same size as the bottom of the cake tins. Grease the cake tins with butter and put paper disc on the bottom of each tin.
Put the solid chocolate in a conductive bowl over a pan of simmering water. Do not let the water touch the pan. Wait for the chocolate to melt, gently swirling the bowl to coax the chocolate to melt. Do not stir. Do not add any other ingredients to the melting chocolate.
Meanwhile, put the cocoa in a bowl and pour on the boiling water. Whisk until smooth. Mix in the vanilla and the agave nectar.
Beat the xylitol and the butter with an electric mixer until light and fluffy – at least 5 minutes. Xylitol is not sugar and does not go as fluffy as real sugar. Beat until as fluffy as possible.
Add the cocoa mixture and the melted chocolate to the xylitol and butter mix. Beat on high speed to blend thoroughly.
Add the eggs one at a time to the bowl and beat on high speed. Scrape the bowl often with a silicon spatula or spoon.
Sift in the flour and baking powder in one go and fold until well mixed and smooth
Divide the mixture between the cake tins and smooth the tops – leaving a slight indentation in the middle of each to allow for the tendency of the centre to rise in a dome during cooking.
Bake for approximately 35 – 40 minutes or until a skewer comes out clean when poked in the centre of the cake. This cake has a fine crumb – so check timings carefully. Being slightly underdone is better than being overdone. Cool in the tin, then remove and peel-off the paper. Allow to finally cool and rest on a wire rack.
For the cream filling, beat the cream until stiff peak stage. In a separate bowl beat the mascarpone, vanilla and agave nectar until smooth. Stir a third of the cream into the mascarpone. Gently fold the mascarpone and cream mixture into the remaining cream.
When the sponge is completely cool, assemble and finish the cake. Put one layer on a plate and spread jam generously on the top. Spread one half or one third of the cream (depending on number of tins used) on to the jam and place another cake layer on top. Repeat for the remaining layer/s. NB: the jam can be thinned with a little hot water to allow it to penetrate the sponge.
Easy Mid-Week Supper
This was an improvised quick dinner. I did not plan to post it, but it was so good I photographed it while we were eating it!
Salt + Sweet + Sour + Hot
Thinking about food through these four prisms of taste can open up new possibilities for seasoning and adding flavour to our food.
Do Chefs Eat Greens?
At home, I try to provide a balanced diet. That means two or three vegetables with each meal. In fact for a Sunday roast, the number of vegetables can rise exponentially…
Onigiri 3 Ways
Dad trials out three ways to prepare and eat Onigiri with shitaki mushrooms.
3 Ways to Cook Octopus
Octopus may not be everybody's cup of tea. But do try it. Here are three way to cook it – hopefully one of these will inspire you to have a go!
3 Ways to Eat Raw Salmon
Dad's three ways to prepare raw salmon. Follow the step by step guide to making salmon carpaccio, salmon tartare and even nigiri style sushi.