Roasting Tomatoes
Posted by

Mr WDC
Sep 18, 2015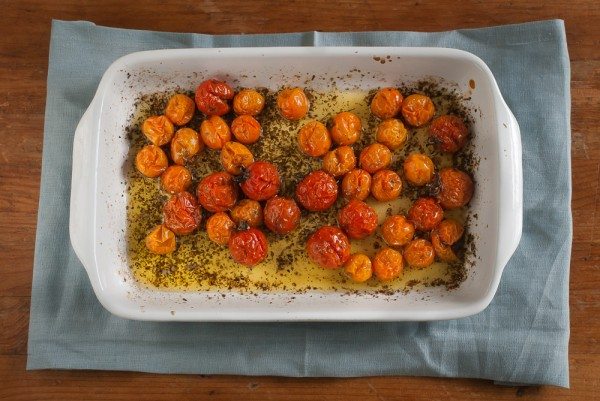 Our neighbours are going on holiday and bring round a bag of their home-grown cherry tomatoes – they don't want to see them spoil on the vine. However, I was not planning any meals in which they might play a part – so I decided to roast them on a very low heat. This has the effect of partially drying and preserving them as well as providing a deep, rich and sweet flavour. It's a good trick to know.
A very low oven is required – so it's best to check the oven regularly to make sure all is going well. Wash and dry the tomatoes, Leave them whole or slice them in half. Place in a roasting dish and pour a generous amount of olive oil over the tomatoes, add a pinch each of salt, pepper and dried oregano. Roast on the middle shelf of a preheated oven at 140C/Gas mark 3 for fifteen minutes, then turn the heat down to 100C/Gas mark1/2 for about three hours or until they appear wrinkled with dried edges, but still have moist flesh . Check regularly and adjust timing and temperature. Let them cool, place in a container and cover the tomatoes in olive oil. Store in the fridge until needed. They will keep for three to four days.
Easy Mid-Week Supper
This was an improvised quick dinner. I did not plan to post it, but it was so good I photographed it while we were eating it!
Salt + Sweet + Sour + Hot
Thinking about food through these four prisms of taste can open up new possibilities for seasoning and adding flavour to our food.
Do Chefs Eat Greens?
At home, I try to provide a balanced diet. That means two or three vegetables with each meal. In fact for a Sunday roast, the number of vegetables can rise exponentially…
Onigiri 3 Ways
Dad trials out three ways to prepare and eat Onigiri with shitaki mushrooms.
3 Ways to Cook Octopus
Octopus may not be everybody's cup of tea. But do try it. Here are three way to cook it – hopefully one of these will inspire you to have a go!
3 Ways to Eat Raw Salmon
Dad's three ways to prepare raw salmon. Follow the step by step guide to making salmon carpaccio, salmon tartare and even nigiri style sushi.