Quick Microwave Quesadillas
Posted by

Mr WDC
Dec 14, 2015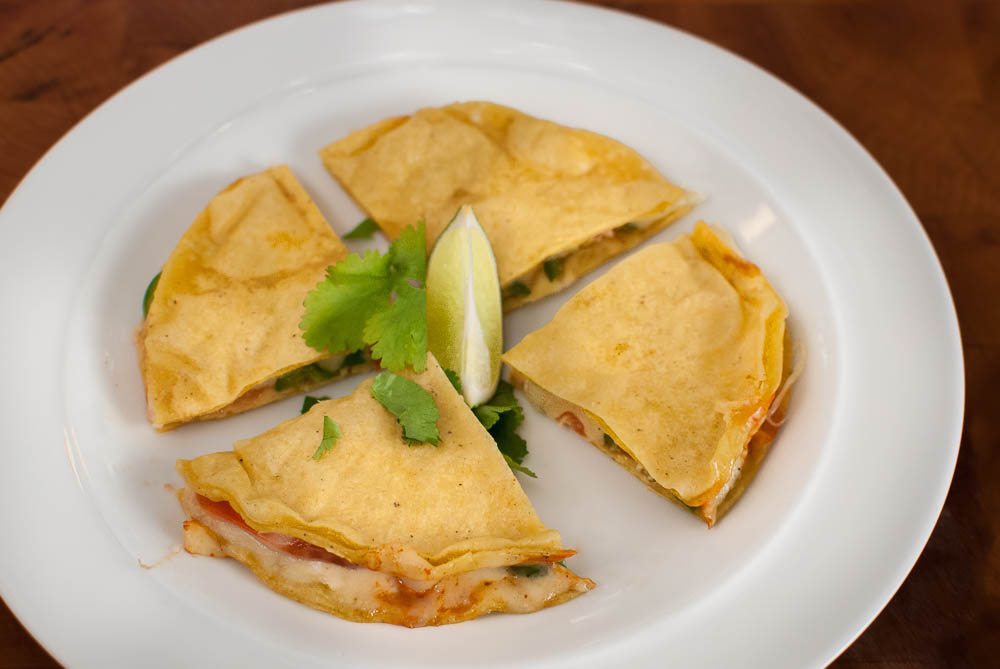 Quesadillas have always been a family favourite… So, 'How to Make Quesadillas in the Microwave'
Like nachos, quesadillas are quick and easy to make in a microwave. But unlike nachos, quesadillas can end up floppy and full of rubbery cheese.
This is because we should not be using a microwave. Quesadillas are much better cooked like a grilled cheese sandwich in a hot griddle pan, similar to the way they are prepared in Mexico.
However, I have now developed a method that that resolves all the microwave issues and is just as good – if not better – than a pan-fried quesadilla.
The basic problem is the microwave. It turns the moisture in food into steam. This is good for cooking moisture-containing foods like vegetables, but not for food that is low in moisture. Therefore quesadillas become unnaturally soft and wet, especially when the inside contains extra moisture in the form of salsa or tomatoes. If you continue to cook the tortilla in the hope that it will dry out, it will turn into cardboard and the cheese will turn into inedible putty.
Two solutions:
1. Avoid trapped steam. The tortilla must not lie flat on the plate in a microwave – the steam builds up and returns to the tortilla making it wet. Invest in a bacon crisper or devise some other plastic surface which is perforated… The raised ridges on a bacon crisper allow the steam to escape and stop the tortilla becoming soggy.
2. Oil the tortilla and fry it in the microwave. This is one of my best tips. It completely changes the texture of the tortilla.
But what type of tortilla? This is up to personal taste. I will always start with a corn tortilla. I buy my tortillas from Mex Grocer. They have several types – all of them good.
Oil the tortilla. Do this on both sides on two tortillas.
Cook the tortillas. Microwave them individually for 50 seconds each on high heat (900W). Don't cut this part short, the tortilla may puff up, or look like it is under duress. This is normal – it's being deep fried in its own oil! Dry the bacon crisper after each use.
Drain the tortillas. Put each tortilla between kitchen paper towels and pat off excess oil.
Choose and prepare your fillings.
Build the tortilla. Use any type of cheese, tomatoes or salsa, fresh or bottled jalapeño chillies and salt and pepper.
Cook the tortilla. Time for 50 seconds BUT stop the microwave at 20 seconds and turn the tortilla over. This may be a little fiddly, use a spatula to help flip. Return to the microwave for the remaining 30 seconds. (The turning distributes the steam and allows the cheese to melt into other ingredients.)
Cut and serve the quesadilla. Let it rest for a minute – the insides may be very hot.
The above timings work on our old microwave. Adjust the timings according to the power of your microwave – or experiment to suit you own taste.
Best place to get your Mexican groceries are from our friends at Mex Grocer.
You can pick up a bacon crisper here too.
Easy Mid-Week Supper
This was an improvised quick dinner. I did not plan to post it, but it was so good I photographed it while we were eating it!
Salt + Sweet + Sour + Hot
Thinking about food through these four prisms of taste can open up new possibilities for seasoning and adding flavour to our food.
Do Chefs Eat Greens?
At home, I try to provide a balanced diet. That means two or three vegetables with each meal. In fact for a Sunday roast, the number of vegetables can rise exponentially…
Onigiri 3 Ways
Dad trials out three ways to prepare and eat Onigiri with shitaki mushrooms.
3 Ways to Cook Octopus
Octopus may not be everybody's cup of tea. But do try it. Here are three way to cook it – hopefully one of these will inspire you to have a go!
3 Ways to Eat Raw Salmon
Dad's three ways to prepare raw salmon. Follow the step by step guide to making salmon carpaccio, salmon tartare and even nigiri style sushi.