How To Make a Cute Mango Hedgehog
Posted by

Mr WDC
Jun 15, 2015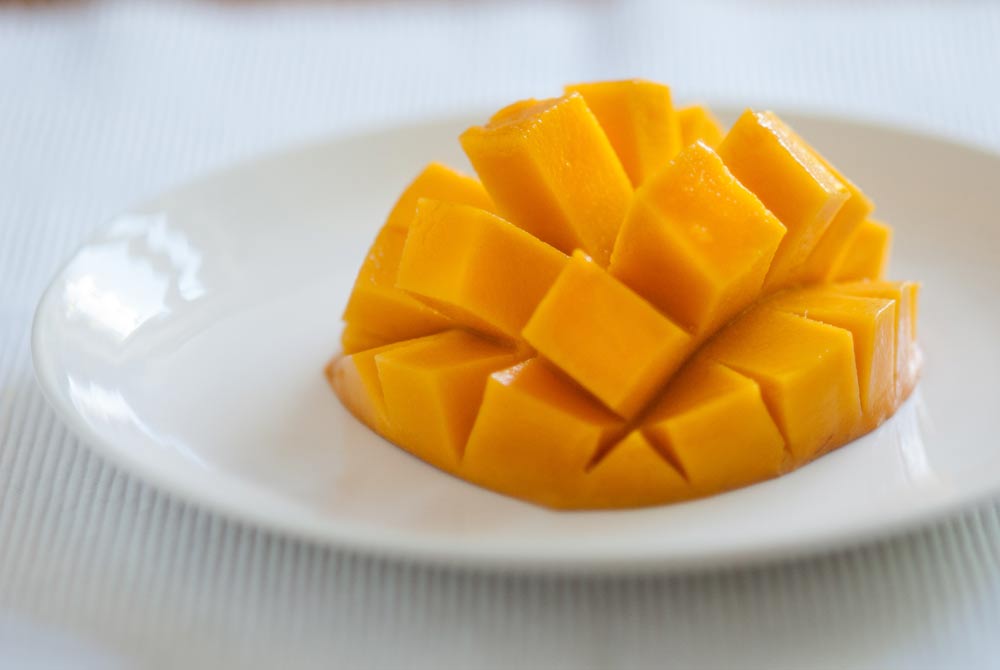 A cool way to impress your friends – and eat mango.
I first saw mangoes presented like this in the 1970's. They were served by a very large charismatic Jamaican lady, the proprietor of Ocho Rios – a Caribbean restaurant in Covent Garden. Word got out that this was a fun place to eat. The cut mangoes were produced with great flourish at the end of meal – the enthusiasm of the staff made a lasting impression. Sadly, the restaurant has long-since gone. However, whenever I cut mango like this, I always think of Ocho Rios, and imagine I am doing my bit to keep the spirit of the institution alive.
The secret to this trick is understanding the anatomy of the fruit and the character of the flesh and skin. There is a very large flat stone which is nearly as wide as the fruit. This must be circumnavigated. Do not expect to remove the stone perfectly intact – it is very fibrous and has a tendency to hang onto the fruit.
Work as near as possible to the stone – slice into the fruit just off the center on the edge/side of the mango. Feel the knife going against the stone and work the blade around the fruit – never going past the middle. You should end up with a half of mango flesh with a slightly conical indentation. Repeat on the other side and discard the stone.
Cut perpendicular lines into the fruit 1 cm apart – cut length-ways along the fruit then across at a 90 degree angle. Try to cut as near to the skin as possible without cutting through it.
Flip the skin inside out to make the cut sections stick out. Then eat with a knife and fork, a spoon, or your fingers.
Easy Mid-Week Supper
This was an improvised quick dinner. I did not plan to post it, but it was so good I photographed it while we were eating it!
Salt + Sweet + Sour + Hot
Thinking about food through these four prisms of taste can open up new possibilities for seasoning and adding flavour to our food.
Do Chefs Eat Greens?
At home, I try to provide a balanced diet. That means two or three vegetables with each meal. In fact for a Sunday roast, the number of vegetables can rise exponentially…
Onigiri 3 Ways
Dad trials out three ways to prepare and eat Onigiri with shitaki mushrooms.
3 Ways to Cook Octopus
Octopus may not be everybody's cup of tea. But do try it. Here are three way to cook it – hopefully one of these will inspire you to have a go!
3 Ways to Eat Raw Salmon
Dad's three ways to prepare raw salmon. Follow the step by step guide to making salmon carpaccio, salmon tartare and even nigiri style sushi.