How to Eat a Globe Artichoke
Posted by

Leo
Jul 9, 2016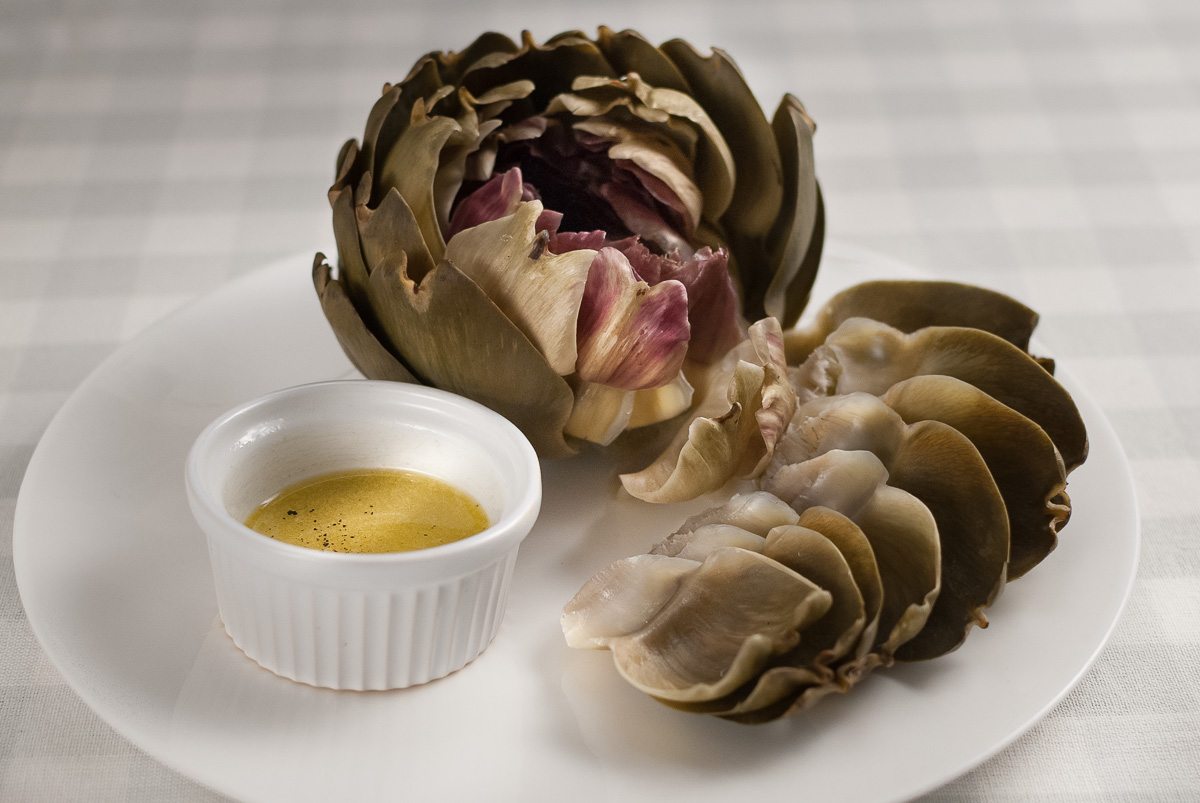 Eating your way through a globe artichoke is like a magical quest for hidden treasure…
Your task is to eat the flesh of the leaves until you reach the heart (the hidden treasure deep inside the artichoke). Your only tools are your teeth, a knife and a spoon. To assist your quest carry with you at all times a lubricating elixir of vinaigrette or melted butter and lemon. To extract the flesh gnash your teeth at each leaf until it surrenders its goodness. You are now ready to begin the quest…
First, you must break through the tough and weathered outer ring of leaves. The flesh is stringy and hard but will whet your appetite for more.
Proceed inward, foraging through more compliant and tasty middle-layer leaves. Stay here a while, there are rich pickings…
Then venture onward, gnashing your teeth as you go, past the inner ring of delicate, purple-tinged leaves.
Continue your passage until you reach a gossamer veil of petals covering the precious central core of the artichoke.
To complete your quest you must lift the veil and remove the notorious and fearsome 'choke' – a spiky barrier protecting the tender heart below. Your challenge is to coerce the choke's fibrous tendrils into releasing their tenacious hold on your prize. Using skillful manipulations of knife and spoon, you will soon discover where the weaknesses lie.
Once the choke has been removed and conquered, your treasure will be revealed – the heart of the artichoke. The quest is complete.
All that remains is to revel in the sensuous pleasure of devouring – piece by piece – the delicious heart…
Easy Mid-Week Supper
This was an improvised quick dinner. I did not plan to post it, but it was so good I photographed it while we were eating it!
Salt + Sweet + Sour + Hot
Thinking about food through these four prisms of taste can open up new possibilities for seasoning and adding flavour to our food.
Do Chefs Eat Greens?
At home, I try to provide a balanced diet. That means two or three vegetables with each meal. In fact for a Sunday roast, the number of vegetables can rise exponentially…
Onigiri 3 Ways
Dad trials out three ways to prepare and eat Onigiri with shitaki mushrooms.
3 Ways to Cook Octopus
Octopus may not be everybody's cup of tea. But do try it. Here are three way to cook it – hopefully one of these will inspire you to have a go!
3 Ways to Eat Raw Salmon
Dad's three ways to prepare raw salmon. Follow the step by step guide to making salmon carpaccio, salmon tartare and even nigiri style sushi.