Homemade Tortilla Chips From Soft Tortilla Wraps
Posted by

Mr WDC
Apr 4, 2017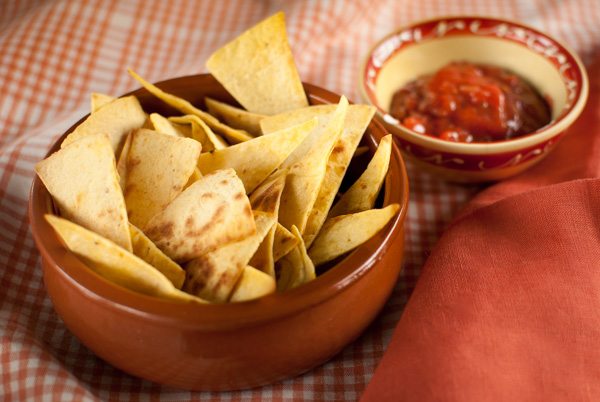 Commercial tortilla chips are good, but they are nothing like real tortilla chips (and they're very salty). Real tortilla chips from real Mexican tortillas are notoriously tricky to make and almost always disappointing to our tastes. Recently, it is possible to buy tortillas specially made for frying online (but this is a hassle). If you want a quick fix for a more authentic tortilla chip then try this trick using widely available Mexican wraps from (UK) supermarkets.
If you've ever tried to deep fry soft wraps to make tortilla chips (and I have), you will know that it does not work. Same with light frying.
The trick is to dry them and then fry them – but fry them in the microwave. This provides two drying stages and an effective light frying in the microwave without drowning the tortillas in oil. If you can get the corn variety of tortilla, so much the better. Old El Paso do them and I have bought some from Tescos in the past. But even if you can only get flour tortillas it should still work – the texture is rather like a cracker – crisp and crunchy and but still quite like a tortilla chip. Ideally you need a bacon crisper for the microwave. (See my similar technique for making quesadillas.)
Makes 36 chips
Cut the tortillas into chips. Start by stacking 3 tortilla chips and cut in half. Then stack together and cut in half again.
Then stack together again and cut into 3.
Toss them all into a large dry frying pan (no oil) and cook on medium-high heat. Wait a couple minutes before start tossing the pan.
Then toss continuously until as evenly browned as possible.
Add two teaspoons of groundnut oil – or similar – and toss until all the chips are lightly coated.
Put onto a bacon crisper or rack and allow to cool for about 3-5 minutes. Put the crisper and chips in the microwave for 1 and a half to 2 minutes on full power. If you don't have a bacon crisper you need to avoid direct contact with the chips and a flat plate – try scrunching up greaseproof paper as shown in the photo below, or if you do use a plate turn the chip over after 45 seconds.
Immediately put the chips onto scrunched up greaseproof paper or a rack to air and cool.
Serve with a salsa or dip of choice.
Easy Mid-Week Supper
This was an improvised quick dinner. I did not plan to post it, but it was so good I photographed it while we were eating it!
Salt + Sweet + Sour + Hot
Thinking about food through these four prisms of taste can open up new possibilities for seasoning and adding flavour to our food.
Do Chefs Eat Greens?
At home, I try to provide a balanced diet. That means two or three vegetables with each meal. In fact for a Sunday roast, the number of vegetables can rise exponentially…
Onigiri 3 Ways
Dad trials out three ways to prepare and eat Onigiri with shitaki mushrooms.
3 Ways to Cook Octopus
Octopus may not be everybody's cup of tea. But do try it. Here are three way to cook it – hopefully one of these will inspire you to have a go!
3 Ways to Eat Raw Salmon
Dad's three ways to prepare raw salmon. Follow the step by step guide to making salmon carpaccio, salmon tartare and even nigiri style sushi.