A Summer Barbecue
Posted by

Mr WDC
Jun 21, 2015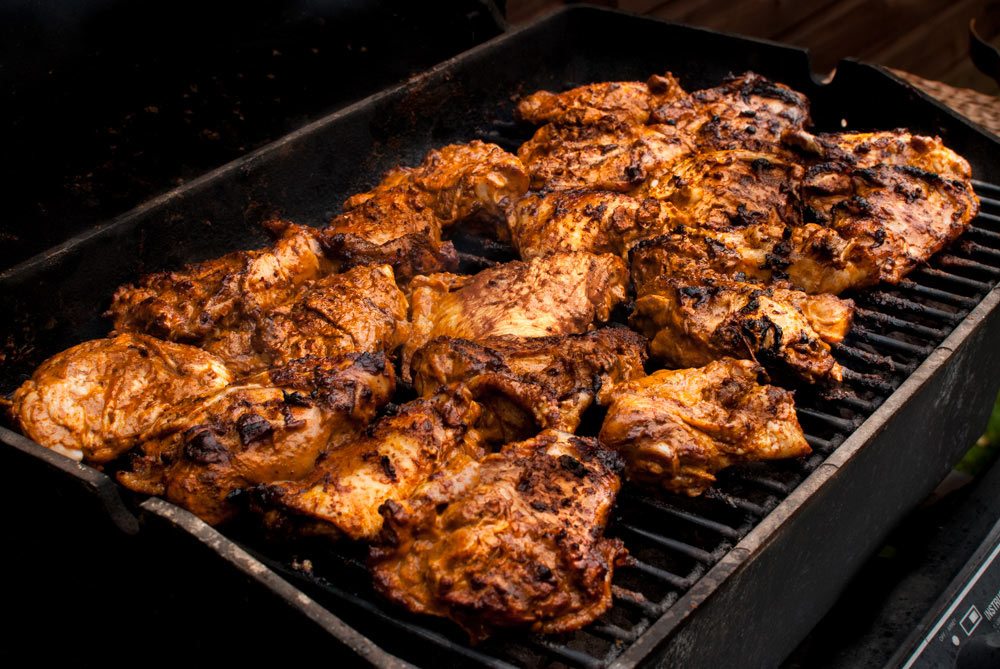 I know… let's have a barbecue!

Barbecues are great fun, everybody loves them. But let's face it – they can be quite stressful. There is so much to get right – and quite a lot that can go wrong. We have one or two barbecues a year. So perfecting the art is difficult. It's best to plan around the pitfalls and ensure you have plenty of back-ups and help.
The greatest risk of any barbecue is over-cooking or under-cooking meat. Plan plenty of time to allow meat to cook. Chicken will not cook in 15 minutes – it can take up to an hour or more. The trick with all barbecues is to ensure the meat is cooked on a low or indirect heat. The temptation is to cook on high heat, but this will cause the meat to both burn and remain dangerously underdone. I would strongly advise the use of a cooking thermometer – especially for barbecues – and ensure any grilled meat reaches its 'recommended' safe internal cooked temperature. (There are published guides by UK food authorities for 'recommended' cooking temperatures for all meats.)
My mother avoided this issue by cooking chicken and ribs in the oven in advance and heating up on the barbecue. I use this technique for ribs, but I prefer to cook chicken on the barbecue.
Plan to cook sausages, frankfurters or hamburgers, so that everybody – and especially children – have something quick and easy to eat whilst waiting.
I think of a barbecue as an al fresco dinner using an outdoor grill  – so I avoid the stacks of buns, baps and rolls (unless the barbecue is a 'hamburger' or 'hot dog' event).
We always have dips and appetizers ready as people arrive or settle to the table.
I always try to ensure that a barbecue is not just about grilled meat. The easiest way is make a big salad. WDC uses US style iceberg and Romaine lettuce with broccoli, perfect with the Ranch dressing.
If it is a very hot day make a potato salad, otherwise jacket potatoes or sautéed potatoes work well, (they can be cooked in advance and reheated). We like to cook corn on the cob on the grill. The WDC children, including the grandchildren love corn on the cob. I tried a Mexican style corn at this barbecue, otherwise, I usually butter the corn inside the husks and wrap in tin foil. These grill directly on the barbecue and cook in about 30 minutes.
Pudding should also be made in advance. It makes sense to use fruit that is in season – strawberries, peaches, cherries etc. I made a huge bowl of poached peaches, which could also be served as a peach Melba – with ice cream and raspberry coulis.
Don't underestimate how good this simple dessert is. Straight from the fridge it is cool and refreshing – a perfect end to the barbecue.
Easy Mid-Week Supper
This was an improvised quick dinner. I did not plan to post it, but it was so good I photographed it while we were eating it!
Salt + Sweet + Sour + Hot
Thinking about food through these four prisms of taste can open up new possibilities for seasoning and adding flavour to our food.
Do Chefs Eat Greens?
At home, I try to provide a balanced diet. That means two or three vegetables with each meal. In fact for a Sunday roast, the number of vegetables can rise exponentially…
Onigiri 3 Ways
Dad trials out three ways to prepare and eat Onigiri with shitaki mushrooms.
3 Ways to Cook Octopus
Octopus may not be everybody's cup of tea. But do try it. Here are three way to cook it – hopefully one of these will inspire you to have a go!
3 Ways to Eat Raw Salmon
Dad's three ways to prepare raw salmon. Follow the step by step guide to making salmon carpaccio, salmon tartare and even nigiri style sushi.