Cherry Parfait
Posted by

Mr WDC
Aug 3, 2015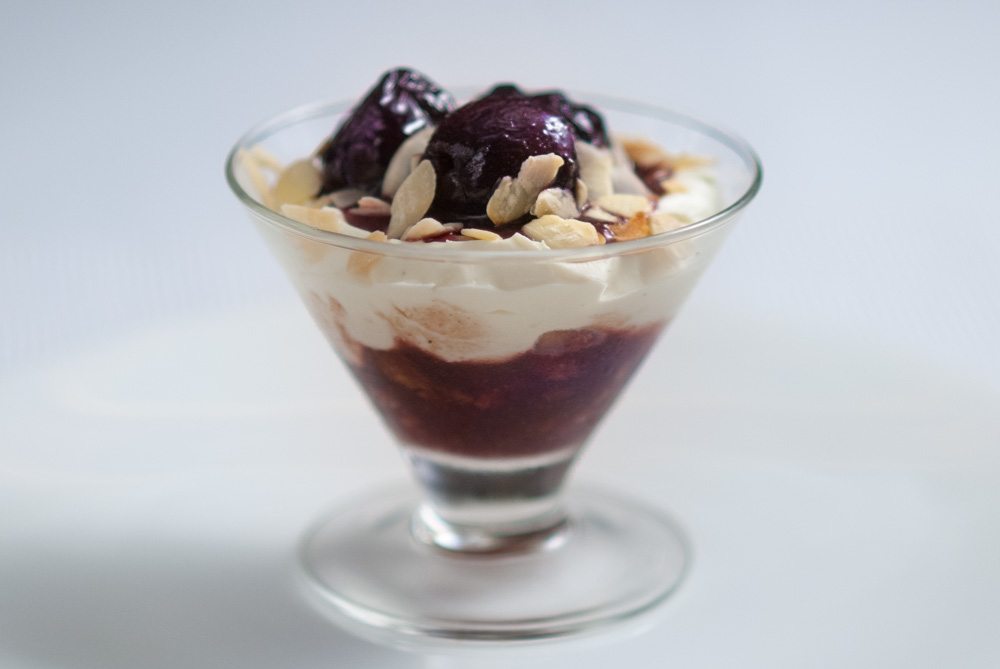 This is a store-cupboard cheat – the kind one is sometimes forced to make when the aches of a sweet tooth become unbearable. It's often the case that these pangs occur later in the evening, especially in front of the telly. The solution starts with a quick audit of the larder:
got some old amaretti biscuits? Yep.
any preserved jars of cherries? Yep.
cream (still the right side of its use-by date)? Yep.
a few flaked almonds? Yep.
Bingo! Cherry parfait.
Set out four small parfait or dessert glasses. Place three amaretti biscuits in each glass, then roughly break them up. Pour a couple of spoonful of the preserved cherries (and their liquor) over the amaretti. Whip the cream and spoon into the glasses, top with three cherries and the flaked almonds.
In fact, this type of dessert can be made in the same cheat-like manner by mixing and matching from any of the following: chocolate, caramel, fruit, biscuits, sponge, meringue, ice cream, cream, custard, liqueur, syrup, coulis and nuts.
Chuck your selection in a glass – quick as you can – and run back to the telly. Chances are you will beat the adverts, but also have made a wonderful cure for that sweet tooth.
Easy Mid-Week Supper
This was an improvised quick dinner. I did not plan to post it, but it was so good I photographed it while we were eating it!
Salt + Sweet + Sour + Hot
Thinking about food through these four prisms of taste can open up new possibilities for seasoning and adding flavour to our food.
Do Chefs Eat Greens?
At home, I try to provide a balanced diet. That means two or three vegetables with each meal. In fact for a Sunday roast, the number of vegetables can rise exponentially…
Onigiri 3 Ways
Dad trials out three ways to prepare and eat Onigiri with shitaki mushrooms.
3 Ways to Cook Octopus
Octopus may not be everybody's cup of tea. But do try it. Here are three way to cook it – hopefully one of these will inspire you to have a go!
3 Ways to Eat Raw Salmon
Dad's three ways to prepare raw salmon. Follow the step by step guide to making salmon carpaccio, salmon tartare and even nigiri style sushi.