Sticky Toffee Pudding Cheat in 30 Minutes
Posted by

Mr WDC
Feb 21, 2016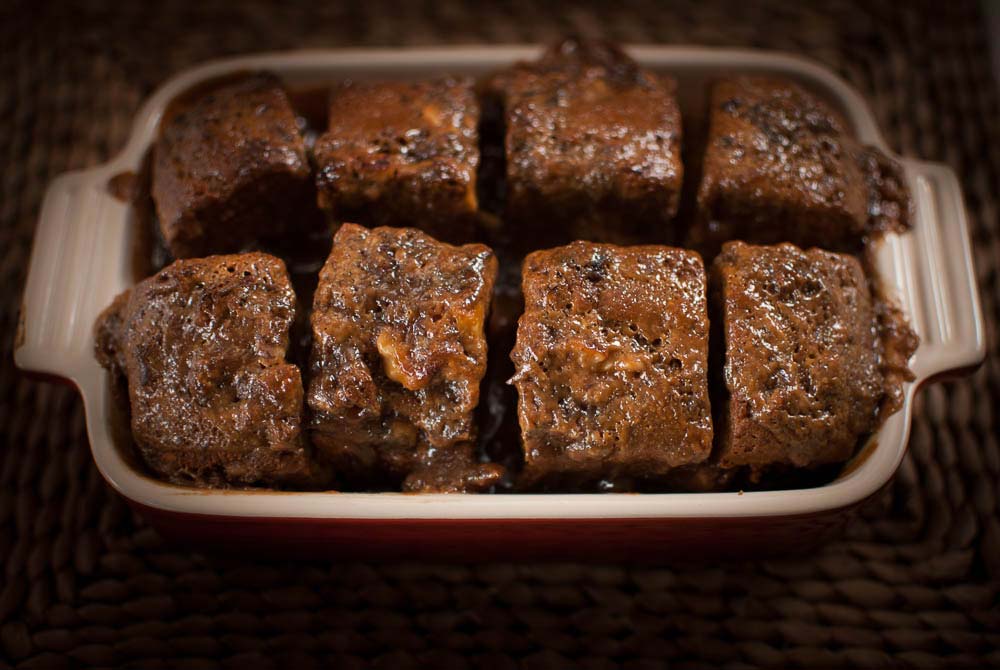 Sticky Toffee Pudding in 30min
Most supermarkets have cheap packs of loaf cakes – they come in different flavours: date and walnut, chocolate, ginger, lemon drizzle etc. When I feel like a pudding but do not have the time or inclination for a full-on bake, I might pick-up one of these up and cheat a tasty dessert such as a sticky toffee pudding.
The cakes are always rather dry and uninteresting. The solution: make a quick a suitable sauce to pour over them.
A good combo to make a is a date and walnut-type loaf with a homemade sticky toffee sauce. Preheat the oven to 180C, Gas 4. Take a small frying pan and add a banana (especially one that has been knocking about for a bit and looks ready for the compost bin) a few chopped dates, a 1/4 cup or 60ml compacted molasses sugar, about 30g butter and 100g double cream. Heat and cook until well mixed and bubbling. Then cut the cake and put it into a baking dish and pour over the sauce.  Cook in the oven for about 20 minutes until heated through and bubbling on the top.
As the sauce makes its way around the cake it will turn some of it into a pudding consistency. The top of the cake will be hot, caramelised and crunchy and what's left of the boring loaf cake is transformed by the heat and its new saucy coating.
Serve your sticky toffee pudding with cream or ice cream.
Easy Mid-Week Supper
This was an improvised quick dinner. I did not plan to post it, but it was so good I photographed it while we were eating it!
Salt + Sweet + Sour + Hot
Thinking about food through these four prisms of taste can open up new possibilities for seasoning and adding flavour to our food.
Do Chefs Eat Greens?
At home, I try to provide a balanced diet. That means two or three vegetables with each meal. In fact for a Sunday roast, the number of vegetables can rise exponentially…
Onigiri 3 Ways
Dad trials out three ways to prepare and eat Onigiri with shitaki mushrooms.
3 Ways to Cook Octopus
Octopus may not be everybody's cup of tea. But do try it. Here are three way to cook it – hopefully one of these will inspire you to have a go!
3 Ways to Eat Raw Salmon
Dad's three ways to prepare raw salmon. Follow the step by step guide to making salmon carpaccio, salmon tartare and even nigiri style sushi.