Borough Market Tomatoes (July)
Posted by

Mr WDC
Jul 4, 2015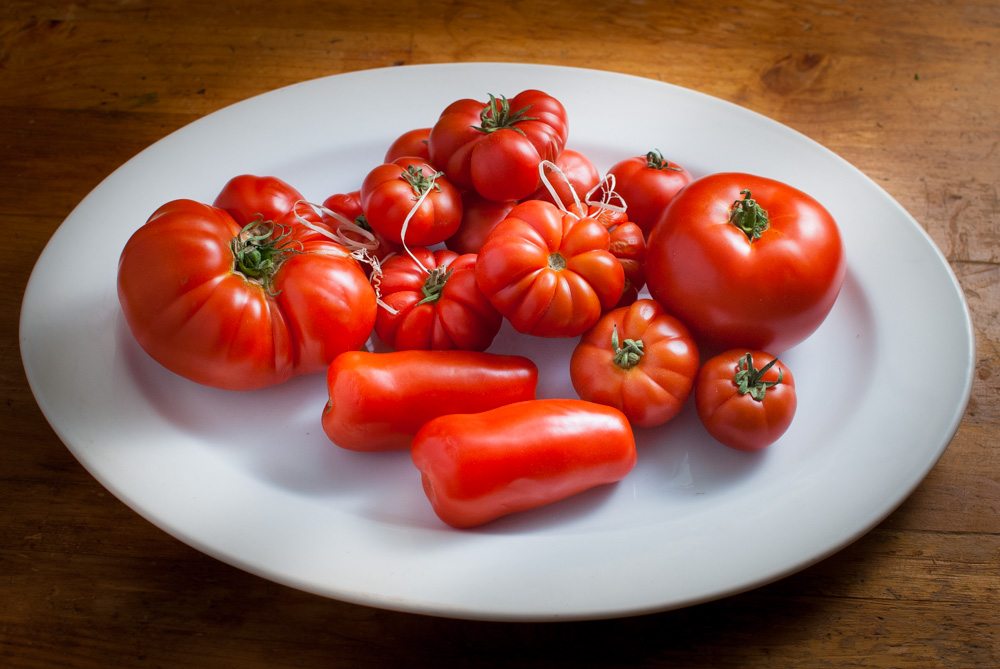 Costoluto (top middle), San Marzano (front), Cour Di Bue (left), Beef tomato (right)

Turnips in London's Borough Market have a fantastic display of very high quality fruit, they are also very helpful and knowledgeable about their produce.
Costoluto
I asked for the most flavoursome tomatoes and was directed to the Italian 'winter' tomatoes and found boxes of costoluto. These are grown in the Pachino area on the south-east coast of Sicily where the winters are warm and the soil is salty from the sea, providing ideal growing conditions. Costoluto is famous for its sweet, well-balanced flavour. Turnips recommend grilling, roasting or eating as they are! Try serving them in a tomato salad as part of an antipasti.
San Marzano
In his book, 'Search for Perfection', Heston Blumenthal describes the ripe San Marzano as having an uninspiring taste. It turns out that their special qualities only reveal themselves when processed. When tinned, the San Marzano provides a perfect sauce for making Pizzas (it's the San Marzano that gives Naples its reputation for great pizza). The tomato is low in water content. It is also low in acid and pectin due to the Vesuvian volcanic soil in which it grows, creating the soft, smooth tinned tomato which breaks down easily. Try blitzing fresh tomatoes in a blender to reveal their creamy and unctuous tomato flavour. A great tomato for homemade soups or sauces.
Cour Di Bue
Meaning 'oxheart' these plump tomatoes are a superb beefsteak tomato. With a distinctive ribbed shape, they have an excellent taste and and a firm but creamy texture. They are surprisingly dry with few seeds. They work well roasted with peppers, dried chilli and garlic for making into sauces. Their firm chunky flesh is also good chopped into salsas, or dressed with good olive and made into bruschetta.
Beefsteak – Jack Hawkins

These tomatoes demonstrate how the seasonal produce map is changing. Due to greenhouse technology developed in Spain, Holland and even closer to home on the Isle of Wight, tomatoes with taste can be bought all year round. These beef tomatoes are an outcome of this new commercial horticulture and provide a good tasting tomato through the seasons. The supermarket calls them slicing tomatoes and they do indeed slice well – especially for cheese on toast. Although they seem expensive – pound for pound, they are of similar value to other tomatoes.
Easy Mid-Week Supper
This was an improvised quick dinner. I did not plan to post it, but it was so good I photographed it while we were eating it!
Salt + Sweet + Sour + Hot
Thinking about food through these four prisms of taste can open up new possibilities for seasoning and adding flavour to our food.
Do Chefs Eat Greens?
At home, I try to provide a balanced diet. That means two or three vegetables with each meal. In fact for a Sunday roast, the number of vegetables can rise exponentially…
Onigiri 3 Ways
Dad trials out three ways to prepare and eat Onigiri with shitaki mushrooms.
3 Ways to Cook Octopus
Octopus may not be everybody's cup of tea. But do try it. Here are three way to cook it – hopefully one of these will inspire you to have a go!
3 Ways to Eat Raw Salmon
Dad's three ways to prepare raw salmon. Follow the step by step guide to making salmon carpaccio, salmon tartare and even nigiri style sushi.