Tuna and Sweetcorn Enchilada
Time:

1 hour and 15 minutes

Serves:

4

Level:

easy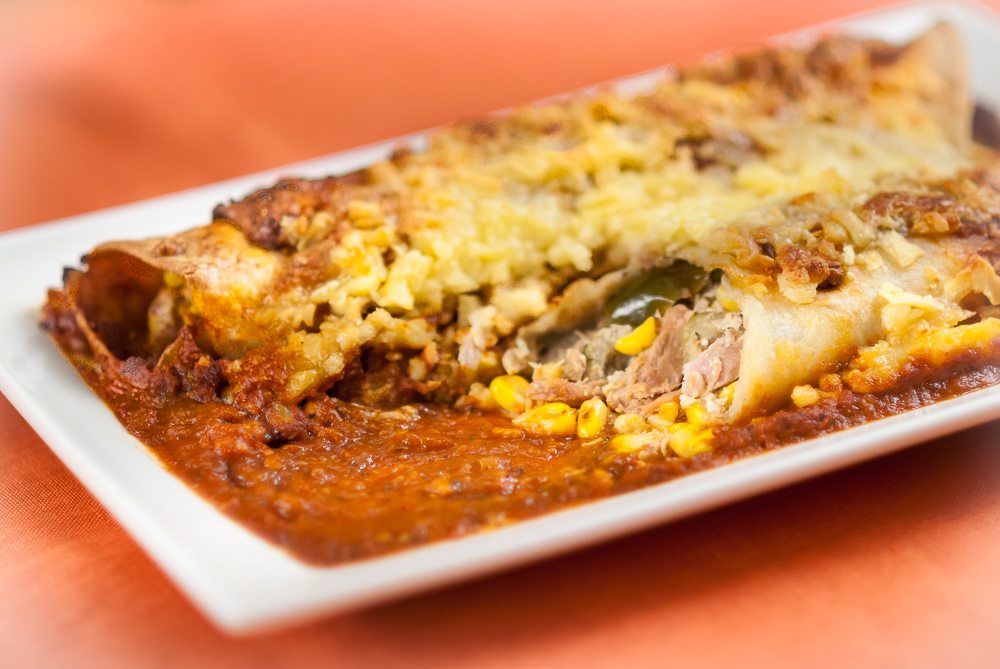 What you need
8 plain flour tortillas
Olive oil
For the sauce
2 medium onions
4 cloves garlic
2 red chillies (to taste and according to strength)
125ml white wine (optional)
250ml chicken stock
500ml passata
1/2 tsp sugar
2 tsp cumin
1 tbs dried oregano
2 bay leaves
For the tuna
2 cobs of sweetcorn or 2 x 160g (drained) tins of tuna
1 green pepper
120g pitted green olives
4 tbs sliced jalapeno chillies from a jar (optional)
200ml half-fat or full-fat creme fraiche
4 spring onions
To finish
150g-250g Caerphilly, Wensleydale or cheddar cheese
1 ball of 150g (drained) mozzarella (optional)
How Dad Cooked It
1. Preheat the oven. 180C, Gas 4.
2. Make the sauce. Slice the chillies open and test the heat, if extra heat is needed, retain the seeds and membranes. Chop the chilli along with the onion and garlic into a fine dice and fry in a little olive oil for 10 minutes. Add the cumin and stir for a minute. Add the wine (if using) and reduce to boil off the alcohol. Add the stock, puree, sugar and herbs and simmer for 15 minutes. Ensure the sauce is quite loose, thin with more stock or water if necessary (or the cooking liquid from the corn below).
2. Make the filling. Slice the corn off the cobs and boil in water until tender and drain (retain the cooking water). Chop the green pepper into a dice and fry on a medium-high heat in a dry non-stick pan until it begins to char, then add the corn and continue to cook for 5 minutes. Chop the spring onion, olives and chillies (if using) and add to the pan, stir and cook for another minute. Add the tuna and the creme fraiche, stir and cook until heated through. Keep warm.
3. Make the enchiladas. Heat a large non-stick frying pan on medium-high heat. Fry each tortilla (one at a time) for about a minute on one side until starting to brown in places, brush the upper side with olive oil, turn over and cook for about another minute. Remove from the pan and place in a large folded sheet of tin foil. Repeat with the other tortillas. Using one large, or two small, baking dishes add three-quarters of the sauce to form a thick layer on the bottom of the dishes. Roughly divide the tuna mixture into eight and fill each tortilla, roll tightly (oil-side out) and place in the sauce, with the flap facing down. Cover the dish/dishes with tin foil and cook in the oven for 10 minutes. Remove from the oven and pour a little sauce over the tortillas (do not smother). Grate the cheeses, Including the mozzarella (if using) and sprinkle over the central parts of the tortillas. Bake for a further 15 – 20 minutes, uncovered, until heated through and the cheese has melted and started to brown.
4. Serve. A green salad with tomatoes and Greek yoghurt is a perfect accompaniment.
Notes: I normally have Mexican corn tortillas in the larder, supplied from Mex Grocer.  However, finding this type of tortilla can be difficult. Therefore, I have based this recipe on widely-available flour tortillas. Many of these tortillas  are sold as 'super soft', which is fine for making wraps and burritos, but I find the tortillas too soft and pappy. Pan frying the tortillas creates a more robust tortilla with a range of textures, which suits this style of enchilada.