Thai Beef Salad
Time:

45 Minutes

Serves:

4

Level:

medium
We had a wonderful wing rib joint over the weekend – this was and excellent way to use the precious leftovers!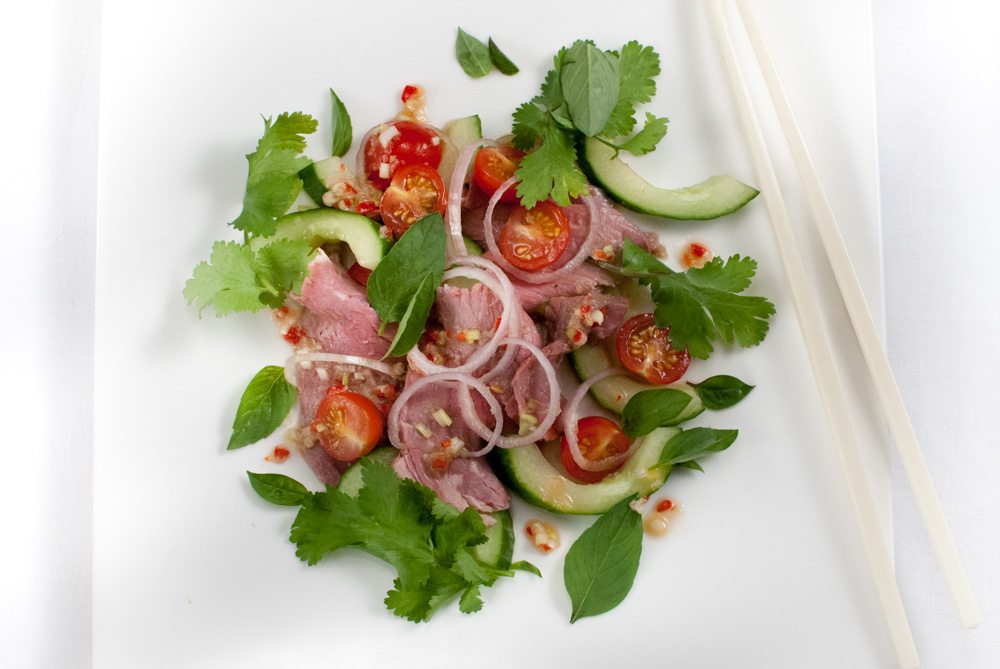 What you need
400g rump steak or similar or 400g rare roast beef
Half a large cucumber
200g cherry tomatoes
1 large banana shallot
25g Thai basil
25g fresh coriander
For the dressing
4 tbs lime juice (2 limes)
2 tbs fish sauce
1 tbs sugar
1 tbs chopped spring onion
2 tsp chopped red chilli
1 tsp grated or chopped garlic
How Dad Cooked It
Sear the beef. If using rump or similar steak – sear  a couple minutes each side on a medium-high heat. Cook as rare. Take out of the pan and rest, pouring any juices over the steak. Slice very thinly. If using roast beef, slice the meat very thinly.
Prepare the vegetables. Wash the cucumber and slice in half length-ways. Using a small spoon scoop out the seeds. Cut slices at a slight angle. Wash and dry the tomatoes and cut in half. Cut the shallot in half to expose the rings. Slice very thin slices and pull apart the rings – continue until there is sufficient portion for each person to their liking.
Make the dressing. Put all the ingredients into a jar and shake. Adjust the seasoning to ensure there is a good balance of hot, sweet, sour and salt.
Assemble the salad. Put the meat and vegetables into a large bowl and mix. Plate onto 4 dishes and add the fresh herbs as a garnish. Drizzle over the dressing.
NB: if you want a more filling salad use more beef and add 50g of rice noodles, a large handful of beansprouts (blanched very briefly in boiling water) and chopped lettuce, Chinese leaf or pak choi.