Quick and Easy 30 Minute Thai Fish Cakes
Time:

30

Serves:

2

Level:

easy
"Yummy, scrummy Thai Fish Cakes! They're deliberately mild so they are suitable for children, but of course I'd add extra chilli for a bit of heat! 30 Minute starter and they're super easy. Enjoy!"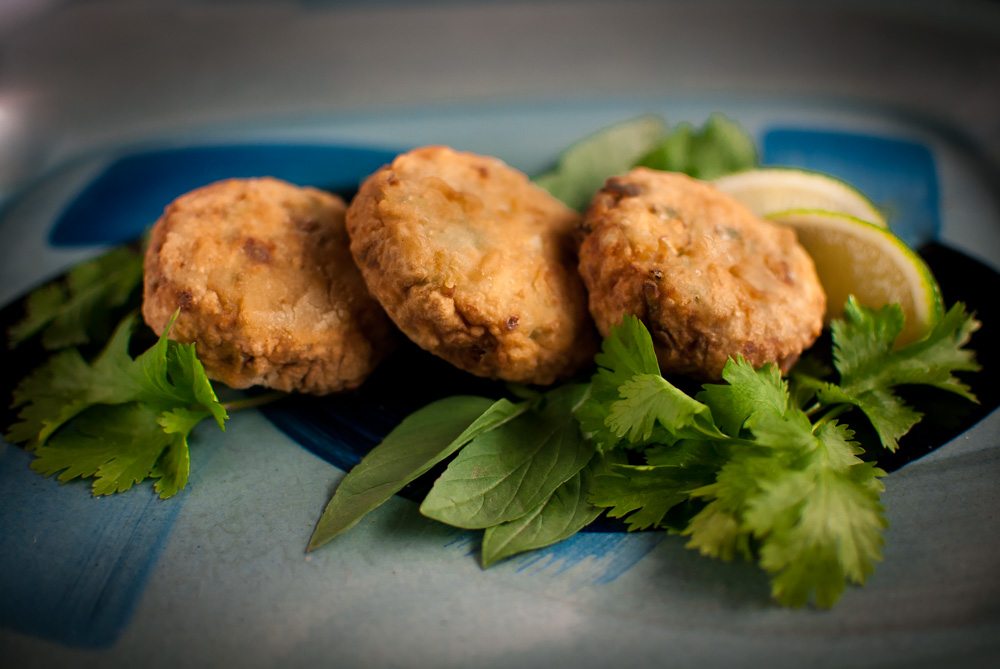 What you need
Makes 15 cakes
300g hake fillet
50g soft white bread crumbs
1 egg
80g mange tout
2 stalks lemon grass.
2 fat spring onions
20g ginger
2 garlic cloves
2 tsp nam pla fish sauce
Zest of 1 lime
Store cupboard: Oil for frying, flour for dredging, salt and pepper
How Dad Cooked It
Recipe:
Cook the mange tout in boiling water for about 1 minute, drain and dry. Place the hake skin-side down on a board. Using the prongs of a fork, scrape the flesh from the fillet working down to the skin, use the side of the fork to scrape from the skin. Put the fish in a bowl. Add the egg and beat into the fish with a fork, add the bread and mix well. Prepare the following ingredients and add them to the bowl as you finish. Stack the mange tout in a line and slice and chop in both directions to make a small dice. Remove the outer leaf of the lemon grass, bash the ends with a rolling pin and then chop finely. Chop the spring onion (slicing lengthwise first will help make a fine dice). Peel the garlic and ginger and grate – or chop very finely. Add the nam pla and a pinch of salt and grating of pepper. Mix again until smooth. Form into walnut size balls and pat in to flattened cakes. Dredge in flour. Heat a thin layer of vegetable oil in a frying pan to a medium heat. Fry the cakes in batches, turning until browned on both sides. Drain on kitchen towel and keep warm. Replace the oil between batches if it overheats or becomes tainted with burnt flour. Serve with store bought sweet or hot chilli sauce. These work well as a starter or with a Thai noodle salad or part of a larger Thai style meal.
***
Tips: The trick to traditional Thai fishcakes is the sticky fish paste that comes from bashing white raw fish in a large pestle and mortar or blitzing in a food processor. This paste has a very elastic and gluey consistency which helps hold the fish and other ingredients together into round patties. Without the mentioned equipment, fish cakes are almost impossible to make at home. However, I have found one fish where it is possible to make a fine paste without pounding or blitzing: hake. Hake is a very delicate and thick-fleshed fish and it is possible to ease the flesh from the skin using the prongs of a fork. This results in a fine mince, but not a gluey paste, so adding egg and soft bread help combine and keep a dry consistency for ease of shaping patties. Whisking well with a fork creates a smoother paste.

Optional ingredients: Chilli! I've made these as mild cakes so that they are suitable for children. Add chopped chilli or sriracha or other chilli sauce. If you have red Thai curry paste and shrimp paste add a little of each. Chopped herbs can be added, such as coriander, mint or Thai basil – but I prefer these in an accompanying salad.