Kohlrabi Asian Salad
Time:

30 minutes

Serves:

4

Level:

easy
This is one of those salads where you think why on earth don't I make this more often. It's so fresh and clean – and delicious!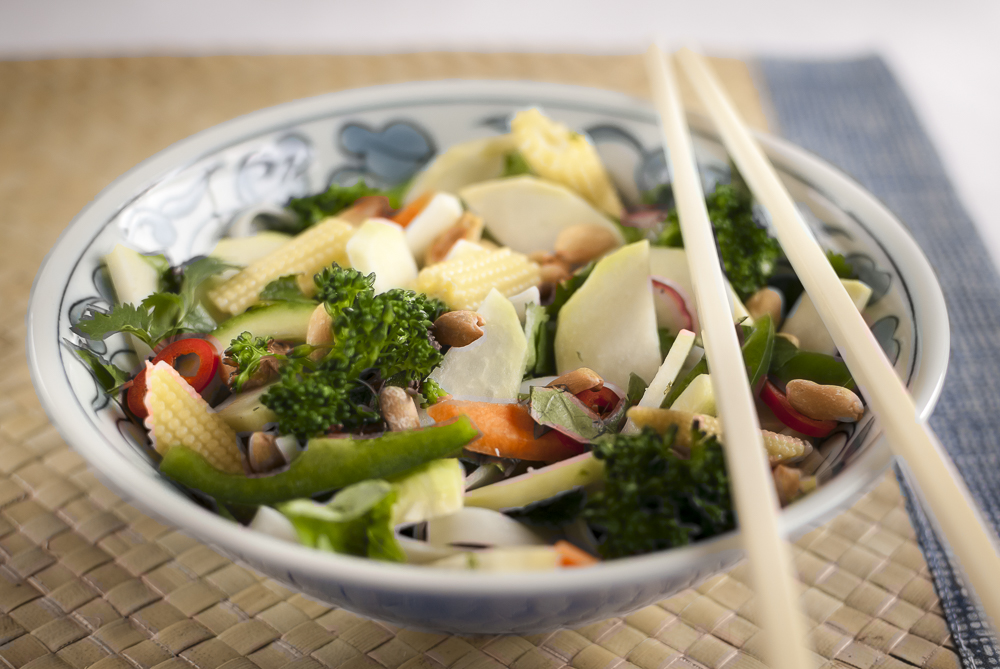 What you need
140g pad Thai noodles – or other rice noodles
500g kohlrabi
125g baby corn
120g broccoli
100g carrot
4 spring onions
1 green or red pepper
6 radishes
1  red chilli – to taste
30g coriander leaves
30g mint leaves (optional)
30g Thai basil or ordinary basil leaves (optional)
200g roasted peanuts
For the dressing
2 tbs lime juice
4 tsp sugar
1 tbs fish sauce
1 tbs light soy sauce
2 tbs sesame oil
2 tbs water
20g ginger
How Dad Cooked It
Feel free to swap or add other vegetables such as, mange tout or sugar snap peas, green beans, pak choi, Chinese cabbage or spinach.
1. Par boil some of the vegetables. Slice the corn into diagonal small pieces, chop the broccoli into small florets, peel and trim the stalk and cut into batons. Bring a pan of water to the boil and add the corn and broccoli. Blanch for 2 minutes, drain and refresh in cold water. Drain and dry on kitchen towels.
2. Make the salad. Cook the noodles according to the instructions on the packet (for serving cold). Drain and add a little groundnut oil, set aside. Peel and slice the kohlrabi in half. Then slice again to make thin bite-size slices. Peel and trim the carrot, cut in half lengthwise and slice at an angel to make attractive bite-size pieces. Slice the pepper in half, trim out the stalk and membrane and cut slices. Cut these in half to make manageable pieces. Slice the radishes into thin discs. Wash and trim the spring onion, slice the white part thinly at an angle, then make larger diagonal pieces as the knife cuts into the green section. Use some of the green part but not all of it. Combine all the ingredients in a large bowl and mix.
3. Prepare herbs, chilli and peanuts. Wash and dry the coriander and other herbs (if using) and chop finely. Cut the chilli in to thin slices. Toast the peanuts in a dry hot pan for a couple of minutes until browned in places but not burned. Put the herbs, chilli and peanuts in separate bowls
4. Make the dressing. Peel the ginger and chop very finely. Add this to a bowl with the other ingredients and whisk to combine.
5. Serve the salad. Serve the salad with the dressing, bowls of coriander and other herbs (if using), chilli and peanuts on the side.