Flatbreads
Time:

1 hour plus 2 hours proving time (or overnight)

Serves:

4

Level:

medium
What's the difference between a flatbread and a pizza base? Not a lot. Flatbreads can be made with or without yeast and cooked in a pan or the oven. My recipe uses yeast and the cooking is done on a pizza stone in a hot oven. They make great flatbreads – and pizzas.
If the preparation of dough balls can be organised in advance, making pizzas at home with children would be great fun.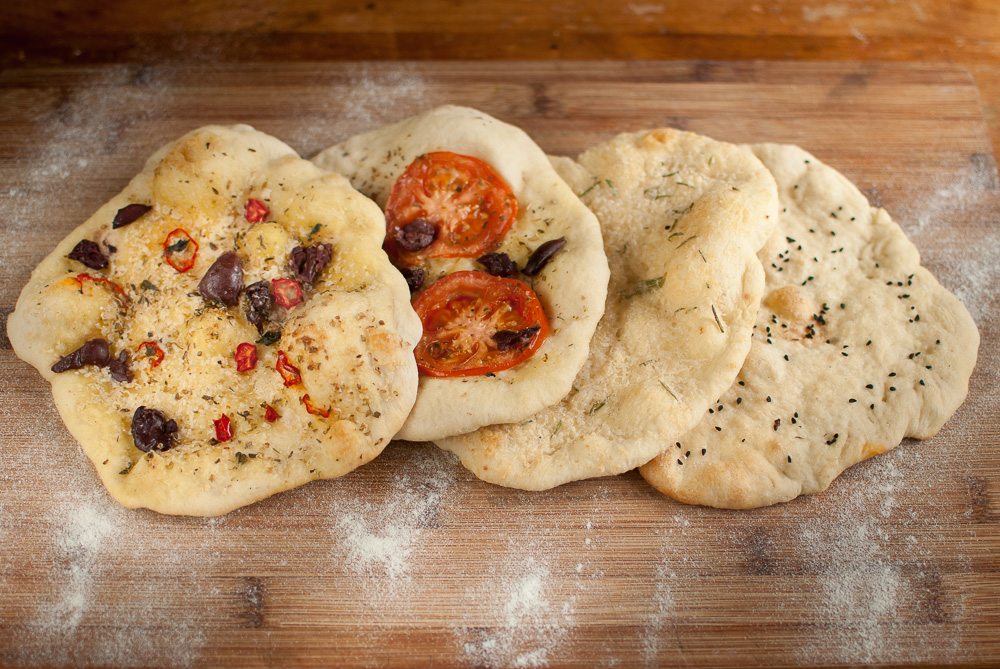 What you need
For the flatbreads:
Makes 4 – 6 flatbreads or small pizza bases
150g strong white bread flour
150g '00' white flour
1 tsp yeast
1/2 tsp salt
1 tbs olive oil
200ml warm water
Semolina – for baking flatbreads in oven
For the toppings:
Choose from what's at hand…
Nigella seeds
Sesame seeds
Rosemary
Oregano
Basil
Parmesan
Garlic butter
Tomatoes (sliced or as puree)
Olive oil
Salt and pepper
Equipment:
Plastic or metal scrapper or stout spatula
Pizza stone (alternatively, use a normal baking tray, or upturned large cast iron pan)
Peel (wooden/metal sheet for moving pizzas in and out of oven, alternatively use a baking sheet with flat edge, or spatulas)
How Dad Cooked It
Prepare the yeast. Add the yeast to the warm water and let it stand for 10mins until frothy. Then add the salt and stir to dissolve.
Initial mixing of dough. Mix the flours in a large bowl and add the liquid. Mix with your hands or a spoon, just until combined. Cover and let stand for 10 minutes.
Second mixing and first knead of dough. Add the oil to the dough and mix in with your hands. When combined, knead on a smooth oiled surface for 10 minutes until the dough is smooth, soft and elastic. Cover the bowl and set aside somewhere warm for an hour.
Knock-back the dough, second knead and shaping balls. Knead lightly into a ball then roll-out into a thick cylinder. Cut this evenly into 6 and roll each portion into a smooth ball. Place the balls of dough on an oiled baking tray evenly spaced. Cover with an oiled piece of clingfilm. Now: either put in the fridge for 24 hours or set aside somewhere warm until doubled in size (45 – 90 mins). If putting in the fridge the slow prove will improve texture and taste. Take out from the fridge and place somewhere warm until the balls have doubled in size.
Preheat the oven. 240C, Gas 9 (or as hot as your oven will go). Put a pizza stone on a shelf in the top half of the oven or an upturned cast iron pan.
Shaping the flatbreads. When ready to bake, use a scraper, spatula or knife and carefully move a ball to a floured work surface. With fingers of both hands curved and splayed slightly, pat the dough down turning as you go. Continue to pat – turn the dough over if this is easier. Gradually, splay your fingers to expand the dough. Do not worry if the shape is not a perfect circle, this will be easier to deal with later. You can also try holding up the dough balanced on your fingers, which gradually spread out pulling the dough. The centre is likely to be thinner than the outside, which is fine for a pizza type base. Finally, use a rolling pin to extend the dough out at the edges. Roll in one direction, turning the dough as you go. There is a critical bit of science going on here – all to do with the gluten and the strength and tightness of its elastic strands. Working the dough too much will have the effect of more kneading which will tighten the elastic strands, working against your attempts to stretch the dough. If this is a problem, let the partially stretched dough rest for 5 minutes after which time the dough will have relaxed and be easier to stretch. NB: This part of the process is much more difficult than imagined. (Which is why good pizza chef's are hard to come by.) Without years of practice the home baker can only be patient and lower their expectations.  You may find that the first two balls end up in the bin. But keep going, the other four will be fine.
Making the flatbreads. This part of the process, is much easier, more relaxed comes with some creative fun. Brush the top of the shaped flatbread with olive oil and then build-up any toppings onto this. For a middle eastern flavour a simple flatbread with nigella seeds is perfect. Other surefire hits will be garlic butter (instead of olive oil), rosemary and Parmesan, or tomato with olives and chilli. For full-on pizza bases brush with blended tomato and add your favourite toppings.
Baking the flatbreads. Use flour when shaping the dough balls – but use semolina flour to dust surfaces in transferring flatbreads in and out of the oven. Bake on the tray, or pan or stone for 4-6 minutes, depending on the heat of the oven. Turn half way through. At their best eaten soon after baking. But they can be re-heated the following day. Avoid using the microwave to reheat. Reheating in a pan works well or reheat the flatbreads wrapped in foil in a hot oven for a few minutes.