Duck Soup
Time:

15 Minutes

Serves:

2

Level:

easy
This is typical of the food that Peter and Leo responded to when devising this blog. Working from home, I often knock-up a quick hot soup from leftovers and the storecuboard – it's fairly easy, just take what ingredients you have and add it to some stock!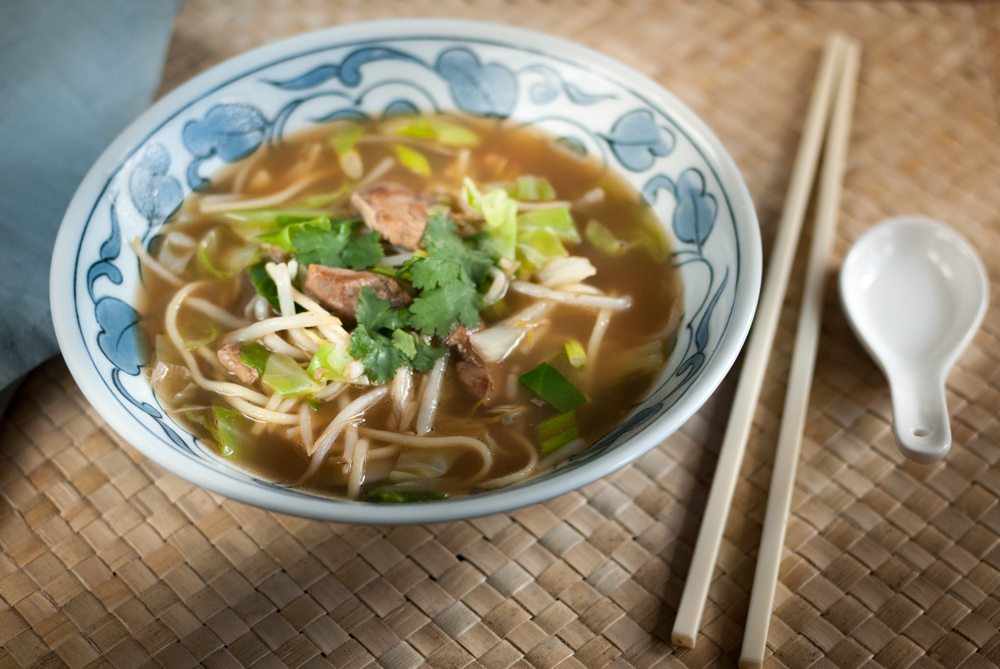 What you need
Leftover duck – or one raw duck breast
Leftover noodles – or 100g dried oriental noodles
One 400ml can of chicken consomme – or 400ml chicken stock
3 thin slices of ginger unpeeled
1 large clove of garlic
200g pointed green spring cabbage or other type of cabbage or Chinese leaf
150g bean sprouts
3 spring onions
Chopped chilli to taste (optional)
1 tbs hoisin sauce
1 tsp light soy sauce
Sesame oil
Squeeze of lime
How Dad Cooked It
Cook the duck. Make thin slices of the leftover duck and cook in a little oil in a non-stick frying pan at medium-high heat for 5 minutes until just starting to brown. Peel and crush the garlic and chop. Add to the duck and cook for a couple minutes more. (For a raw duck breast, slice the duck at an angle with a very sharp knife – skin side down will be easier. Then fry on a low heat for 10 minutes, then turn the heat up and fry for another 5 until just starting to brown. Peel and crush the garlic and chop. Add to the duck and cook for a couple minutes more.)
Noodles. If using leftover noodles set aside a couple of handfuls. If using dried noodles make according to instructions and set aside.
Cook the beansprouts. Fill the kettle and bring to a boil. Put the sprouts into a heatproof bowl and cover with boiling water, stir for half a minute and then drain.
Finish the duck. When the duck is browned, add the hoisin sauce and a little of the soup liquid. Keep the heat up and stir until the sauce has reduced to a sticky coating on the duck. Turn off the heat.
Cook the cabbage. In a large pan add 250ml of water with the consomme or stock and ginger, bring to the boil. Wash and slice the cabbage and add to the pan. Increase the heat to bring the boil again and cover with a lid and cook for 2 minutes – until just turning tender. At this stage you should be ready to add the final ingredients. If not take the cabbage out of the soup and set aside so it does not overcook (then add with the other ingredients as in stage 6 below).
Finish the soup. Wash and trim the spring onion and slice and chop into shreds. Add the soy, duck. noodles and beansprouts to the soup and stir, add the chilli and spring onion, add a squeeze of lime and a drizzle sesame oil. Taste and adjusts seasoning and serve.