Spelt, Caraway and Ling Honey Soda Bread
Time:

1 hour

Serves:

6

Level:

easy
This is delicious – it's almost like a tea cake – great eaten when still warm or made into toast with butter.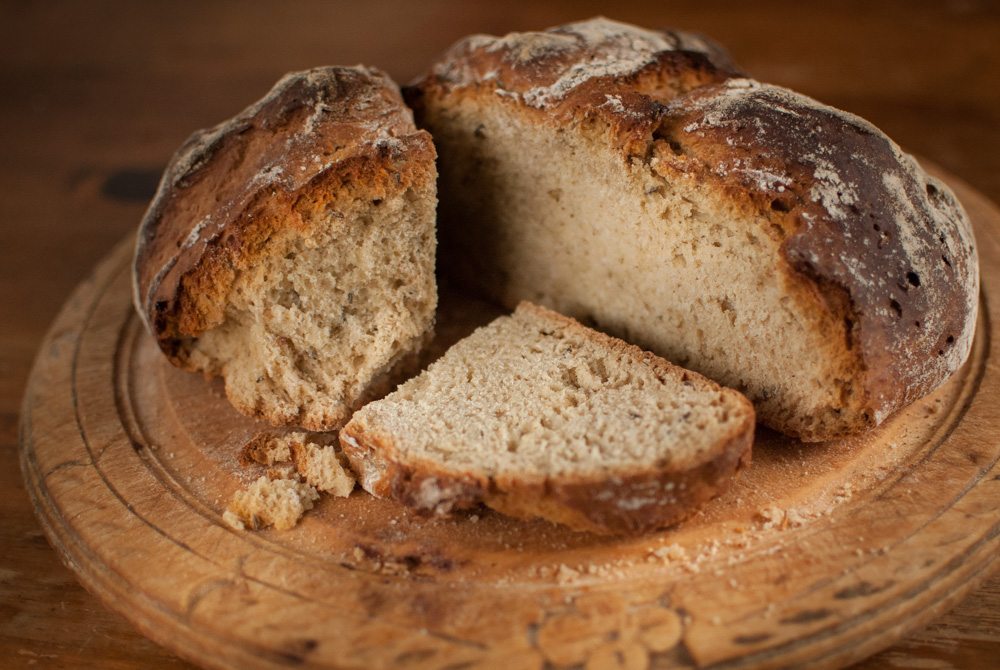 What you need
500g organic spelt flour
400ml cultured buttermilk
1.5 tsp bicarbonate of soda
1/4 tsp salt
50g soft unsalted butter
2 tbs caraway seeds
2 tbs Ling Heather Honey – or other honey
How Dad Cooked It
The Irish are known for their soda bread. But why ? The answer is in their wheat – it's rather heavy and lacking in gluten. Flours high in gluten – like the strong bread flours of Canada – create stretchy doughs that are ideally leavened with yeast – low gluten flours will not leaven with yeast. So the use of chemical leavening agents in Ireland was therefore born out of necessity rather than a particular fondness for this type of loaf. Furthermore, the same heavy flour that is low in gluten also becomes easier to digest for those that have a gluten intolerance. An interesting bit of synchronicity.
For some, soda bread can be a bit tangy, so the soda should be used sparingly. You might try just using 1 tsp rather than 1.5 tsp. I've used spelt flour which has a wholesomeness about it without becoming too heavy and dense. I have included honey from The London Honey Company, which has a very pleasant affinity with caraway and helps soften the effect of the soda.
Preheat the oven to 200C, Gas 6
Combine the flour, soda, salt, seeds in a large bowl and mix with a whisk to integrate and lighten.
Add the soft butter and gently blend into the flour mix using your fingers.
Pour the buttermilk into the flour and combine with a spatula. At this point you need to improvise the addition of either more flour or more milk to ensure the ball comes together as a slightly sticky ball. Scrape it our onto a floured surface and knead for just a minute to combine – again adding more buttermilk or flour to get the right consistency. Pat the dough into a ball and form into a round loaf by sliding the edges of your palms under the loaf as you turn it around.
Place on a greased tray and cover with more flour and cut with a large knife almost to the bottom of the loaf.
Leave to rise for 10 minutes.
Bake in the oven for 30 minutes. Turn in the oven toward the end of this time if the loaf is burning on one side. Turn the oven down to 180C, Gas 5. Turn the loaf upside down and cook for a further 10-15 minutes or until the bottom sounds very hollow when tapped