Skillet Style Cornbread
Time:

45 minutes

Serves:

8

Level:

easy
The trick to this recipe is to lather the cake tin with butter and cook in a very hot oven. I have used instant polenta instead of cornmeal or normal polenta which can be almost impossible to source.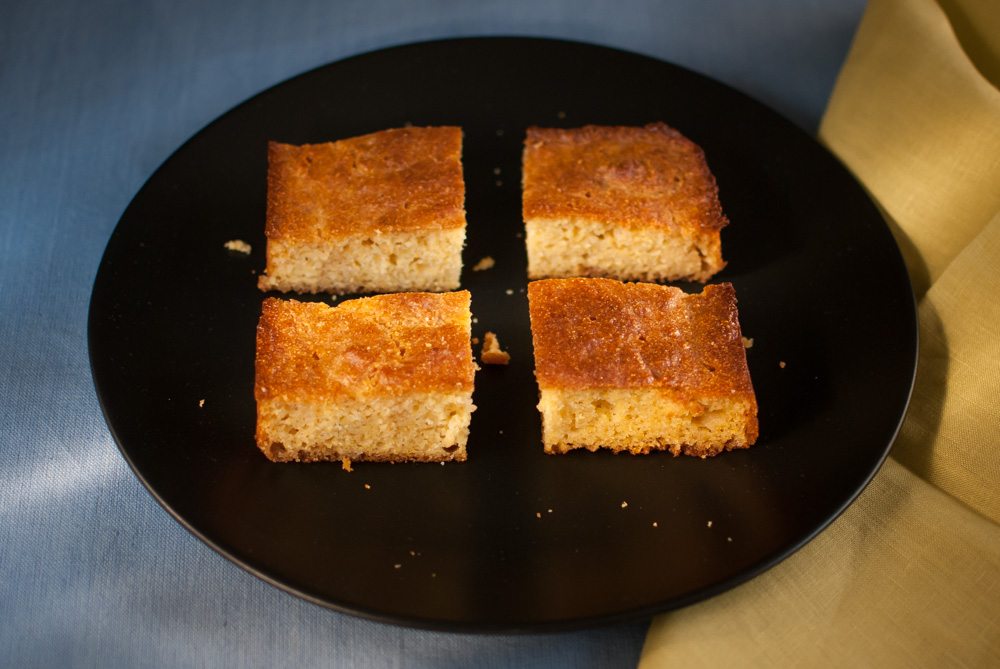 What you need
Dry ingredients
160g instant polenta
140 plain white flour
1/2 tsp salt
1 tsp sugar
1 tsp baking powder
1 tsp baking soda (bicarbonate of soda)
Wet ingredients
250ml buttermilk
60ml groundnut oil
2 medium eggs
For the topping
4 tbs butter
6 tbs maple syrup (or honey)
For the cake tin
1 – 2 tbs softened butter
How Dad Cooked It
Preheat the oven to 230C, Gas 8
Butter the cake tin. Use a tin 20cm x 20cm. Butter the tin generously with softened butter. (This will help create a crust.)
Dry ingredients. Measure the dry ingredients in to a bowl, use a whisk to mix.
Wet ingredients. Add the wet ingredients into a bowl, use a whisk to mix.
Mix the batter. Add the dry ingredients to the wet ingredients bowl and stir with a spatula until combined – do not over mix.
Bake the cornbread. Scrape the batter into the cake tin and level. Bake in the hottest part of the oven for 10 minutes, then turn the heat down to 200C, Gas 6. Cook for another 10 minutes at most. Tap the cake to ensure it is firm and use a skewer to test that it comes out dry. NB: These high heats will not only add a crust – but they will also cook the cake very quickly. You can check after 15 minutes to see if it's done.
Make the topping. Heat the butter and syrup in a pan until melted, mixed and hot. With a wooden skewer, poke holes in the cake and pour the topping over the bread – use a brush to spread evenly.
Remove the bread from the cake tin. Using a spatula, release the bread and allow to air on a rack.
Serve. Cut and eat the bread while still warm. It is also good when cold, either with a spreading of butter or a drizzle of maple syrup or honey. It can also be reheated later or toasted.