Quick and Easy 30 Minute Chicken Cacciatore
Time:

Half an hour

Serves:

4

Level:

easy
Cacciatore means hunter style – basically a rustic style of tomato  sauce to go with game or chicken.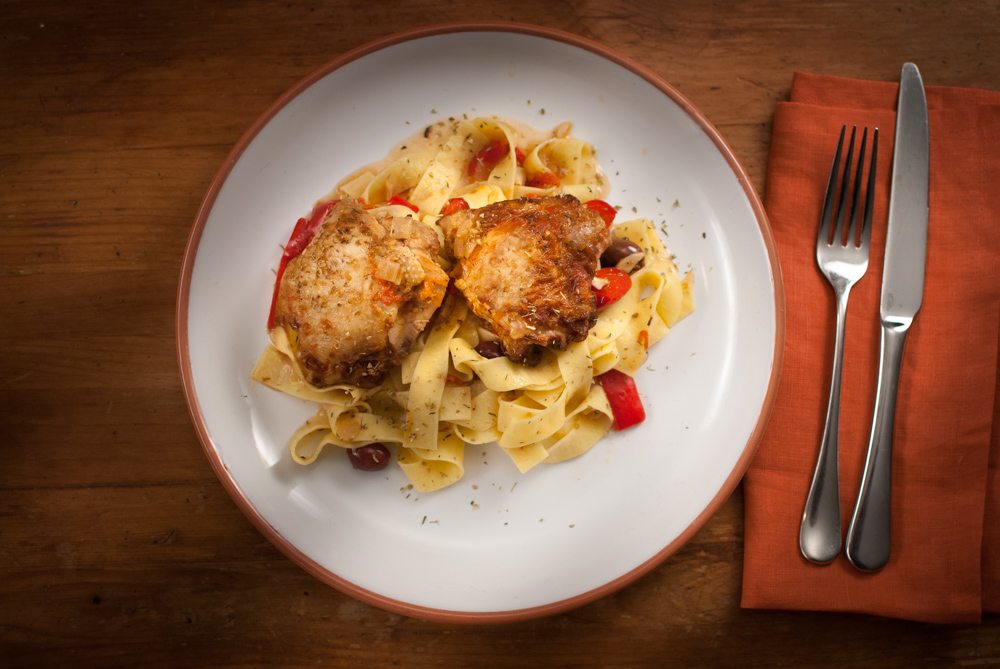 What you need
8 roasted chicken thighs
1 onion
1 red or green pepper
3 cloves of garlic
6 medium vine tomatoes, cut in half
400ml chicken stock
2tsp dried oregano
Black olives – pitted
1 lemon
Pasta of your choice
How Dad Cooked It
Recipe: Start the pasta and cook until al dente. Meanwhile, chop the onion, garlic and pepper and fry on a medium heat for 10 minutes, stirring often. Add stock, tomatoes, 1 teaspoon of oregano, a good pinch of salt and plenty of pepper. Bring to a simmer, add the chicken (skin-side up) and put a lid on the pan. Turn the heat down and simmer gently for 10-15minutes until the chicken is heated through. Add the olives 5 minutes before the end. Taste and adjust the seasoning. Squeeze lemon over the sauce to taste. Serve the cacciatore with the pasta and sprinkle oregano as garnish. Serve with green vegetables or a salad.
***
Tips: When the casserole has finished cooking, use tongs to remove the tomato skins. Reserve some of the pasta cooking water to loosen the sauce if necessary.
Optional ingredients: A couple bay leaves and/or rosemary sprigs will add flavour, add them at the same time as the stock. Using stock is important for this recipe. Either use homemade, ready-made from a store, a tin of chicken consomme, or a stock cube to make-up a stock (follow the instructions and adjust extra salt to taste – most cubes are very salty). Uncooked chicken can be used instead of roasted – fry in the pan on both sides and set aside, then cook the recipe above, adding the chicken as described.

Notes: The Italian way to start these types of sauces is to use a soffrito of finely diced onion, carrot and celery.
Finessing the recipe: Replace 100ml of stock with white wine and add before the stock (let it reduce a little). Add a tablespoon of tomato puree and some chopped parsley at the same time as the stock (save a little parsley for a garnish). Dress the finished dish with a drizzle of good olive oil.